'There was no other Lata Mangeshkar, there is none and there won't be any.'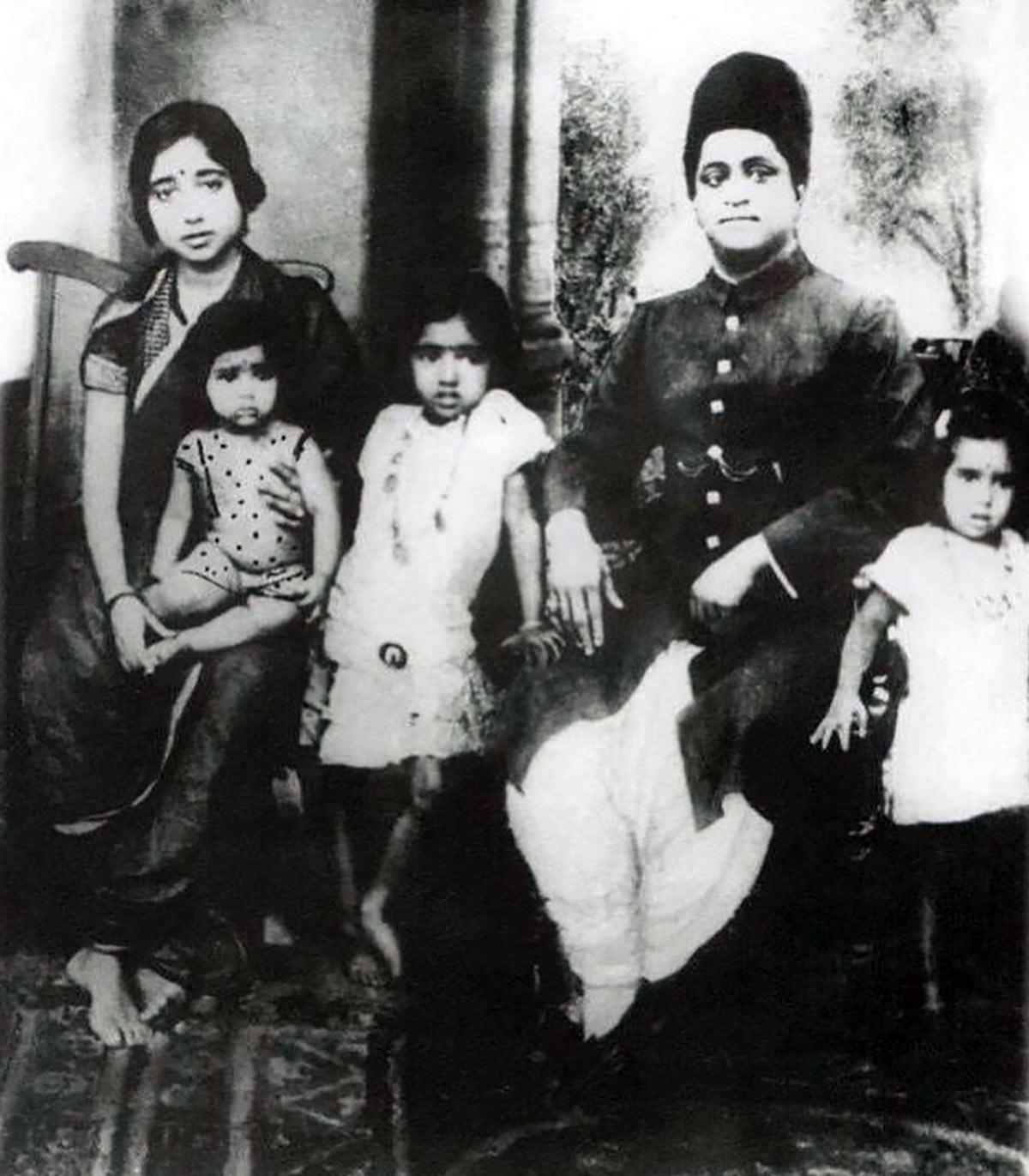 Prasanna Mangeshkar, whose family is related to that of Lata Mangeshkar, was overwhelmed with grief when he read the news of the legendary singer's death on social media on Sunday morning, and rushed back home, abandoning his daily chores at the Mangeshi temple in Goa to mourn her demise.
Lata Mangeshkar, along with her sister Asha Bhosle, whose family has routes in the Mangeshi village of north Goa district, had come to the temple in 1982 and offered prayers, Prasanna recalled.
On Sunday, Prasanna was at the temple when he got the news of Lataji's death.
"I had to rush back, as for the next 12 days, we can't perform any rituals. Being the extended family members of Lata Mangeshkar, we are mourning for that period. I can't enter the temple," said Prasanna, who and his brother Vivek along with other family members live in a house near the temple.
None of the present family members are witness to the era when Lata Mangeshkar's father Pandit Dinanath Mangeshkar lived in Mangeshi.
"Those who remembered that time are no more," Prasanna said, adding that his grandmother Saras Mangeshkar was Dinanath Mangeshkar's first cousin .
Their family lived in a house next to the Mangeshi Temple. In 1973, the home was demolished to make way for a marriage hall, he said.
Prasanna and his other family members subsequently shifted to another location.
Vivek recalled that Hridaynath Mangeshkar, the late singer's brother, had come to see his father Gurudas Mangeshkar in 1993, when the latter was on his death bed.
The Mangeshkar families in Goa and Mumbai gather at the Sateri temple, next to the Mangeshi temple, to celebrate the Basant Panchami festival, which was celebrated on February 5.
"Just yesterday, the Mangeshkar family had gathered for the festival. And this morning, we heard this sad news," said family member Chanda Mangeshkar.
***
'In the last two decades, she has sung most of her songs with us'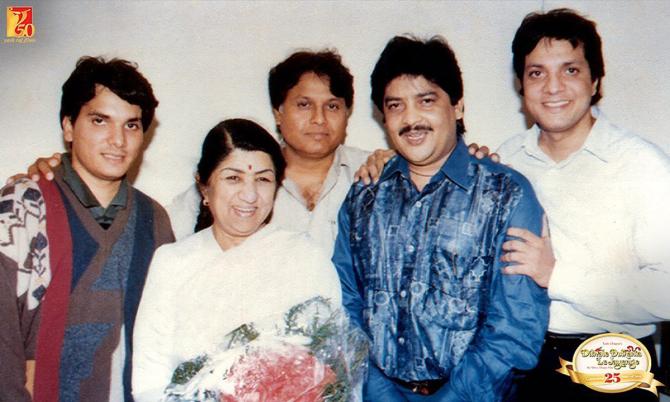 Lalit Pandit of the Jatin-Lalit composer duo, who worked on most of Lata Mangeshkar's songs in the last two decades, has many memories of the music icon, but what stands out the most for him is her crackling sense of humour that helped break the ice.
"She was a jewel. There was no other Lata Mangeshkar, there is none and there won't be any. I will celebrate her life, today and always," an emotional Lalit told PTI's Justin Rao.
"What not many know is, she had a fantastic sense of humour and she would always remember things. Her memory was vivid. If she met you, she'd remember you, if you shared something with her, there's no way she's forgetting it," he recalled.
Mangeshkar's voice was a major reason in making Dilwale Dulhaniya Le Jayenge, whose music Jatin-Lalit composed, a runaway hit as songs Mere Khwabon Mein, Tujhe Dekha To, Mehndi Laga Ke Rakhna, and Ho Gaya Hai Tujhko became popular with music lovers and Lata fans in the late 1990s.
In 2000, she also sang Humko Hami Se Chura Lo and Zinda Rehti Hain Mohabbatein for Mohabbatain for Jatin-Lalit.
"I feel fortunate that in the last two decades, she has sung most of her songs with us," he said.
Lalit said it was an incredible feeling to work with her as his father Pandit Pratap Narayan trained with Mangeshkar's younger brother Hridaynath Mangeshkar.
"I remember our family coming here from Kolkata, we were poor. Lata didi would support us, feed us when we were children. I didn't even remember this, but she did. I used to sing songs of Panchamda (R D Burman) with her. She always remembered us. I still remember how proud she was when she learnt that we were also entering the music field, professionally," the composer added.
Remembering the time right before the recording of the DDLJ song Mere Khawabon Mein Jo Aaye, Lalit said he felt 'restless' and 'scared'.
"I just didn't know how that would work and then she walked in. I realised that Lata didi sensed I was nervous, so she talked about our families, of the time when we were growing up. At that moment, she became our friend. That broke the ice. The recording went on so smoothly."
Lalit said Mangeshkar's dedication towards her work was a lesson that he would never forget.
"What I remember very well today, which I never forgot, was the lesson she taught me during that song. About focusing on the words, correct pronunciation, looking at a song in absolute detail. I carried that lesson always," he said.
***
'Lata Aunty named me'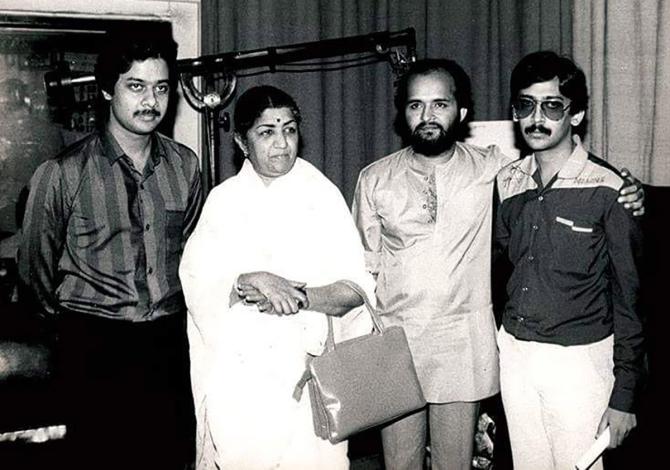 Composer Milind said Lata Mangeshkar had named him and his house, and their families had close ties for over half a century.
Milind, who composed the score for the Aamir Khan starrer Qayamat Se Qayamat Tak with his elder brother Anand, said she had told his father, the veteran music composer Chitragupt, that she wanted to name his child.
"She was the reincarnation of Ma Saraswati," Milind, 62, told PTI.
"My father composed over 200 songs with her, including gems like Dil Ka Diya Jalake Gaya for the 1965 film Akashdeep and Yeh Parbaton Ke Daire Yeh Sham for the 1967 movie Vaasana," he said. "Papa started working with her in the late 1950s. We had a ghar ka rishta as she was a regular to our house," he added.
Milind said the younger members of the Chitragupt family did not call her Lata didi as she was popularly known in Bollywood and elsewhere in the country.
"For us, she was always Lata Aunty. She used to come to our house with her sister Ushaji. When I was born, she told my father that she will name me. She named me Milind Madhav. I am so lucky," he said.
"We believe she is the reincarnation of Ma Saraswati. Today is the visrajan of Ma Saraswati and Lata Aunty," an emotional Milind said.
He said he was in regular contact with her.
"I used to speak to her once a week or fortnight till a few years back," he added.
"We (Anand-Milind) began our music career by recording our first song with her. It was Raja Tere Raste Se Hat Jaungi for the film Ab Ayega Mazaa (1984). We did around 20 songs with her, including Aa Ke Teri Baahon Me for 1992 film Vansh," Milind said.
When his family shifted from Khar, northwest Mumbai, to the city's north eastern suburb, Powai, in 2003, Lata came to their row house and named it Swarganga.
"She was close to my mother who died in 2019. Whenever Lata Aunty recorded songs at Mehboob Studio, she called our home on landline and came to us for lunch. This was a ritual twice -- and sometimes three times -- a week.
"We used to come from school and see Lata Aunty's favourite food items on the table and knew at once that she is in the house," he said. Lunch was followed by playing rummy (cards) and gupshup sessions," he said.
The Madhya Pradesh government conferred the Lata Mangeshkar Samman (2020), comprising Rs two lakh in cash and a citation on Anand-Milind.
"The presentation of this award was delayed due to coronavirus pandemic. But now it feels that Lata Aunty was with us throughout our lives," Milind said.
***
'She had become the voice of our culture in her lifetime'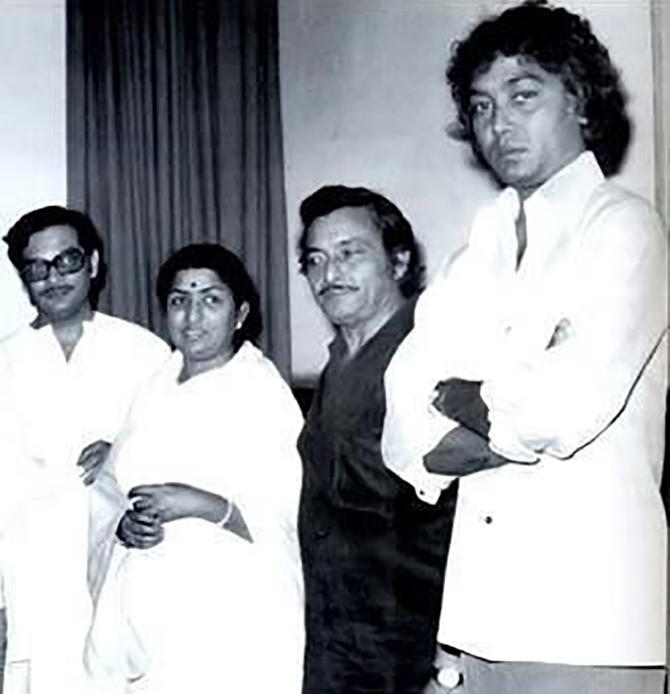 Lata Mangeshkar was a miracle who can't be bound in mere words, says Gulzar, the poet-lyricist-writer who found himself searching for words to describe his loss at the death of his long-time collaborator.
The association with Mangeshkar that started from the song Mora Gora Ang Layle from 1963's Bandini, Gulzar's first as a songwriter, came to a full stop with 2021's single Theek Nahi Lagta, which was recorded for a film 26 years ago that eventually got shelved.
In an interview with PTI, the veteran lyricist said, "Lataji is a karishma (miracle) in herself. This karishma doesn't happen always and aaj ye karishma mukammal (complete) ho gaya. She is gone.
"She was a miraculous singer, with a miraculous voice. It is difficult to find adjectives for her. How much ever we talk about her, it is less. You can't bind her in words. She is beyond words."
The duo went on to create gems one after the other in songs from films like Khamoshi, Kinara, Lekin, Rudaali, Mausam, Masoom, Libaas, Dil Se.., Satya, Hu Tu Tu and Maachis, among others.
The song Naam Gum Jayega from Kinara, which Gulzar also directed, has come to define Mangeshkar's everlasting legacy and he said the track is 'apt' when one talks about her.
"We had written the song for a film. I remember I had told her when you give an autograph, you can use this (the lines of the song) Meri awaaz hi pehchan hai aur ye hai pehchan," he recalled.
"I didn't mean it thinking (it will become her identity), but it became her identity and she identified (with it)," he added.
Mangeshkar had said she remembers vividly the day she did the playback for the song and the lines that Gulzar spoke to her.
"Everyone in the country knows that Gulzarsaab writes beautifully. He also speaks beautifully. When I was singing (this song). he came to me and gently said, 'Meri awaaz hi pehchan hai aur ye hai pehchan.' He said something like this. But later, I also started saying that 'my voice is my identity'. And now, whoever sings that song or writes about me says those lines," Mangeshkar told PTI in October 2021, days after the release of Theek Nahin Lagta.
Gulzar also shared how nervous Vishal Bhardwaj, the composer of his directorial Maachis, was when he was doing his first song with Mangeshkar for the 1996 film.
She recorded two songs, Ae Hawa and Pani Pani Re for Maachis. While the latter stayed, the former didn't make the cut because there was no situation, the singer had said last year.
"I remember when Vishal was doing the first song with her, he was very nervous. He told me he is getting very nervous. Lataji laughed and said 'Think of me as a newcomer and teach me'. Only a very generous and great person like her can say this. It shows her personality," Gulzar said.
The 87-year-old lyricist said he was lucky to have met and worked for Mangeshkar.
"I remember she had once told me 'today songs are not so good' and said 'make some nice films in which there is a scope for good music and songs'," he added.
Mangeshkar also produced Gulzar's film Lekin for which she received a National Film Award for Best Female Playback Singer for Yaara Seeli Seeli.
"She produced Lekin. I am so happy that she won the National Award," Gulzar said.
Lekin earned five National Awards, including music direction for Hridaynath Mangeshkar, Lata Mangeshkar's younger brother, and Gulzar for lyrics.
"You share these moments because of her blessings, not that I take (credit) for anything, she had that kind of vision. I am glad I worked with her."
"She is part of our culture. She is part of everyday culture. TV came later, there used to be radio and one would wake up listening to her voice.
"Her songs would be played during all festivals from Lohri, Holi to Eid. She had become the voice of our culture in her lifetime and continues to be," he said.
***
'Her voice had magic and behind that magic was a lot of hard work and determination'
It was a relationship frozen in time with classics such as Aaj Phir Jeene Ki Tamanna Hai and engendered through chocolates, saris, kebabs and conversations about life, Waheeda Rehman remembered, as she mourned Lata Mangeshkar.
The 84-year-old acting legend said their warm and friendly relationship went beyond work. Mangeshkar memorably lent her voice for Waheeda Rehman in evergreen hits that included Gaata Rahe Mera Dil and Piya Tose Naina Laage Re.
"I have lost a friend, the most beautiful human being," Waheedaji told PTI.
"It is truly a loss for everyone in many different ways. For me, I don't know what to say, we may not be talking to each other every day ,but we enjoyed each other's company, we knew each other well. People would often think that she is a shy person but I have seen her crack jokes. The time we spent together will always stay with me," the actor added.
Waheedaji doesn't remember their first meeting, but said they last met about four-five years ago at the late Dilip Kumar's house in suburban Mumbai.
"Since my house is also in Bandra, I later invited Lataji to come to my place and she agreed. We spent three hours just talking about life, eating and cracking jokes," she added.
"We would often send each other a lot of things, like I would send her chocolates, kebabs, which were her favourite, and biryani. In return, she would send me beautiful saris."
The best thing about the celebrated singer, Waheedaji said, was that she would keep the personality of an artiste in mind before singing and add her magic to it.
"That's how the song would suit everyone she lent her voice for."
Waheedaji said her all-time favourite song is Aaj Phir Jeene Ki Tamanna Hai from Guide, which describes the abandon and freedom that her character Rosie, a dancer, feels as she embarks on her own journey. The song filmed on Waheedaji and Dev Anand, is from Vijay Anand's 1965 romantic-drama Guide.
With the music scored by S D Burman and lyrics penned by Shailendra, the timeless track finds resonance even today.
"Aaj Phir Jeene Ki Tamanna Hai is Lataji's favourite song and mine as well. The lines, the music, the song sung so beautifully and most importantly felt from within (by her) made things easy for me when I had to perform it," Waheedaji said.
She also described Mangeshkar as the most hard working and dedicated person she had met.
"Her voice had magic and behind that magic was a lot of hard work and determination. She would rehearse and rehearse so much."
Her songs, Waheedaji said, will be remembered for years to come.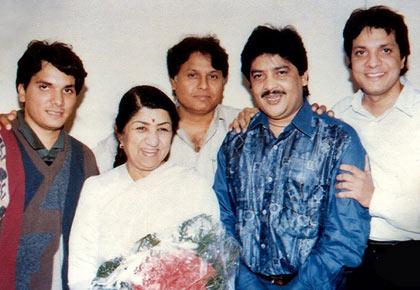 © Copyright 2023 PTI. All rights reserved. Republication or redistribution of PTI content, including by framing or similar means, is expressly prohibited without the prior written consent.