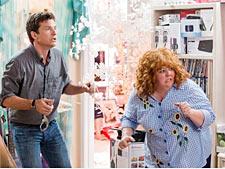 Actress Melissa McCarthy, who created waves with her exceptionally funny portrayal in Kristen wiig's award-winning comedy Bridesmaids last year, stars in yet another potential money-spinner Identity Thief along side actor-producer Jason Bateman.

A critic who did not like the performance of Melissa McCarthy in Identity Thief, called the overweight but winsome powerhouse of an actress a tractor, in a disparaging review of the film.
Admirers of McCarthy, who was nominated for an Oscar in the surprise hit Bridesmaids, pounced on the critic, Rex Reed, calling him sexist.
But he was clearly in the minority. Even those critics who slammed the film, which was the number one movie in the world this weekend even though it is yet to open in most major international territories, called her wonderful. The New York Times declared she owns the film.
Far exceeding the forecast, and despite a crippling blizzard in the north-east of America, the film grossed over $36 million in three days, and some $5 million in a very limited opening abroad.
Mark your calendar, this outlandishly funny film that defies logic will begin rolling out in world markets full steam in about four weeks.
If you believe the conventional wisdom that Hollywood dumps its hopeless movies in the first quarter of the year, you may change your mind after seeing Identity Thief.
The film asks an intriguing question: What are you prepared to do when your identity is stolen, and your career is crippled, and you come to know that though the authorities have a suspect, the red tape will take its own time, perhaps months, before she is prosecuted and your good name is restored.
Melissa McCarthy, who plays the savvy and irrepressible identity thief, is the big attraction here. She is terrific as the utterly ruthless culprit, who is still a thorough professional, and who reveals an unexpected side as we get to know her past. She succeeds in giving a convincing account of her transformation even though the change is over-written, leading to a highly unsurprising climax.

Horrible Bosses' Jason Bateman plays a family man forced to extreme measures to clear his name. With everything to lose after his identity is stolen, he'll find out how frustrating and crazy one can get trying to settle a bad credit score.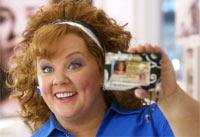 Diana (Melissa McCarthy) has been living a posh life on the outskirts of Orlando but she makes one mistake that gets her into deep trouble. The ID she has been using to pay for her latest sprees, reads 'Sandy Bigelow Patterson'. And it belongs to an accounts rep (Bateman) who lives halfway across the US, in Denver.

With the police not able to help him immediately, the real Sandy has been given a week by his bosses in a new job to bring the con-artist to Denver and make her confess.

Suddenly, this tame family man becomes his own bounty hunter. As he attempts to bribe, coax and even force Diana to make the 2,000 mile journey to Denver, he discovers that he is not the only who is after her.

Directed by Horrible Bosses' Seth Gordon, the comedy was made for a relatively modest $35 million and should recoup its production cost in just about two weeks.

'A friend of mine, Peter Morgan, who's a producer, brought me this script,' recalls Bateman, who is also one of the producers on the film, in the production note. 'It contained this easy, self-contained concept of one guy who steals another guy's identity and the victim has nothing better to do than to find the man who did it, put him in a car and make him undo it all. So it set itself up in a format of two of my favorite movies, Planes, Trains and Automobiles and Midnight Run.'

With a working story and many ideas for the film percolating, Bateman pitched the idea to producer Scott Stuber while they were shooting Couples Retreat on Bora Bora. For Stuber, teaming up with Bateman again for Identity Thief would prove an easy decision to make.

"Jason and I were in the midst of our third movie together, and he came to me with this great comedy, which I immediately liked," recalls Stuber.

While Bateman invited Stuber to produce the film with him, the story and script took an unexpected turn with the release of the hit comedy Bridesmaids.
Stuber remembers: 'We all saw Bridesmaids and were completely blown away by Melissa McCarthy. Jason had this great idea to try to get her to do the project and to change one of the characters to a woman. It injected a fresh take on the concept and unlocked a lot of the things that weren't working in the original script. We then hired Craig Mazin, who's worked on The Hangover films, and he wrote a terrific new draft.'

While the story was poignant for today's information-driven society, it was the dynamic between the two characters and what they learn from each other that made the project highly appealing to Bateman.

'When I started doing research, it was shocking to see how prevalent identity theft is today,' he says. 'We are a lot more exposed than we think. It's important in any comedy to have it be relatable and tangible so that people think that the situation could happen to them.

'The story escalates in a natural and linear way, and Craig injected heart into the story. He keeps a pace. Finding the right name for the story's hero was essential to the story's plausibility.'

The film has gross language, sexual situations (including a long, overdrawn simulated sex act) and violence. Don't you ever think of seeing it with your children and you will be saved plenty of embarrassment.