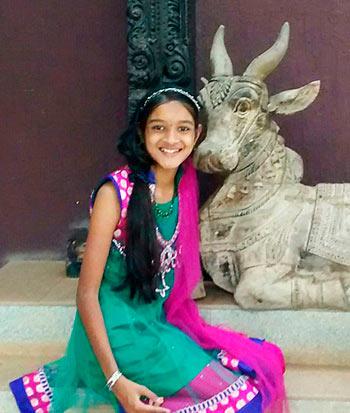 'I love movies but not a big fan of cartoons. I get irritated when my brother watches them.'
Sneha Ravishankar gets ready for her first dubbing job.
Sneha Ravishankar will dub for her father's crowd-funded Sanskrit animated film, Punyakoti, and she's very excited!
Punyakoti will be India's first Sanskrit animated film, written and directed by Ravi Shankar V, a HR employee at Infosys, who also writes books for children.
Sneha loves yoga, acts in Sanskrit plays and is an active participant in her school's cultural activities.
Ravi says when Sneha was six, she could sing over a thousand songs in different languages that included film songs, poems and devotional songs. She would watch her mother sing and imitate.
Ravi narrated the story of Punyakoti to his daughter when they were travelling in a bus. A narrative adapted from a folk tale in Karnataka, he decided to make it into an animated film. The film is set to release next year.
Sneha tells Rediff.com contributor Praveen Sundaram about her love for books, story telling and languages.
Are you fond of stories as your father has been writing books for children?
Yes, I am very fond of them. I started reading from class five when I heard about Enid Blyton from my friends. I still love reading.
When I was younger, my grandfather used to tell me a lot of stories.
Since my father writes story books for children, whenever he thinks up a story, he narrates it to me first.
When did he tell you about making Punyakoti into an animated film?
He told me about it long ago. But he told me he would like me to dub for it only two months ago.
He made up this story when we were travelling by bus once and I liked it a lot.
Which character would you be dubbing for?
Punyakoti is the story of a cow that speaks only the truth. I will be dubbing for the cowherd's son, Putta.
Do you know what dubbing is all about?
Actually, no. I am confused. My classmates ask me from which language will I be dubbing, but I don't understand their question.
Ravi interrupts: She and children in general have this notion that dubbing is usually done from one language to another. I have started training her. She has to dub for about eight or 10 scenes.
In fact, when she was a kid, Sneha has once dubbed in my friend's studio in Trivandrum. She is picking up and I am sure she will do a good job. I don't really mind even she wants to make a career out of dubbing in future.
Sneha: My dad told me that my name would appear on the credit list and I am very excited about that. That's one of the reasons why I agreed to dub for Punyakoti. He has been telling me how I should speak for the character and both my brother and I listen to him when he narrates.
Watch the first look of Punyakoti
How do you find Sanskrit?
It's a very beautiful language. I have been topping in Sanskrit for the last three years in my school. I love languages more than Maths or Science. I had created my Class Seven Sanskrit text book into an audiobook and have uploaded them on Youtube with translations and summary.
How many languages do you know?
I know all the south Indian languages, Hindi and English, apart from Sanskrit. I love Bengali and would love to learn it. A friend of my mother's is a Bengali, and so is a classmate of mine.
What are your other interests?
I love movies but not a big fan of cartoons. I get irritated when my brother watches them.