'You do not need to roar to be a tigress.'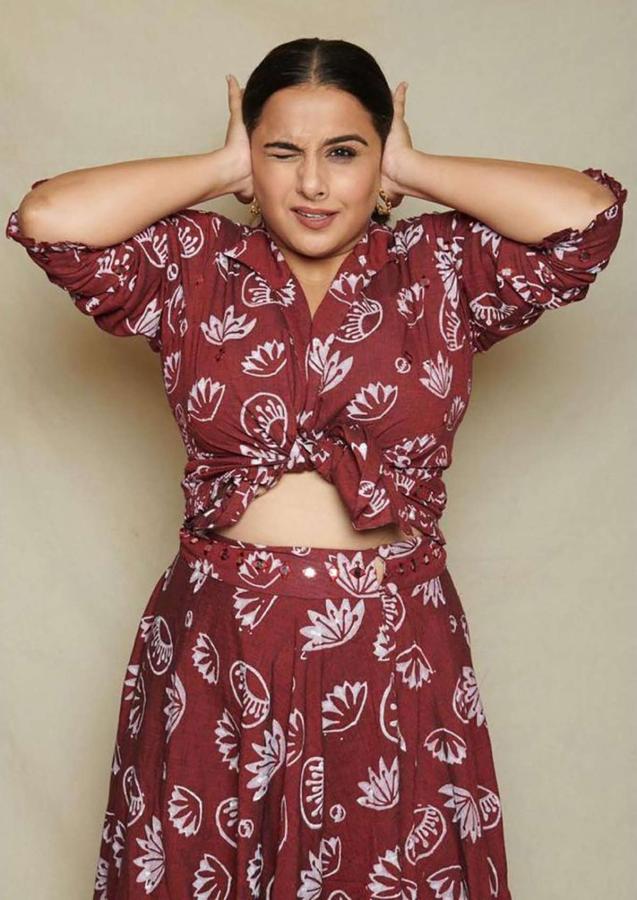 A strong, brilliantly written, female character may be hard to come by for most of Bollywood's actresses, but not for Vidya Balan.
She has played powerful characters so often that audiences now expect that of her.
Her new film Sherni is yet another addition to her solid portfolio of female-oriented stories.
Speaking with the media about the Amit V Masurkar directorial, a film about the man-animal conflict, Vidya says, "Each of us is a Sherni. Every woman is a Sherni because she is navigating her way through this jungle called life."
Rediff.com Contributor Mohnish Singh listens in.
Sherni is all set to premiere on Amazon Prime Video. Are you excited?
I am excited and, at the same time, so nervous.
When Amit Masurkar wrote this story, we could already imagine shooting it in Madhya Pradesh.
MP is now my favourite shooting destination!
Whether a film is shot there or not, I would keep going back to the jungle.
They are really the lungs of our nation and we owe it to ourselves to protect our jungles. Our film is a small effort on our part towards that.
How has shooting in the jungle changed you?
It made me realise that we are such a small part of this universe.
It is very humbling.
It puts things in perspective.
When you shoot a film in a jungle, you come across several issues. For example, it suddenly starts raining. In a situation like this, you realise that you really have no control; nature is the best teacher. The only thing you can do is let go.
The pandemic has been the harsh teacher of the same lesson.
What kind of prep did you go through for your character?
I met a couple of female forest officers because I play one and there is not much information about forest officers.
They were very kind and generous with their time and my questions.
I think sometimes I may have asked them some ridiculous questions because I really did not know much about the jungle.
They patiently answered my questions.
They also helped me understand the scope of their job and the challenges they face.
They shared their passion for conservation and took me on some forest trips.
They gave me some reading material and documentary links.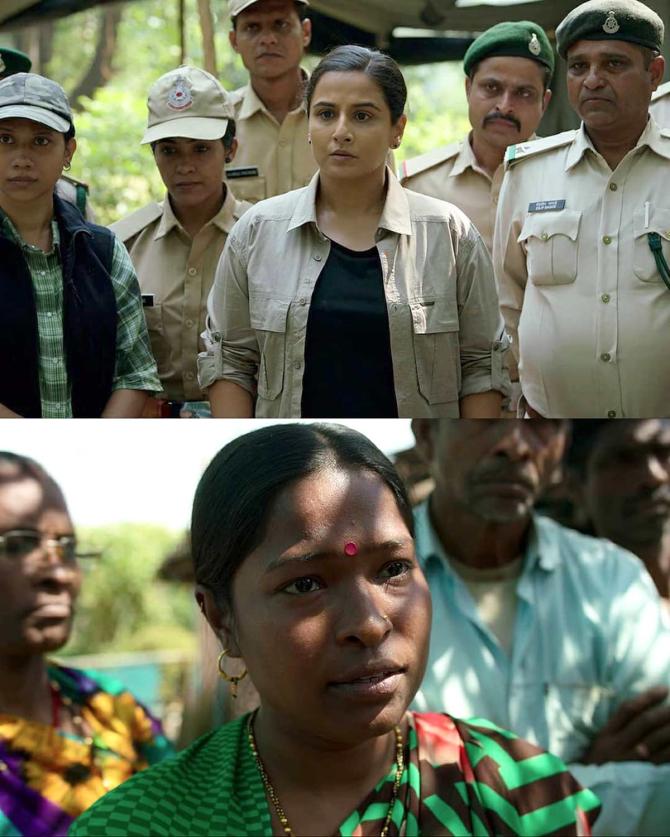 Were you scared that you had to shoot a film in a jungle?
Though I have gone on many jungle safaris before, that fear was always there while I was working on this film.
I would constantly wonder what if a snake came out from a hole or a scorpion sprang at us.
You can see the bigger animals approaching you but you cannot see a snake that might come from behind you. I was always worried about the creepy-crawlies.
Abhi main bindaas ho gayi hoon because we were shooting in a big jungle and it was not possible for me to keep my guard up all the time.
I owe it to this film for making me comfortable in the wild.
That fear has gone now.
What is your takeaway from this film?
While working on this film, I realised that the time has come to address this constant fight between nature and the environment.
That makes this film very important.
We cannot pick one over the other.
We have to realise that every small thing that we do affects our environment in some way or the other.
We do not need to do big things to protect our nature. Every small step counts. In turn, it will affect our lives in a more positive way.
We talk about global warming, climate change, rising temperature, rains started in May this year which is unusual. These are not good indicators.
I think we have an opportunity to do our bit, pay our debt to nature, to the environment. And we have to make a start now.
I never talk about messages in any film.
I feel a film is for entertainment.
But this film does carry a special message. Just give a thought to nature because it is as much a part of our lives as we are a part of it.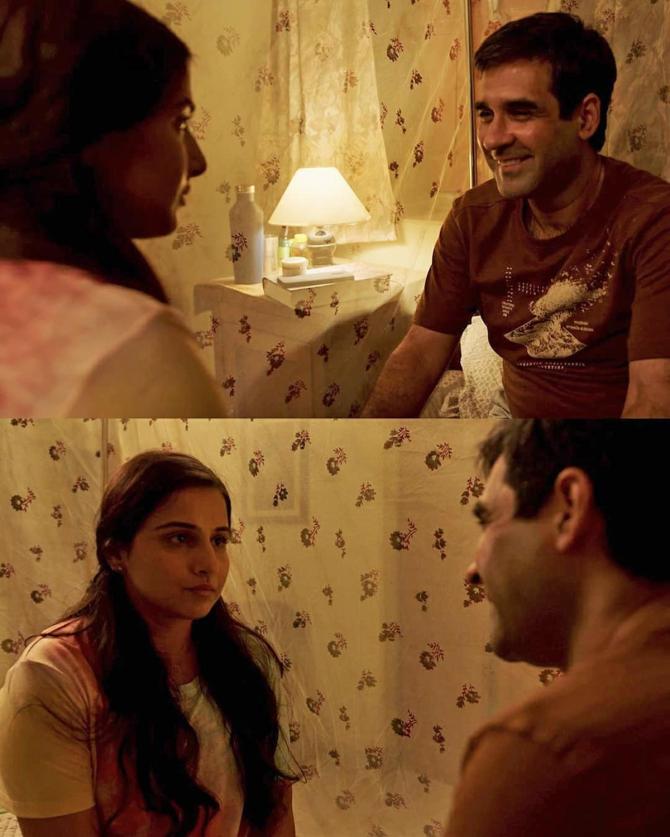 What does it mean to be a Sherni?
In my case, my journey is so public because I am an actor that people can see and appreciate the Sherni in me.
But I feel each of us is a Sherni.
Every woman is a Sherni because she is navigating her way through this jungle called life.
We are constantly facing challenges.
I love the line from the title song of the film, that says, Museebat ho toh panja maarenge. I know that at every step of the way, women are doing that.
And the only reason we are able to do that is because the women before us did that.
You do not need to roar to be a tigress.
My character in Sherni is a forest officer. She is a woman of few words.
She is reserved, but strong-willed.
So you can be that.
You do not have to scream out loud from the rooftops to be heard.
I think there is a Sherni in each and every household of India. And a lot of times, she is invisible.
This is my salute to all of them out there.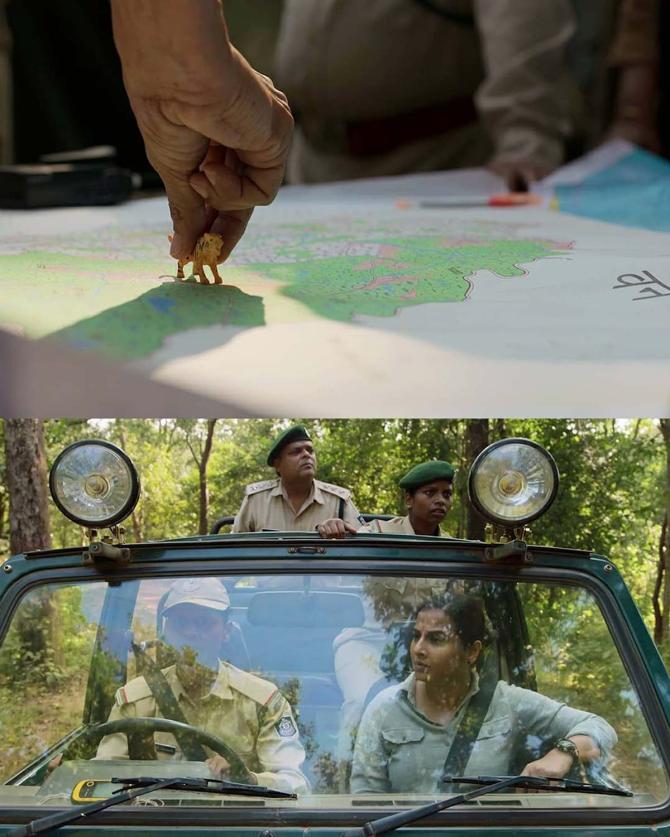 Who is the Sherni you look up to in life?
I have a few. I will start with my mother. She has been a homemaker throughout, but she is her own person.
What I admire the most about her is her thirst to learn and grow. She is in her 60s, and is doing things she has never done before -- whether it is learning dance, or three different forms of music, or doing some of the fitness routines you would not expect a 60-plus woman to be doing.
She has fearlessly protected her cubs -- my sister and me.
She has told me, 'You are apologetic about your success; you should not be. The more you bow down, the more this world will make you bow down. Do not do that. Do not bow down in front of anyone.'
I think she is the most powerful Sherni in my life.
My sister and my niece are my Shernis. My sister has always been my hero.
There is a line in the teaser of Sherni that says, 'Jungle kitna bhi ghana kyon na ho, Sherni apna raasta dhoon hi leti hai'. That's my sister for me.
My niece is just 10 but she baffles me and shocks me sometimes with the kind of things she says.
Her concept of self is so strong that it makes me feel so good.
It makes me feel that we are doing something good in this world.