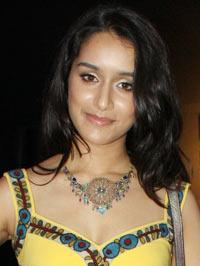 After a nation-wide talent hunt for new faces in Aashqui 2 -- the sequel to the blockbuster 1990 musical Aashiqui, which made Rahul Roy and Anu Aggarwal overnight stars and established Nadeem-Shravan among the most successful music composer duos of all time -- the cast has been selected.

The two heroes in the love triangle will be played by Shaad Randhawa and Aditya Roy Kapoor, and the girl will be played by Shraddha Kapoor.

The pretty daughter of veteran actor Shakti Kapoor, Shraddha's career has suffered a string of false starts. After an inglorious launch in the Amitabh Bachchan starrer-Teen Patti, Shradha was supposed to play the lead opoosite Prateik in Sanjay Leela Bhansali's production of My Friend Pinto. The role passed on to Kalki Koechlin and Shraddha ended up doing the  Yash Raj film Luv Ka The End, which did nothing for her career.

Now, the Bhatts have taken charge of Shraddha's career.

"We found Shraddha very talented," Mukesh Bhatt says. "All three actors have extremely challenging dramatic roles. It's not a film about only looking good, singing and dancing. These are performance-oriented parts, and we're convinced that Aashiqui 2 would do for Shraddha, Aditya and Shaad what the first Aashiqui did for Rahul, Anu and Deepak Taijori."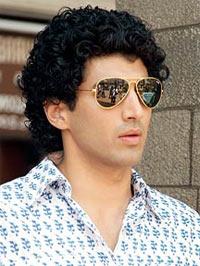 The buzz is that Aashiqui 2 is a remake of the Bhatts' 1990 Anil Kapoor-Meenakshi Sheshadri-Govinda love triangle Awaargi.
But Mukesh Bhatt denies this. "Aashiqui 2 is not a remake of any of our films," he says. "It's an original script .It's a contemporary love story dealing with mature emotions."
Significantly, the pathbreaking music score from the 1990 musical blockbuster Aashiqui will not be repeated in the sequel.
Promises Mukesh Bhatt: "We are resisting the temptation of carrying over Nadeem-Shravan's chartbusters from Aashiqui into Aashiqui 2. Jeet Ganguly will make original songs in Aashiqui 2. While Aashiqui had 11 songs, Aashiqui 2 will have only seven."
Interestingly, after the nation-wide hunt for Aashiqui 2, the main roles have gone to star kids. While Shraddha Kapoor is Shakti Kapoor's daughter, Shaad Randhawa -- who was launched by the Bhatts as a villain in Woh Lamhe -- is yesteryear actress Mumtaz's nephew. Aditya Roy Kapoor, who starred in Action Replayy and Guzaarish, is not a star kid, but is UTV CEO Siddharth Roy Kapoor's kid brother.