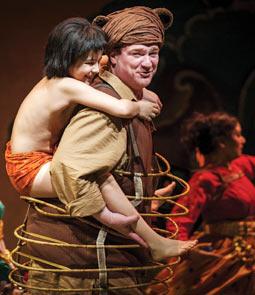 Brilliant Indian boy star Akash Chopra of the musical The Jungle Book, currently playing in Chicago, is being applauded for his rare talent. Arthur J Pais reports.

He looks so cute and adorable as the boy raised by animals. He exudes the innocent and defying nature of Mowgli brilliantly.

That's what has got reviewers paying special attention to Akash Chopra in the musical The Jungle Book. 'Cute-as-a-button and completely natural,' wrote The Chicago Herald.

He gets huge cheers and standing ovations night after night in Chicago, and he is sure to get similar ovations in Boston, when the show plays there for over three weeks in September.

'(Director Mary) Zimmerman's actors are irresistible,' the review in the Chicago Sun-Times read, 'beginning with Akash Chopra whose Mowgli is so free and easy, moody and defiant, joyfully natural and musical that you just want to squeeze his adorable little body and save him from the predatory tiger.

About a year after Akash announced to his parents, in their Manhattan apartment that he wanted to take acting seriously, he is shining in the musical version of The Jungle Book, backed by Disney, and directed by Tony winner Mary Zimmerman.

This is the very first time a 10-year-old artist of Indian origin has debuted in a major production.

This adaptation of Rudyard Kipling's story of unblinking innocence and triumph over adversity had its world premiere at the fabled Goodman Theatre in Chicago. It will travel to Boston in the fall, and with some luck visit other American cities and find a home on Broadway.
Akash, the third of homemaker Meena and her property developer husband Perry's four children lived with his parents in London and Madrid before moving to New York. His love for theater started when he was cast in plays at an international school in Madrid.
"The teachers in Madrid would always find him interesting roles and then we came to New York. Just over a year ago when he said he was serious about acting, we set out to help him," his mother says.
"I started going through Stagedoor magazine to look for auditions. One thing led to another -- he got a part in the Kidz Theater New York version of Les Miserables.
The Jungle Book audition was held in New York. "There was some confusion and we went to the audition a day late," says Meena. "And yet everything went fine. We were not allowed in during the audition but other cast members would come out, smile and say, 'He is doing fine.'''
There is not a moment when Akash is not doing something unique in the production -- at times defying well-meaning advisers, at times foiling the animals that think he knows the secret of fire and that they can get him to reveal it, and at times caught in the middle of chaos in the jungle.
His performance is noteworthy especially since it appears amidst a handful of strong performances by adults.
"He is spontaneous and he has a lot of natural energy," says Anjali Bhimani, who has worked on and off with Zimmerman for over 15 years. "There are times I am feeling a little tired during the show and when I see Akash on stage, my spirits lift."
Nehal Joshi, a Drama Desk award winner, who plays a wolf leader in The Jungle Book says, "We treat him like our equal. And why not? He is the lead in this show and he has earned our respect."
Two-time Tony nominee and Emmy Award-winning actor André De Shields (The Full Monty, Play On!, The Wiz, Ain't Misbehavin') stars as King Louie, the ambitious-but-scattered, comic, dreaming orangutan. Akash gets to be with him in a show stopping musical number.
How did Akash react to the big break he was getting? "All of us were naturally excited over what was happening to Akash," his mother continues, chatting in between the shows at the Goodman, with her son by her side. "He was naturally excited too.
"But we had to let him know that accepting the part meant no summer vacation. We were planning to go to England, where my husband and I were born and raised, and where our children were also raised."
Akash's first question to his parents was what would his older brothers Amar and Rishi and sister Avaani think? Would they mind if their holidays were cancelled?
The Chopra have re-located temporarily to Chicago since June and will stay there till the engagement ends in August.
In September, his parents will have to make a new arrangement -- one of them will be with Akash when the show has a three-week run in Boston.
His teachers and classmates are excited over his achievement. Some of them plan to go to Boston to watch the show, his mother says.
In the picture: Akash Chopra and Kevin Carolan, who play Mowgli and Baloo respectively in The Jungle Book.