'Shabana Azmi has helped me with the language of my first Hindi film, Mirza Sahibaan.'
'My aunt Tanvi Azmi is my guide and I take her help.'
Actress Saiyami Kher gets ready to make her Telugu debut in this week's release, Rey.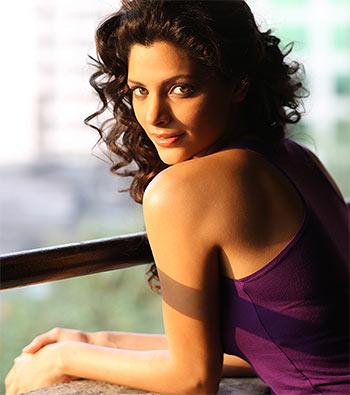 Saiyami Kher is a newcomer to Telugu films but has a distinguished lineage. She is the granddaughter of actress Usha Kiran and niece of Tanvi Azmi.
Saiyami modelled for the Kingfisher calendar before the arc lights beckoned. Telugu director YVS Chowdhary spotted her and cast her in his film Rey.
The film, which also marks the debut of Sai Dharam Tej (Chiranjeevi's nephew), was delayed, so Sai's second film released before his maiden one. Rey will now release on March 27.
Saiyami talks to Rediff.com contributor Radhika Rajamani about her lineage, her co-star and her Rey experience.
Was acting a natural progression from modelling?
I did some modelling in college. I have done theatre workshops and I took part in plays in school and college.
I have a sports background; I play badminton and cricket. I played at the inter-state and junior national level for Maharashtra.
I studied in St Xavier's (Mumbai) and played in seven sports through my years there.
It was a big surprise for my family when I got into acting.
Do you still play badminton and cricket?
Yes, I play badminton thrice a week. Every Sunday, playing cricket is a ritual!
Your grandmother is Usha Kiran. Your aunt Tanvi Azmi is also into acting. How do you feel stepping into the same field?
Actually, I didn't give it a thought.
Since they are in the same field, they support me. The choice to get into acting is mine.
In Maharashtra, it is big shoes to step into, as my grandmother acted in Marathi films. But mine is an individual journey and I am enjoying it.
Since you come from such a lineage, how do you carry the baggage?
I don't see it as baggage; I see it as a blessing. I can go to them for help.
In the first and second film, I may not be in the same league as them. But I am on a journey where I go on learning.
Do you take advice from your aunt Tanvi?
I do. She is my guide, and I take her help.
Shabana Aunty (Shabana Azmi is Tanvi Azmi's sister-in-law) has helped me with the language for my first Hindi film, Mirza Sahibaan (It will be directed by Rakyesh Omprakash Mehra).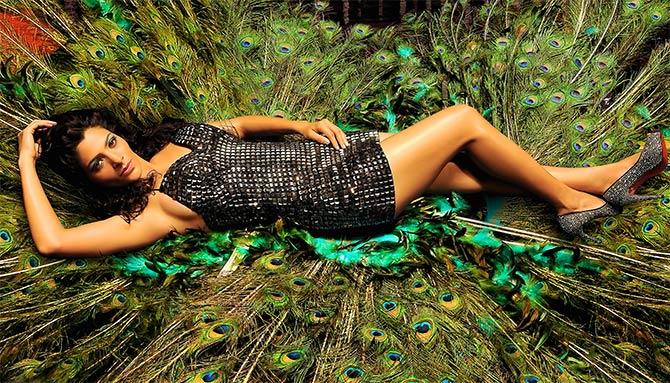 You also modelled for the Kingfisher calendar. How was that experience?
It was a 15-16 day holiday in Sri Lanka. That's the best part, as you get paid to travel.
I needed to be thin for it. So I had to lose a lot of weight.
When I was signed for Rey I, YVS Sir (director YVS Chowdhary) said I was too thin and I had to put on weight.
Since we shot in America, it was easy as I gorged on pizza and chocolates.
How did you land up in a Telugu film?
It was a conscious decision. I was told that if I do a film down South when I am young, it will help to get rid of inhibitions.
It has been a wonderful experience. YVS Sir auditioned me for another film but felt I would pull off Rey better.
I didn't know that Sai Dharam Tej also was making his debut in this film.
YVS Sir has been a launch pad for many newcomers. It was exciting to be part of the film.
Had you seen a Telugu film before?
I don't remember if it was before or after, but I saw Magadheera due to my friend who is Telugu-speaking.
What is your character like in Rey?
She is a strong character. It is like the film almost revolves around her. She is very goal-driven. Her goal is a competition.
She is simple and casual in her dressing, barring the songs where there is a transformation to the glamorous look.
What was it like acting with Dharam Tej?
He is a good friend. One has these preconceived notions about being in a male-dominated industry.
Sai put everything to rest. He is extremely humble.
We shot with four other boys and we were all good friends on the set as the shoot was held over a long period of time.
We got to travel to the US, West Indies (Trinidad & Tobago), Bangkok and Malaysia.
How did you tackle the language?
My first shot was in Bangkok; the assistant director gave me an eight-page long scene.
I was nervous. It was the first time I had read the language. I tried to mug up. Then YVS Sir said the dialogues were for the whole schedule.
I struggled for four-five days and then it got a bit better.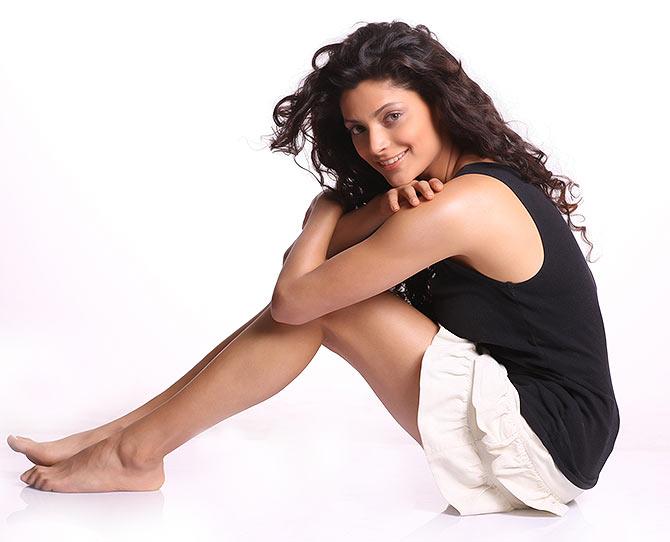 Are you relieved that Rey is finally releasing?
Yes! I am also grateful. It gave me my first break and taught me a lot.
When I came to Hyderabad after one year, it felt like I was coming back home -- I felt a sense of security and comfort.
Would you like to do more Telugu films?
Definitely. I feel bad that I won't be there for the release as I will be shooting for Mirza Sahibaan in Rajasthan. I am trying to see how I can be there for the release.
Are you nervous or jittery?
I am not nervous. We all come with what God has written for us. I have given my 100 per cent.
There is scope for improvement. I am waiting to see myself on the big screen.