Kids love 'Salman uncle'!
Salman Khan may iffy about adults, but he's quite wonderful with kids.
He sure knows how to bring big smiles on the faces of his cute co-stars and make them comfortable on the sets.
And he doesn't seem to mind being upstaged by these tots.
A look at Sallu's cutsie-pie co-stars.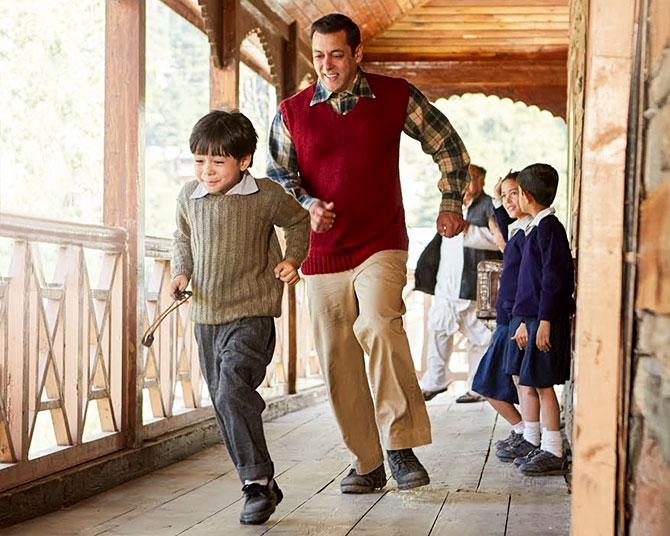 IMAGE: Matin Rey Tangu and Salman in Tubelight.
Matin Rey Tangu, all of five, can't seem to stop talking!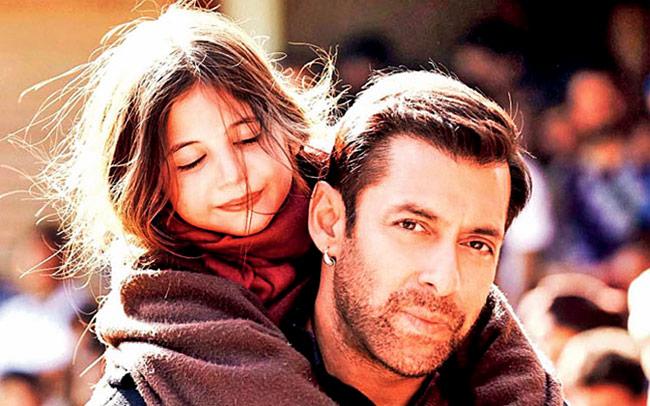 IMAGE: Harshali Malhotra and Salman in Bajrangi Bhaijaan.
Director Kabir Khan says Bajrangi Bhaijaan really belonged to Harshali; Salman simply had a supporting role.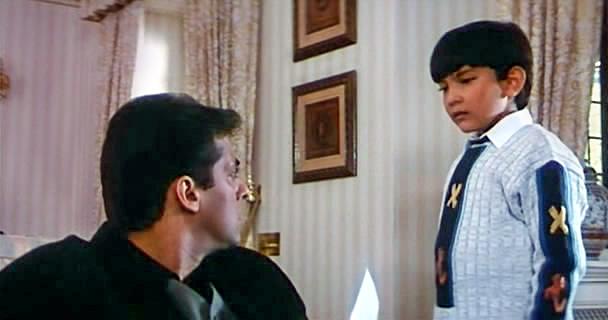 IMAGE: Aditya Narayan and Salman in Jab Pyaar Kisise Hota Hai.
Remember how Aditya -- who has grown up to become a singer and television host -- played Salman's son?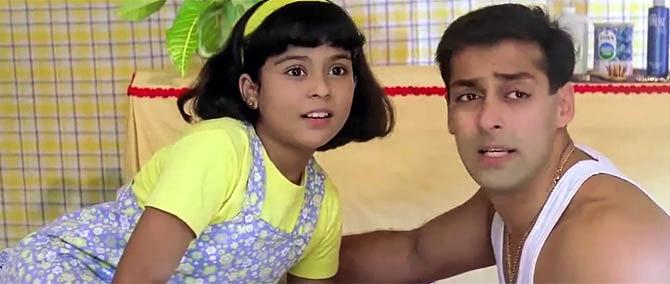 IMAGE: Sana Saeed and Salman in Kuch Kuch Hota Hai.
Sana Saeed, who played Shah Rukh Khan's daughter, persuaded Salman not to marry Kajol so that her dad could do the needful!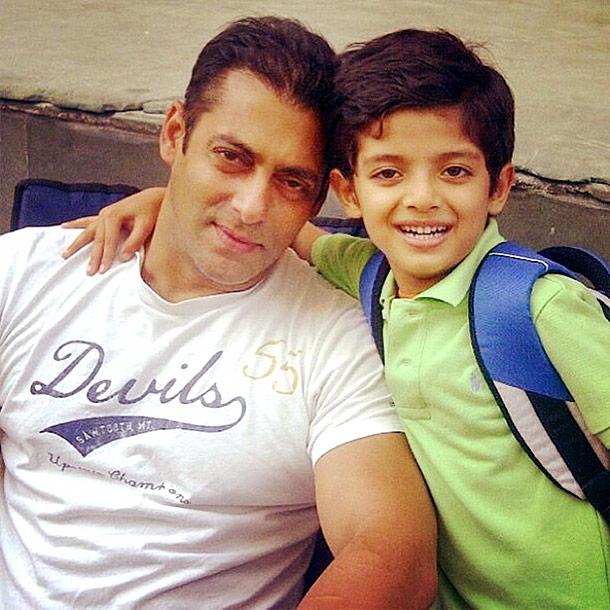 IMAGE: Salman with Faizan, his Bodyguard co-star. Photograph: Kind courtesy Md Faizan/Instagram
Salman played a sedha-sadha guy in Bodyguard and his onscreen son Mohammed Faizan was the one narrating the story.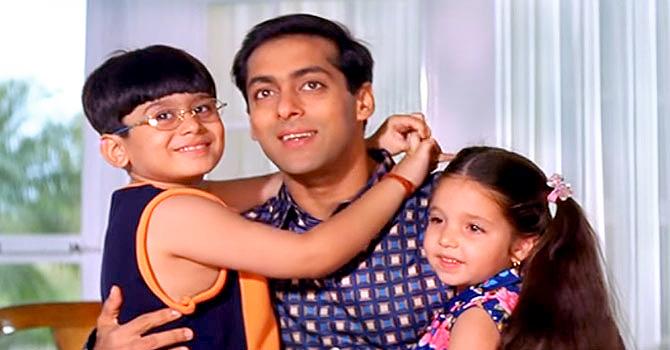 IMAGE: Master Shahrukh and baby Karishma with Salman in Biwi No 1.
Salman may not have been the ideal husband in Biwi No 1, but he tried to be a good father to his kids.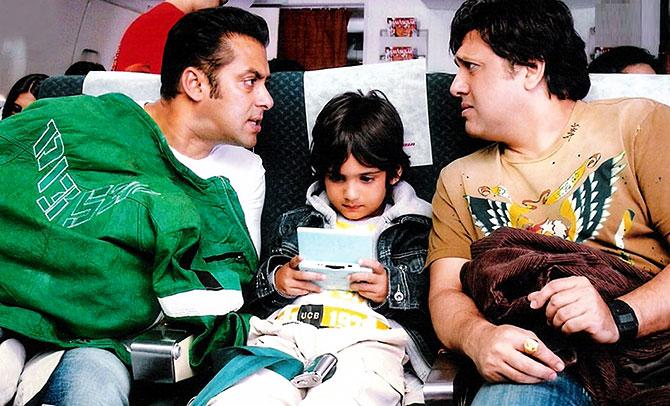 IMAGE: Salman, Ali Haji and Govinda in Partner.
How does one win a girl over?
Make sure her kid loves you! That's what Salman taught Govinda in Partner.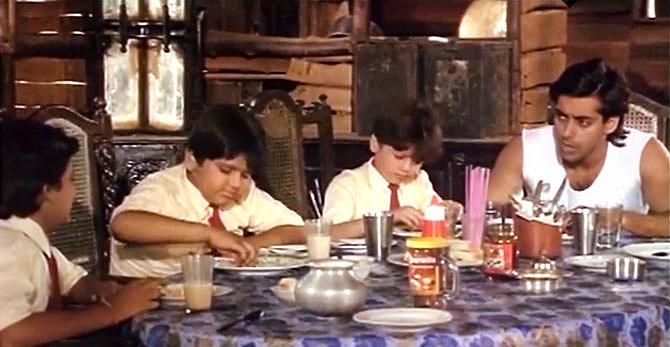 IMAGE: Uncle Salman in Ek Ladka Ek Ladki.
Salman plays uncle to three kids in Ek Ladka Ek Ladki, a film no one probably watched!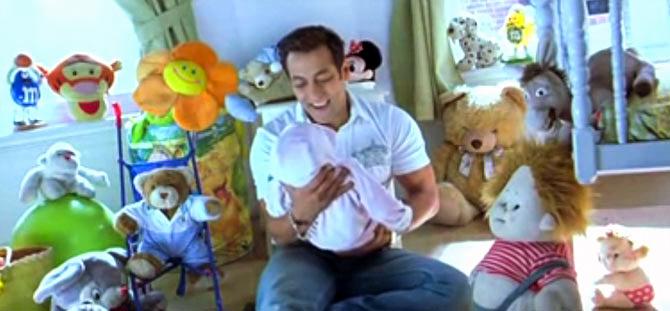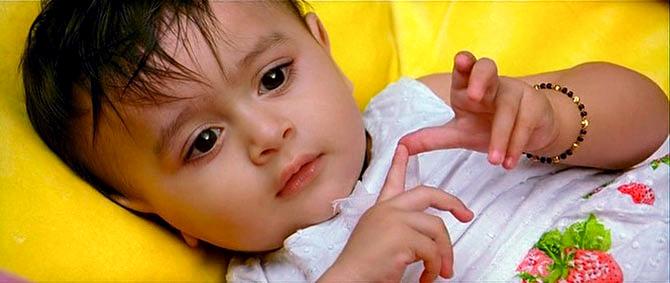 IMAGE: Salman in Jaan-E-Mann.
Salman's onscreen marriage to Preity Zinta doesn't work out, but he realises he's daddy to the cutest baby girl in Jaan-E-Mann.