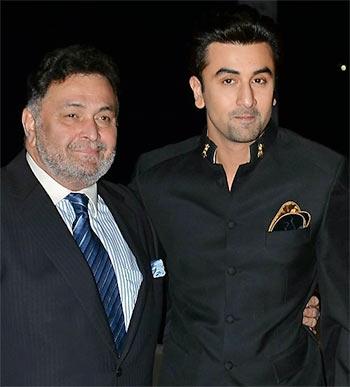 Before you watch Kapoor & Sons in theatres, here's introducing you to the real-life Kapoors.
In Shakun Batra's Kapoor and Sons, Rishi Kapoor plays an ailing grandfather to Sidharth Malhotra and Fawad Khan while Rajat Kapoor pitches in as his son.
The title has a catchy ring to it. After all, the bounty of Kapoors is hard to ignore in the Hindi film industry.
Here's looking at Bollywood's real life Kapoor & Sons.
Prithviraj: Raj, Shammi and Shashi Kapoor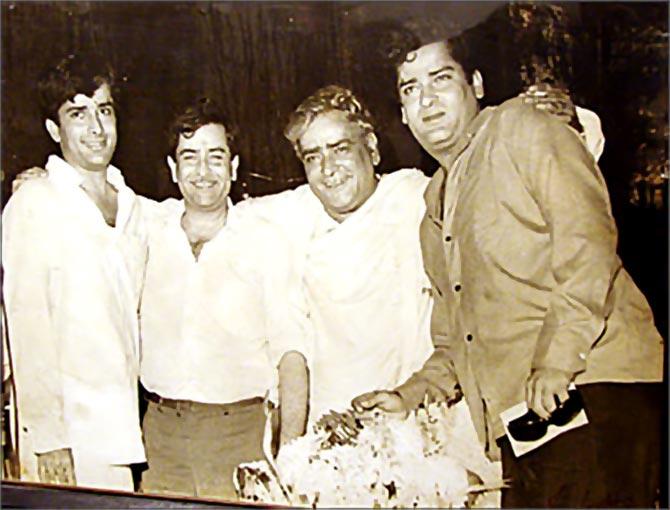 IMAGE: Shashi Kapoor, Raj Kapoor, Prithviraj Kapoor and Shammi Kapoor. Photograph: Rediff Archives
Hands down, the ultimate Kapoor and Sons of tinsel town, every single one of them is a legend in his own right.
While Prithviraj pioneered theatre and created an indelible mark in films with his grandiloquent style, his boys Raj, Shammi and Shashi carved in a niche with their sparkling individuality that both entertained and resonated with the common man.
Raj Kapoor expanded his oeuvre beyond the Chaplinesque persona directing socially relevant cinema before showmanship consumed him entirely.
Shammi Kapoor's brand of ebullience is still to find a worthy successor whereas youngest brother Shashi Kapoor proved there's more to him than sweeping pretty girls off their feet by producing meaningful projects.
Raj: Randhir, Rishi and Rajiv Kapoor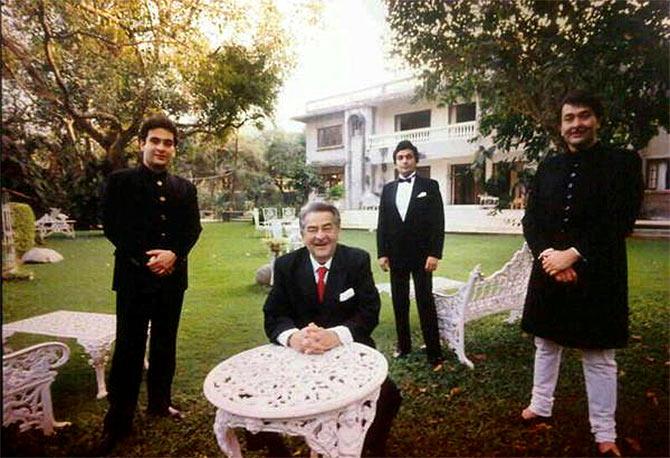 IMAGE: Rajiv Kapoor, Rishi Kapoor, Randhir Kapoor with their father Raj Kapoor (in center). Photograph: Rishi Kapoor/Twitter
Few can boast of a success like Raj Kapoor's -- on screen and off it. Not all his sons were as lucky.
Randhir's journey as a leading man quickly lost steam and relegated him to supporting roles. A laidback attitude didn't do any favours to his career as director either.
Despite his incredible talent, Rishi was unfairly stuck in the romantic hero slot but was content to survive Amitabh Bachchan's angry young man boom. It's only in his second innings that the veteran is playing to his potential and gathering accolades galore.
Except his father's launchpad, Ram Teri Ganga Maili, which was talked about only for heroine Mandakini's exposure, Rajiv aka Chimpoo Kapoor's career never really took off. Ditto for his directorial debacle, Prem Granth.
Rishi: Ranbir Kapoor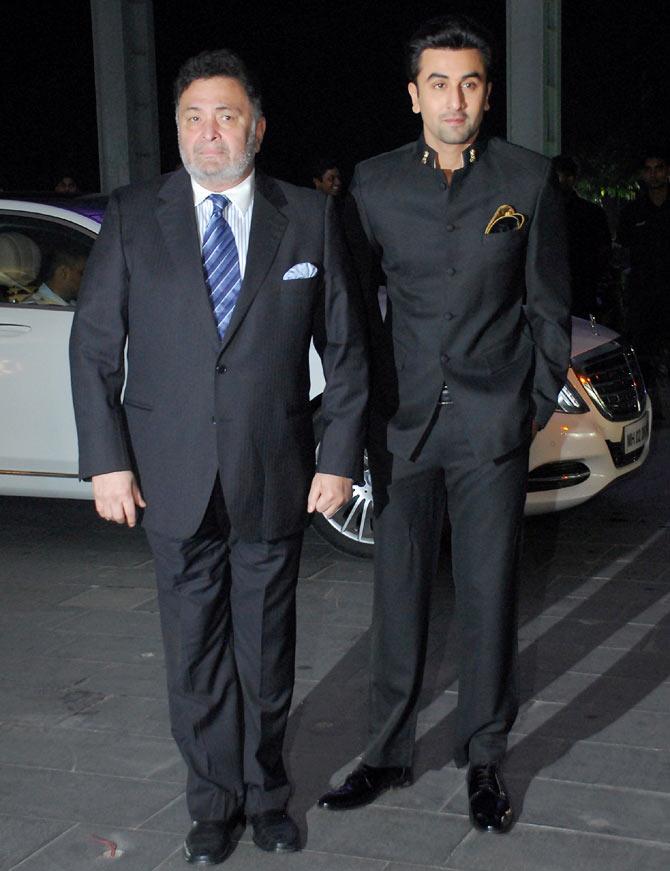 As Bollywood's most effortless actor (most fiery too), Rishi Kapoor is something of a national treasure.
Beta Ranbir is no less gifted, having proved his prowess in all genres.
Although the erstwhile darling of the critics is bearing the brunt of some terrible career choices right now, there's no doubt that he will bounce back soon.
Shashi: Kunal and Karan Kapoor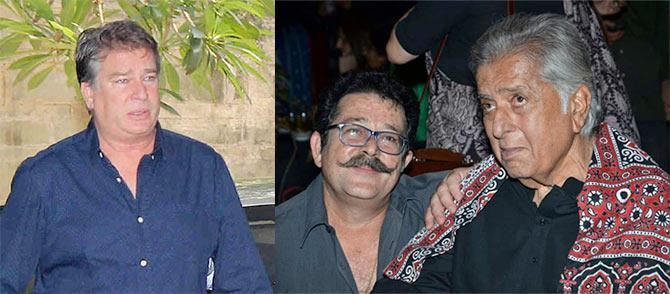 IMAGE: Karan Kapoor (Left) and Kunal Kapoor with Shashi Kapoor (Right). Photograph: Pradeep Bandekar.
Whether he's wooing Raakhee with a rose or cozying up to Parveen Babi on a dance floor, Shashi Kapoor's charisma is eternal.
Disastrous directorial debut Ajooba notwithstanding, his work as producer is most credible.
His sons Kunal and Karan didn't quite take the legacy forward. Both of them had a pretty successful stint as models but fizzled as heroes and chucked Bollywood to pursue other avenues -- ad filmmaking and photography respectively.
Kunal returned to big screen last October to play Amy Jackson's father in Singh is Bliing.
Jeetendra: Tusshar Kapoor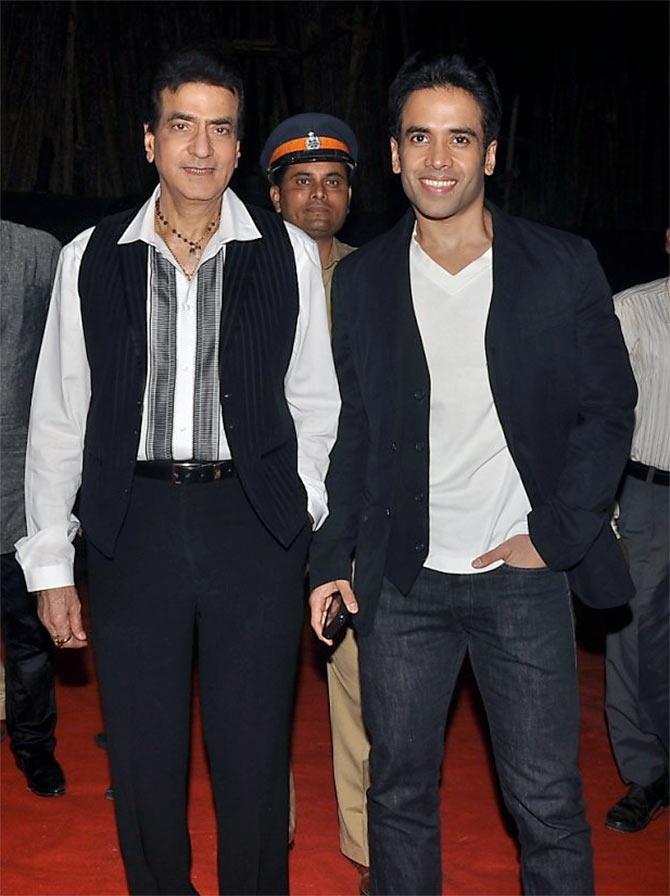 The world may know him as Jeetendra or even Jumping Jack but his real name is Ravi Kapoor.
Today, he's happy basking in his children's success but you can imagine the endurance of a star who's worked in over 200 films.
If Jeetendra's dancing skills and age-defying good looks helped him convincingly romance everyone from Mala Sinha to Madhuri Dixit, his restraint under Gulzar's direction earned him respect in quality fare like Khushboo, Kinara and Parichay.
Meanwhile, son Tusshar is best known for his dumb gags in the Golmaal franchise, lewd antics in sex comedies like Kya Kool Hain Hum and Mastizaade.
Surinder Kapoor: Boney, Anil and Sanjay Kapoor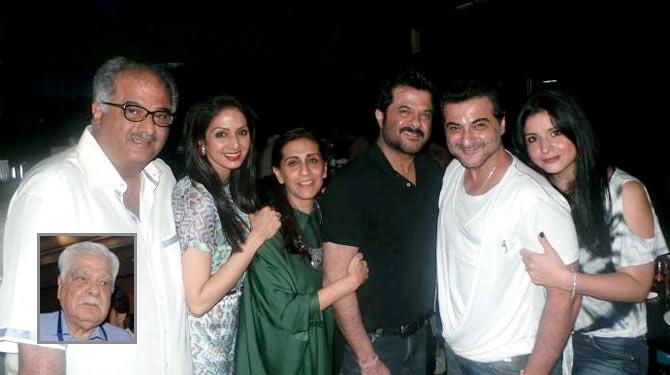 IMAGE: Boney Kapoor, Sridevi, Sunita Kapoor, Anil Kapoor, Sanjay Kapoor and wife Maheep Kapoor. Surinder Kapoor (insight) Photograph: Sridevi/Twitter
From managing Geeta Bali's work to turning movie producer, the former President of the Film & Television Producers Guild of India has done it all. Yet, his most common introduction is dad to the Kapoor brothers: Boney, Anil and Sanjay.
Easy to see why, Boney is one of the most prolific producers in the industry since Mr India days, his younger brother Anil Kapoor has a body of work -- in Bollywood and Hollywood -- that every aspirant dreams of.
Too bad Sanjay, the youngest among them, never got out of their shadow nor recovered from the backlash to his first film, Prem.
Still, every now and then, he garners a few laughs for his trippy turn in movies like Luck By Chance.
Anil Kapoor: Harshvardhan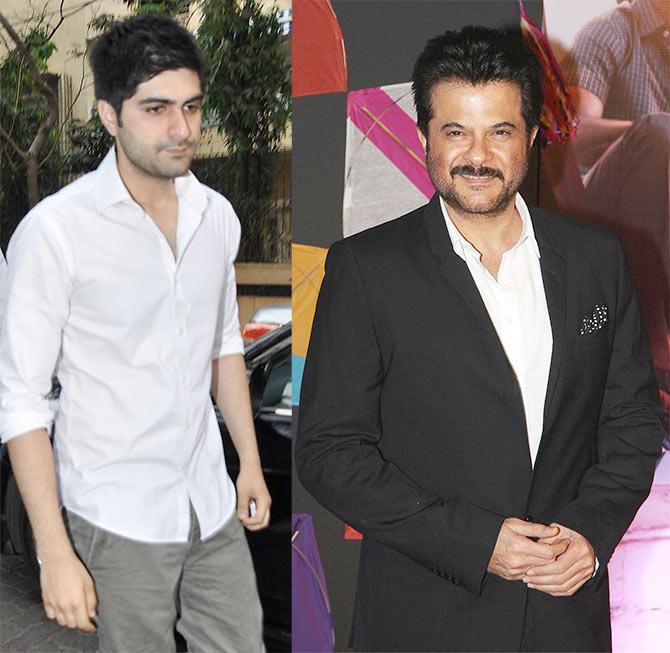 From invisible superhero to high society dad, Anil Kapoor has covered the spectrum and beyond with his versatile acts through the decades. Toss in a few international projects and producer duties, the man's done it all.
We know what his daughters Sonam and Rhea are capable of.
Remains to be seen if youngest born Harshvardhan is also a chip of the old block when his highly anticipated acting debut Mirzya hits the screen in October.
Boney: Arjun Kapoor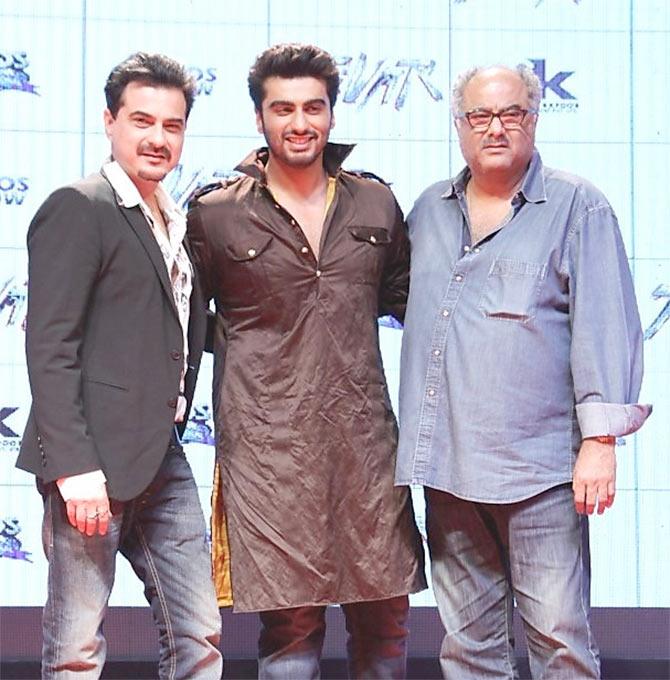 IMAGE: Sanjay Kapoor, Arjun Kapoor and Boney Kapoor at the trailer launch of Tevar. Photograph: Rediff Archives
Like his father Surinder Kapoor, Boney Kapoor had no intentions of facing the camera and was content playing producer.
His son, Arjun from first wife Mona, decided to follow in the footsteps of his star uncle Anil instead, losing oodles of weight to receive a dream launchpad under the Yash Raj banner.
He's not looked back since.
And while we're on the subject of Kapoors, his next called Ki and Ka pits him opposite another famous Kapoor: Kareena.
Pankaj: Shahid Kapoor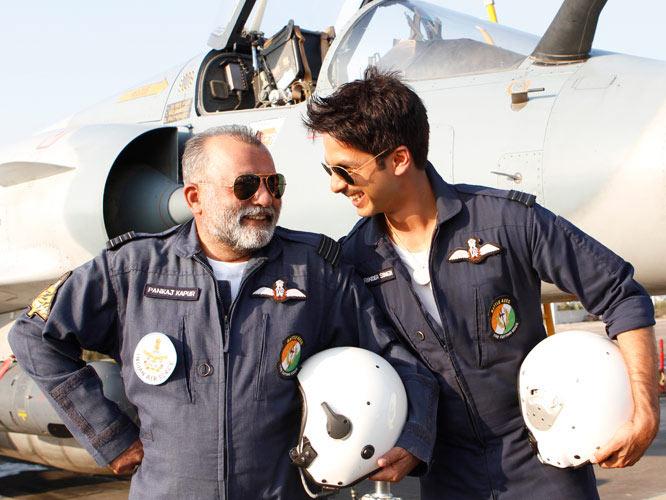 Pankaj Kapur's unconventional looks kept him away from regular hero roles but it's been more of a boon than disadvantage.
Be it small screen or silver, the multifaceted powerhouse has regaled us with his perfection in drama or comedy.
That he's one of the best in the business needs no poll to prove.
His son Shahid Kapoor started out in the standard chocolate-faced hero format but soon realised the importance of prioritizing art above glamour. Hit or miss, we like the new, improved Shahid a lot better.
Shakti: Siddhanth Kapoor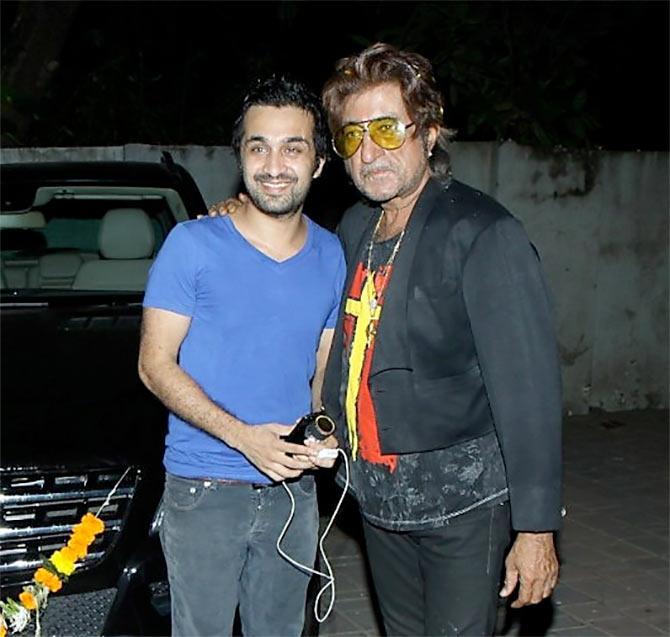 It's hard to be both -- nefarious and funny -- but Bollywood's top villain and comedian Shakti Kapoor achieved the feat quite successfully through the course of his long-lasting career.
Even as daughter Shraddha has inherited his box office luck, son Siddhanth is working his way essaying troubled characters in crime stories like Ugly and Jazbaa.