Here's what caught our eye at the movies this year.

A good trailer does not a good film make.
It's important to remember that, because half the films on this list aren't very well-made films.

And yet their trailers made us curious, thrilled us, left an impression on us. The only rule for this list was to look at trailers for films that released this year.

That said, here is our top ten:
10. Mary Kom
Image: Priyanka Chopra in Mary Kom.
Omung Kumar's film was a formless, unstructured mess of a biopic, but the first glimpse of Priyanka Chopra in and as Mary Kom was an impressive one, complete with much physical ardour -- enough to make us overlook the odd accent.
9. Hawaa Hawaai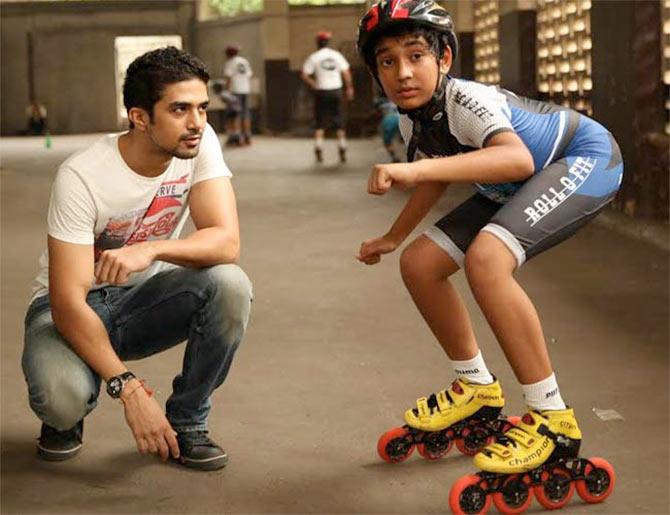 Image: Saqib Saleem and Partho Gupte in Hawaa Hawaai.
Amole Gupte makes heartwarming films, and this tale of young kids and rollerblade dreams looks sunny, inspiring and meant to soar.

There's a lot of warm camaraderie, a sport we haven't seen in our films, and plenty of smiles.
8. Gulaab Gang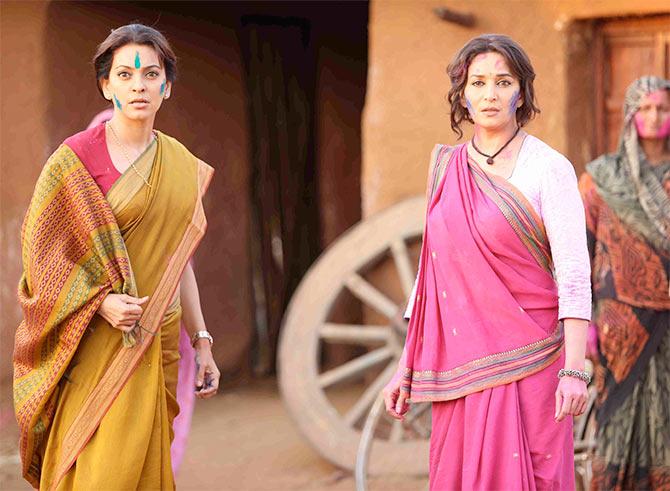 Image: Juhi Chawla and Madhuri Dixit in Gulaab Gang.
Our first peek at Soumik Sen's film took our breath away, largely because Madhuri Dixit was kicking goondas in the chest.

I mean, come on.

That plus Sen's rousing Gun-Gun-Gagan song tickled us pink as we waited for the film.
7. Finding Fanny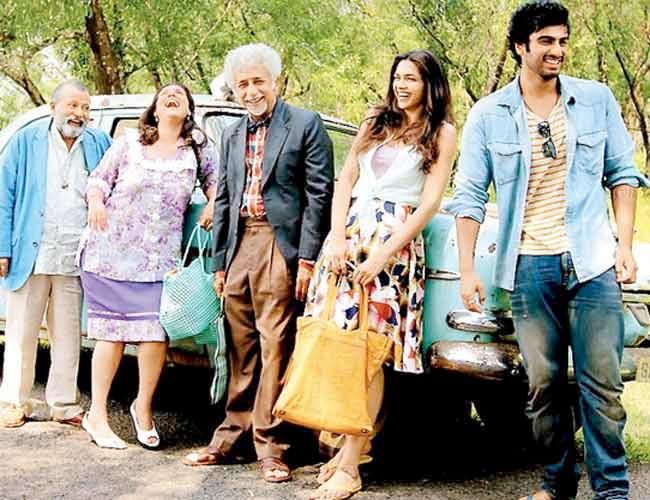 Image: Pankaj Kapur, Dimple Kapadia, Naseeruddin Shah, Deepika Padukone and Arjun Kapoor in Finding Fanny.
Deepika Padukone, A-list queen and current empress of the box office, in a quirky little English film?

Homi Adajania's Finding Fanny -- which featured Dimple Kapadia with a fake bum and Pankaj Kapur as a lecherous artist — was always going to be 'different', and the trailer showed off its weirdness wonderfully.
6. Bang Bang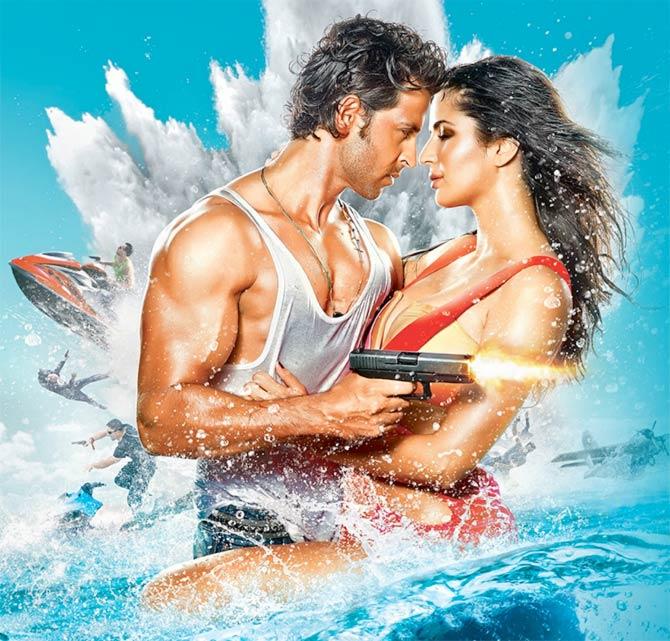 Image: Hrithik Roshan and Katrina Kaif in Bang Bang.
Slickness was key in the trailer for Siddharth Anand's Knight And Day remake, and just based on this footage -- glitzy locations, megabudget stunts, high-octane action and the two most feted bodies in Bollywood shining more sweatily than ever -- we were led to believe we finally had the true successor to Dhoom 2.
5. Ugly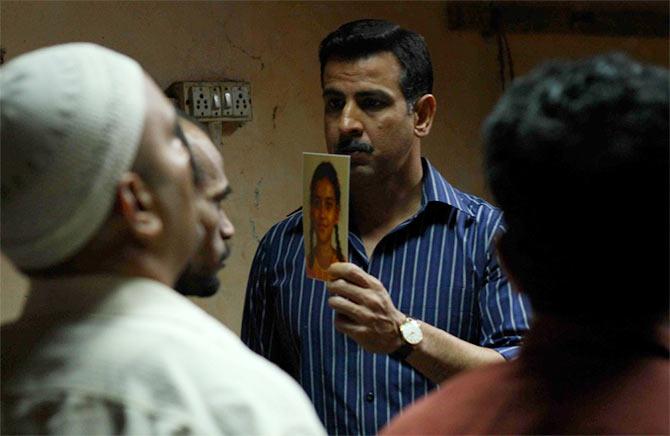 Image: Ronit Roy in Ugly.
Nobody shoots grit quite like Anurag Kashyap, and even a cursory glance at this oddly titled film showed that even he'd gotten his hands dirtier than usual.

Featuring a slew of fine, underused actors in an instantly intriguing situation -- that of a kidnapped little girl -- Kashyap had us hooked, and in style.
4. Happy Ending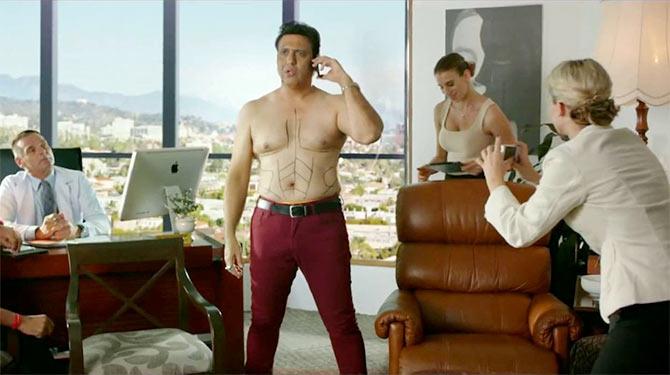 Image: Govinda in Happy Ending

We haven't had a good, glossy romantic comedy in forever, and for a while there it seemed like Raj Nidimoru and Krishna DK's Happy Ending would fill that void.

Saif Ali Khan seems to be having fun, Ileana D'Cruz looks great and Govinda -- well, Govinda looks better than ever.

What fun this trailer promises.
3. Haider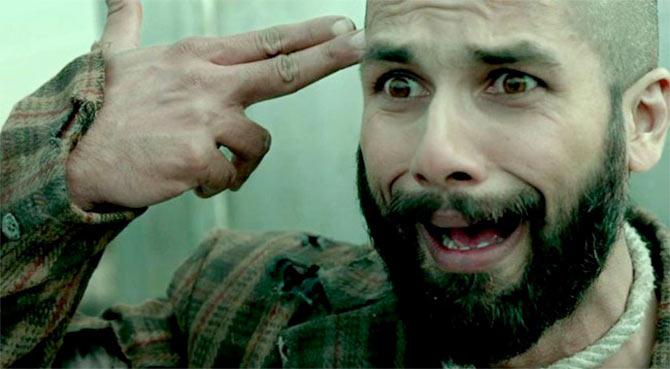 Image: Shahid Kapoor in Haider.
An early glimpse of a Vishal Bhardwaj film is always special, and the master director gave us everything in the first trailer for his Haider: the soliloquy, the cast, Tabu with a gun to her head, and that amazing bassline for the Aao Na song as Kashmir is riddled with bullets.
What he also gave us was a bit of skilful misdirection, leading many of us to wrongly conclude that Irrfan Khan is playing Shahid Kapoor's father.

Kapoor, however, sticks out a bit in this trailer, leading to more concern from Bhardwaj-fans than unbridled excitement.
2. Dedh Ishqiya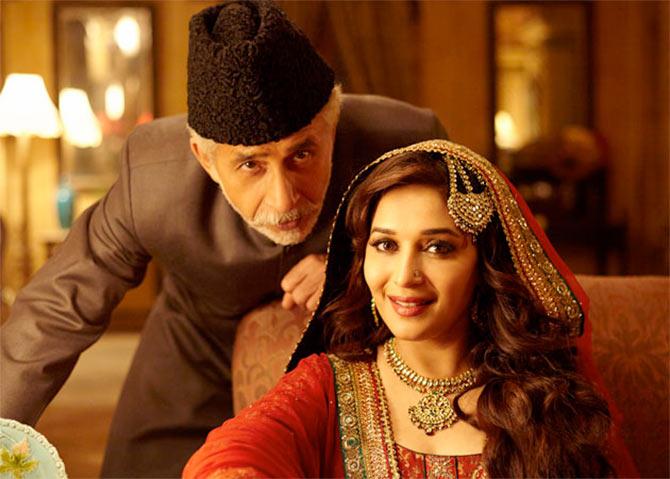 Image: PNaseeruddin Shah and Madhuri Dixit in Dedh Ishqiya.
We know Naseeruddin Shah's Khalujaan and Arshad Warsi's Babban from Abhishek Chaubey's first Ishqiya, but the trailer for the sequel -- featuring a narrative on the seven stages of love -- was raunchy and wicked, and showed us Madhuri Dixit looking most mischievous.
Colour us curious.
1. Queen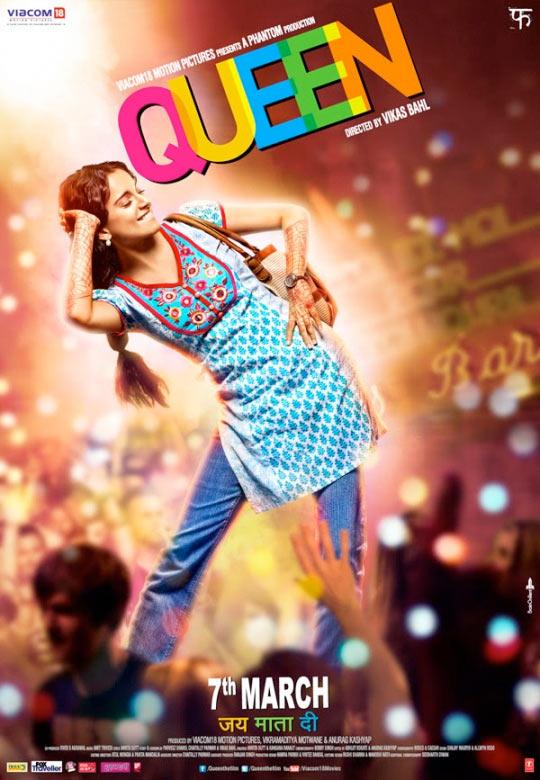 Image: Movie poster of Queen

The best thing a trailer can do is smack us between the eyes with genuine surprise, and boy were we taken aback by the Queen trailer.

We're used to seeing Kangna in high-pitched, high-strung, hysterical parts, but here, her earnestness and charm won us all over and got us thrilled.

Here was a character we didn't know but certainly and immediately wanted to, and she was asking us, shyly but energetically, about honeymoons.

Wow.