Srabanti Chakrabarti pays homage to Manohari Singh, one of Indian film music's true unsung heroes.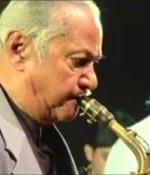 Remember the intoxicating saxophone interludes as Rajesh Khanna wooed Sharmila Tagore with Roop Tera Mastana in Aradhana?
They were the work of the master Manohari Singh, who passed into the ages on July 13.
A few days earlier, on June 22, he performed with Asha Bhosle on Indian Idol.
Singh epitomised the fact that there are musical instruments that require you to use your brain, and there are musical instruments that require both brain and brawn. Wind instruments definitely belong to the second category.
Not only do you need strong lung power to blow into a saxophone, you also need to control it well to hit the right note. It is this combination that makes the sax a difficult instrument to play -- your maturity and thought process improves with age, but your lung power decreases. Having the right combination of experience and strength seems impossible.
Making this impossibility look easy is precisely what Manohari Singh did. Even at the grand age of 80, he used to perform for hours on end without taking a break. When anyone asked him the secret of his energy and lung power, he would smile warmly and mention his regular riyaaz (practice) that had spanned many decades.
It would not be an overstatement to say that, when it came to Hindi film music, Manohari Singh gave wind instruments a new lease. Be it the flute, the trumpet or the saxophone, his talent was magical.
When the talented Singh began his career as a musician in Calcutta (as Kolkata was then known), he preferred the flute, the clarinet and the mandolin. He easily found a place in the prestigious Calcutta Symphony Orchestra.
Soon, he tired of the flute and the clarinet and decided to specialise on the saxophone. He was noticed playing jazz with the orchestra and offered a job with HMV. Music companies those days kept artistes on their payroll.
Singh happily took up the offer, not knowing it would become the turning point of his career. It was at HMV that he met legendary composers like Salil Chowdhury and other luminaries of Hindi film music.
Chowdhury encouraged Singh to shift base to to Bombay (as Mumbai was then known) and start playing for Hindi films.
He was introduced to S D Burman and Laxmikant Pyarelal and started playing for them as well.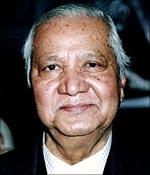 When Singh moved to Bombay he encountered an interesting intersect in Hindi film history. The Indian film-going audience was beginning to enjoy Western music.
Though polyphony was still unheard of in Hindi films, the piano, the accordion, the saxophone and the guitar were making steady inroads. That's when R D Burman entered the scene. His father introduced him to Manohari Singh and the two men, born within 7 years of each other, hit it off like a house on fire.
Their body of work makes it clear that though Singh played the sax and the flute for many music directors, it was R D Burman -- his beloved Pancham -- with whom he enjoyed a special bond. It was with Pancham that Singh metamorphosed from a musician to an arranger.
A number of talented musicians joined Pancham at around the same time, including Bhanu Gupta (guitar), Kersi Lord (electric organ). Together, the team created magic in all genres of film music -- be it the classical Amar Prem, the peppy Hum Kisise Kum Nahin or the infectious Padosan.
The Pancham-Manohari Singh combination resulted in lovely songs where wind instruments played a key role. The prelude of Bachna Ai Haseeno (Hum Kisise Kum Nahi) or the interludes of Mehbooba Mehbooba (Sholay) bear testimony to this fact.
The duo even tried unheard of musical experiments, with Asha Bhosle as their accomplice. Consider the song Gumsum Kyun Hai Sanam (Kasme Vaade), where the prelude has Singh playing the sax and reaching a zenith just before Asha Bhosle starts singing. The transformation is so perfect that you don't realise where the sax ends and where her voice begins.
Singh, along with his colleague Basu Chakraborty, Pancham's assistant, also tried their hand at music direction. Basu-Manohari saw moderate hits in Sabse Bada Rupaiya and Nargis.
After a while, Singh returned to what he did best -- arranging music and playing the sax.
His solo sax album, Sax Appeal, where he played golden Hindi film oldies was a big hit.
In his later years, though Singh continued to play for select music directors (Jatin-Lalit were one of his favourites), he concentrated on solo sax shows and lecture demonstrations. He was also seen in many of programmes held every year in Pancham's memory.
His death is a huge loss for the music industry. He was still hale and hearty and had lungs full of music. May his soul rest in peace.
Also watch: Manohari Singh plays the saxophone
Manohari Singh on Indian Idol