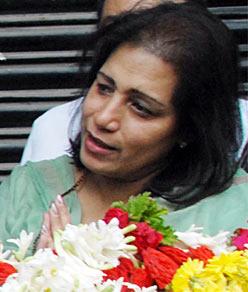 Upset that they had not been helped in bad times, the family of legendary playback singer Manna Dey did not accept the request of West Bengal Chief Minister Mamata Banerjee to bring his mortal remains to Kolkata for the last rites.

"I pleaded with Mamata Banerjee to help solve a case involving my cousin who siphoned off cash and jewellery from my father's bank locker. This would have helped me foot large the bills of Narayana Hrudalaya hospital. I pleaded with (Mamata) government and it did not recognise our pleas. In that case, how shall I honour her words (to bring the body to Kolkata)," Dey's daughter Sumita Deb said.

Sumita was speaking to reporters at the Hebbal crematorium in Bangaluru where the last rites of Dey, who died in the early hours
of October 24 after being in and out of the hospital for more than five months, were performed.

Dey, 94, had recently moved the Calcutta High Court for a direction to police to take steps against his nephew for allegedly siphoning off cash and jewellery from his bank locker. Dey had alleged his nephew had illegally taken Rs 12 lakh in cash as well as jewellery and a watch worth Rs 15 lakh from a bank locker.

"In such a scenario when she (Mamata) has not come forward or not even shown any condolence or any feelings for the family who were going through such a rough time... For five months and 10 days, my father has suffered and yet she has not come forward at that time and neither the Police Commissioner came forward after repeated requests and pleadings, then how do I treat this?" said Deb.

She criticised the Kolkata Police Commissioner for not taking steps to solve the case involving her cousin in spite of her writing a letter to him.

"We are only asking for my father's money. We are not asking any chanda (donation). My father had kept that money in good faith," she said.
Asked if any Bollywood stars have been in touch with her, Deb said, "Plenty of them spoke to me, including Lata Mangeshkar, Asha Bhosle and Pandit Amjad Ali Khan."
Meanwhile, the Bengal government has expressed regret for not getting the body of the singer to Kolkata.
"We are very sad for not being able to conduct the last rites of the singer in Kolkata which we wanted," senior minister Subrata Mukherjee said.
"Chief minister Mamata Banerjee had earnestly wanted his body be brought to Kolkata so that the last rites were done here in a graceful and respectful manner," Mukherjee said.
"But we are deprived of that and we are very sad about this since the singer was born in Kolkata and was essentially a Bengali," Mukherjee said.
The minister said that the state government would pay appropriate homage to the singer so that his superb renditions reverberated in the minds of music lovers for years to come.
© Copyright 2021 PTI. All rights reserved. Republication or redistribution of PTI content, including by framing or similar means, is expressly prohibited without the prior written consent.