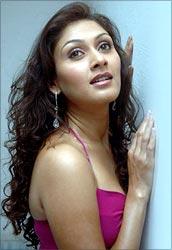 After Shraddha Arya, Anjana Sukhani, Yuvika Chaudary, Yami Goutham and Vedika, another Hindi film import will launch herself in Kannada cinema.
Manjari Phadnis, who played the parallel lead in
Jaane Tu... Ya Jaane Na,
will be playing the lead in
Munjane
. The actress has bagged a pivotal role in Prashanth Raj's upcoming film
Dilkush
as well.
Speaking about her role in
Munjane,
being directed by S Narayan, the actress says, "I play the daughter of a postman. She is a very simple girl but there is something peculiar about her. It is this peculiarity that the story rests on. In the film the man and woman keep encountering each other without realising that they are meant for each other."
She was excited to act in this "beautiful love story", and the experience of working with a senior director like Narayan was very satisfying.
"He has a lot of clarity when it comes to executing scenes. His shot compositions are excellent and he has presented me well. One more thing I appreciate is his discipline. I am very much like him on that front and thus it has been a good experience so far," Manjari says.
Working with Ganesh was an added advantage. "He is very hard working. During breaks he mixes well with the crew. He takes time to connect with new people so we have hardly had any interactions off-screen."
And how is she coping with the language barrier? "This is not my first South Indian film. I have done Tamil and Telugu films. As I don't know any of these languages
either, I ask for my dialogues to be sent a week before the shooting commences. I work on the diction, pronunciation, flow, pauses and meanings. So when I actually come on the sets, I feel at ease with the language."
Where there is a will, there is a way seems to be the actress's
mantra
in life, for not only has she said her own dialogues in her Tamil films, she has also crooned for one of them.
"I sang in
Muthirai
. Singing is my passion. In fact, if you mention me to my school mates, they will remember me as a singer. When I am not acting, you will find me practising music. I have even lent my voice to a song,
Soniyave Sajana,
that will be featured in an Indo-Pak album called
Beats Beyond Borders
. It aims at furthering peace initiatives between the two countries through music. I am now more open to playback singing in my films as well. Painting is my other favourite activity," she says. 
What are her upcoming projects? "I am listening to a few scripts. After
Jaane Tu,
I was mostly offered second leads. I know I am heroine material so I declined such projects. I am okay with parallel leads, though. Take for example Konkana Sen Sharma's roles in
Aaja Nachle
or
Laaga Chunari Mein Daag.
I am open to such offers.
"Having said that, I wish to thank Aamir Khan for giving me a film like
Jaane Tu.
I not only received an award for my performance, but was also referred by Aamir to Walt Disney Pictures' Hindi production. The film
Zokommon
centred around two orphans played by Darsheel Safary and me. Aamir Khan's production has given me the right push and I intend to use it well by signing films that will bring out the versatility in me," she signs off.