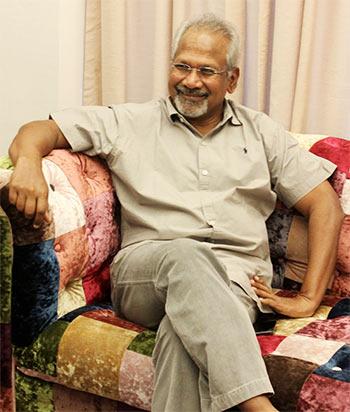 'You ask him for anything and he gives you more than you expect.'
'Though I work with Rahman again and again, it is not because it is comfortable. In fact, we push ourselves to a discomfort zone.'
Mani Ratnam explains to Shobha Warrier/Rediff.com why he will never tire of working with A R Rahman, why his leading man Dulquer Salman is terrific in his individuality, and when we can expect his next project.
Do you enjoy making love stories the most?
I enjoy making all kinds of films. I love action films, war films, period films, adventure films.
To catch a piece of life on camera and make it come alive, add layers to it and deliver a product that is wholesome is really exciting to me.
In real life, people do not sing songs when in love, but songs are an integral part of our films and we enjoy them. Is it our fantasy coming alive on screen that makes us happy?
In this film (O Kadhal Kanmani), the couple do not sing any songs; the songs are integrated with the film.
I am not against songs in films. We come from an oral tradition of storytelling. I have grown up listening to epics in oral rendition and oral rendition always had music.
When you have two-and-a-half hours of story-telling, there is this beautiful abstract break which takes you to the mood of the story.
It is a tradition that was passed on to theatre, and then cinema came and it also adopted this tradition, which is very unique to India.
I am not saying it is a must, but it is something we don't have to be ashamed of.
In the West, when they want these poses, they have these pointless shots like a car going over a bridge with a helicopter following. These poses do not make any sense as songs do.

At least songs are colourful and can say what we can't say through dialogue.
A R Rahman has been composing music for your films from the time you made Roja. Haven't you ever felt like trying out a different music director and a different kind of music?
I have tried different kinds of music, and Rahman does different kinds of music very well.
You ask him for anything and he gives you more than you expect.
As long as we're not pulling each other down, we are able to go on and not repeat ourselves.
When we try to do something different and not settle for something conventional, it becomes a positive collaboration.
We utilise each other to push ourselves to do something that goes with the base of the film.

Like we strive to get the right tone for a film, we try to get the right tone for the music as well. So far, it has been an extremely good association.
Is comfort level also a reason? Does a filmmaker look for a comfort level while working with his team?
Comfort is a bad word. We try our best not to get into the comfort zone.
Though I work with Rahman again and again, it is not because it is comfortable. In fact, we push ourselves to a discomfort zone, which we have not tried before.
Over the years, trust increases. I believe in him a lot more today so that we can boldly get into newer sounds and newer areas.
He has always been very flexible and very director-friendly and will try anything out of the box. He is not rigid at all. So we have had a good journey.
Is it the same with cinematographers?
It is very much so. A cinematographer is the closest associate in the process of making a film.
It's not just lighting and cranking the camera, he is the closest person you collaborate with to make sure everything comes out right.
He is my sounding board to make sure that the performances are right. If I have to ask somebody, he will be the person I ask.
Just like the editor becomes the closest associate before and after the shoot, the cinematographer is the closest associate during the shoot.
You want somebody who doesn't do just what you want; you want somebody who adds value to it. We have to be complementary and build from a small idea to the actualisation of something.
What about actors?
Actors are the most important. Performance is what matters. Nothing matters more than the actors; they have to perform.
No one else can give life to the characters. Audiences must believe the characters as real and the moments as real.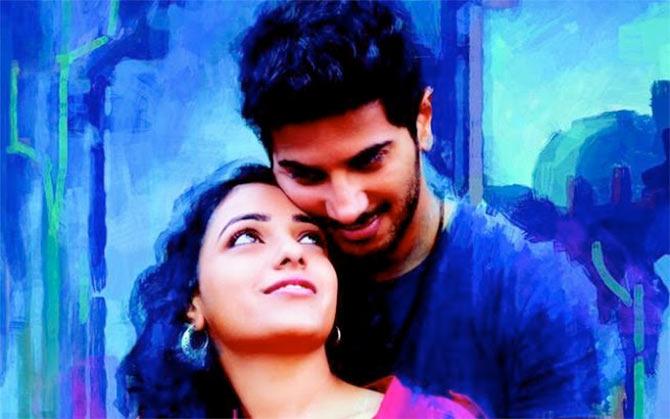 Image: Dulquer Salman and Nithya Menon in O Kadhal Kanmani.
When you signed Dulquer Salman and Nithya Menen for Kanmani, did you expect them to be so real and so lively?
They are both very good. Yes, they are very real and lively, and don't look filmy. It was fantastic.
Did you see them in Ustad Hotel and so picked them as the couple?
No, I have not seen Ustad Hotel. I had not seen any film of Dulquer till I signed him.
He was here, in this room, and chatting and I got the feeling that he listened to me, understood me and we were on the same wavelength.
That conversation fell into place and I knew his interest level. It was the same with Nithya.
Ram Gopal Varma created a furore when he compared Mammootty with Dulquer...
I do not want to comment on this.
Since you have directed both, do you feel Dulquer is more natural and realistic than his father Mammootty?
They are two completely different actors.

It is very tough for somebody to grow under the wings of such a large persona and still retain his individuality.
It is a remarkable feat and not many second generation actors can do that. I am glad that Dulquer is not like Mammootty, but completely different.
Mammootty has been there for so many years and has done so much. How can you start comparing the two?
Dulquer is very promising. He is a terrific talent. I am very, very happy with the film he has done for me.
As a person, he is a fantastic guy.

But he has a long way to go as an actor. He has to do different kinds of roles. He has got the potential, but he has to explore himself as an actor.
Do you feel relieved at the kind of appreciation you are getting for O Kadhal Kanmani?
You first feel happy. Somewhere inside, you have to be honest, you are relieved because you are not getting battered! (laughs).
After that, you have to try to be as Zen as possible and not get carried away.
Did you take a holiday afterwards?
I am on holiday now that I have started playing golf.
So when will you start thinking about your next film?
Thinking is a continuous process. At any point of time, I will have one or two ideas in mind.
It doesn't cost to think; it only costs to make a film.