The day is half done. Beads of sweat run down my back as I make my way to meet Mallika Sherawat, heroine of one of the most talked about films this year, Khwahish.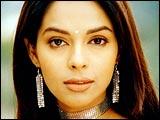 She is fresh as morning dew and in the midst of an interview with the British Broadcasting Corporation. Her agent asks me to take a seat at the back in the preview theatre as she winds up the two-day-long interview.
At 21, Mallika is on the cover page of an international magazine, Snoop, and the Indian edition of Cosmopolitan. And all this before her debut film has even hit the marquee. Truly outstanding for a girl who does not come from a famous film family and has no godfather.
She scythes her shapely hands through the air drawing parabolas, ridiculing Hindi cinema, accusing Indian society of being too hypocritical, and expressing shock at the double standards of India's yuppiest television channel MTV, which does not permit the use of words like 'stoned' and 'boob'.
Mallika makes an impression even before we get down to do the interview.
Having read the story of Khwahish, a film that is more spoken about for its 17 smooching scenes than the script or the music, Mallika sounds exactly like the character Lekha in the film -- an independent, urban woman who wants equality with men, without the privileges of being a woman.
She has a reputation as well; a reputation of being a flirt and tease. And she does not disappoint. She flirts with the cameraman, an Australian, to ensure he captures her best shot, her best profile.
The interview ends and her agent escorts her to me, sitting at the back of the mini-theatre, summoning all my memorizing ability to capture the scene. She puts her hand out and radiates a smile, which is more honest than classical. We shake hands and exchange pleasantries.
As we wait for the BBC crew to clear up the mini-theatre, her agent Parul, the director of her debut film Govind Menon, Mallika and I stand in the corridor of Famous Studio in central Mumbai.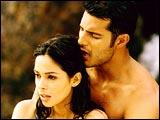 "The reports are amazing. You will be plastered all over the [Mumbai] city by this evening," Govind tells Mallika. "Juhu and Bandra mein woh garam posters lagaya hai, town mein thanda wala hai [I have put up your hot posters in the suburbs and cold ones in town]."
"We Jats have arrived!" she screams. "First [Virender] Sehwag and now me. But I am nervous because I am a small-town girl from Rohtak [in Haryana] and though the attention is good, it scares me sometimes," she tells me, as I recheck my recorder for batteries. Can't miss this one, can I?
Audacious, vulnerable, and with tons of oomph, Mallika has the code to hack the 'Succeed in Bollywood' password.
In a communist-red top that reveals more than it conceals, high-heeled leather boots that make me feel conscious of my height, and denims that would require butter paper to get into, Mallika Sherawat deserves her place in the sun as much as on the covers of magazines.
As we speak, television personality Sajid Khan -- who makes a career out of mocking Bollywood -- passes by and yells at Govind, ensuring that his voice reaches Mallika, "Teri picture garam hai [your film is hot]!"
If her look could be translated into a single word, b****** is what I think I heard.
With the theatre cleared up, we settle in our seats. I press the record button.
There is a transformation. Her mouth heats the words, stewed by the juices of her accent, which she has worked hard on. Her pronunciation is imperfect, but her tone is immaculate. Her choice of phrases could do with some improvement, but her conviction is stirring, as is the generous helping of cleavage staring at me. "The public is the ultimate judge and I am happy about the response the film has got," she says.
"It is a bold film and if I can generate interest for the film, I will do it. Khwahish has given me my identity. When audiences come in, they will not feel cheated. They are sick of seeing birds and flowers meeting, thundershowers and stuff like that. Couples kiss, it's normal. If married couples do not kiss, there is something abnormal about it.
"What's the big deal? Social radical issues have been discussed in the film. We have discussed the mental block that girls have to premarital sex, contraception, boredom settling in after marriage, and conception. It is very challenging as a subject. We have dealt with these issues with humour.
"Buying condoms on the wedding night was hilarious; when the hero [Himanshu Malik] tries to feel her, she draws the line, restricting the adventure to mere kissing. Khwahish celebrates the Indian woman. Everyone will relate to Lekha. Even my Nani [maternal grandmother] related to it, for heaven's sake!"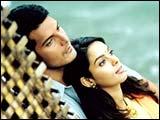 And there comes the first laughter. Her head thrown back, her left knee almost knocking the recorder off my sweaty palm and her hair trailing the way male eyes trail her lithe figure.
She has learnt to say more in a sentence than we can think of in an entire day.
Her agent claims Mallika gives an average of 20 interviews a day and by now has devised a template-driven answer bank in her head.
Mallika repeats what she told the BBC interviewer about trying to break the mould of Hindi cinema with this bold and honest film.
With seventeen kisses? I ask.
"These 17 kisses will land me in the Guinness Book, I am sure," she answers. "Censors have passed the film without a single cut. The kisses are not just there because it needs to be there. It is a portrayal of a newlywed couple."
She is not unhappy with the mileage the film has got merely on the sensational ticket. "My movie is getting attention, period," she claims.
Her voice fizzes. It rises and then winces a little. "In an industry full of nepotism, I have made a mark. These star children get big breaks and plum roles. I have managed to create an impact and I am happy about the fact. Kissing is a minor part of the film."
Her humour still alive, she adds, "We had lot of Clorets [mouth freshners] during those scenes. Himanshu once had onions before a kissing scene and I had tears in my eyes. And on top of that, the director screamed, 'Give me more passion'!"
Of course, not everyone is happy with her. Her father, for one, has developed ulcers. "Papa kehte hai mujhe burkha manga do main usme ghoomunga [my father says he wants to hide himself in a burkha]. I come from a conservative family where women are not supposed to do anything in life."
And, as she has so often repeated in her interviews, she adds that the 'Haryana Mahila Mandal' has sent her a congratulatory letter after watching the promos of her film. Even though a Google search on the Net throws up 'Haryana Mahila Vikas Nigam' as the only recognised women's organisation in her home state.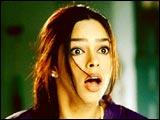 At a time when actresses are recognised more by the amount of skin they show, Mallika believes being a sex symbol is not taboo. "I feel sad for actresses who are not sexy. Poor things, yaar! I am happy to be a sex symbol, rather than be a symbol of anything else. Film is a visual medium, important for actress to appear glamorous. We work hard for a sexy image. I work there for hours.
"And why are they talking about my kissing scenes and the bikini shot? Even Himanshu has exposed. Woh bhi to chaddi mein khada hai [even he appears wearing only an underwear] on the beach. Why is no one asking him anything?"
"I am here to be an actress," she says, when asked if she will ever do an item number in movies. "And I will never do it." In the Kareena Kapoor-starrer Jeena Sirf Merre Liye, Mallika had done an item number, which remained on the editing table.
Irrespective of whether Khwahish does well or not, Mallika is here to sway.