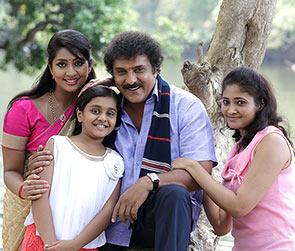 Actor Ravichandran, music maestro Ilayaraja and director P Vasu have teamed up for the first time with Kannada film Drushya, a remake of Malayalam super hit Drishyam made by Jeethu Joseph.
Ravichandran and Navya Nair are reprising the roles of Mohan Lal and Meena respectively. The film Drushya (visual) will be releasing this Friday, June 20, across Karnataka.
According to director P Vasu, Drushya is a combination of two genres -- a thriller and a family drama.
He says he has stuck to the basics and the screenplay of the original. "I could not tamper with or make changes to the original as the original screenplay is quite good," he said.
The story is about how a family gets entangled in a row involving a murder and how they come out of the tangle.
However, the director said the Kannada film has been trimmed by about 15-20 minutes to make it look more slick.
The first half of the movie is a comedy. It picks up momentum from the 46th minute unlike the Malayalam version, according to the director.
Director P Vasu's last Kannada film Aarakshaka starring Upendra bombed at the box-office. Of his current film he says, "Audiences can expect a good dose of entertainment and thrills. They will feel that this is a story that is happening in their neighbourhood and that they should go and run errands for the affected family," he said.
The Kannada film, he says, has the advantage of music maestro Ilayaraja's background score that will lift the proceedings to a higher plane.
"I have picturised a much stronger tussle between the hero and the police than the original. To lend credence to this fact we roped in Asha Sarath to reprise her role in this film as well.
"Prabhu, son of Sivaji Ganeshan, is playing her husband's role in the movie. We didn't want to cast known faces for these roles as we thought by casting Asha and Prabhu, audiences would find it more real," Vasu said.
Ravichandran has been cast in a new avatar. "Audiences can expect to see a new Ravichandran sans glamour in this film. People will get to see the performer in him come to the fore," Vasu said.
Drushya has been shot in Bangalore, Madikeri and the temple town of Nanjangud. The film also stars P Vasu's assistant Rohit in the antagonist's role.
Sadhu Kokila is making a guest appearance in the movie. Swarupini and Unnathi play the kids to Ravi and Navya. Achyuth and Suchendra Prasad are also in the cast. Madhu Neelakandan is the cinematographer.