'Katrina gives a lot of inputs, like the colours that suit her skin tone.'
Katrina Kaif dislikes Chinese collars.
Akshay Kumar prefers V-necked sweaters to round necks.
Irrfan Khan likes bigger shirt collars.
Movie stars have very precise choices when it comes to dressing up, and Veera Kapur Ee knows all about them.
The 37-year-old costume designer recently dressed Katrina up for Bharat, and has previously done the costumes for Piku, Pari, Phillauri, Jolly LLB 2, 102: Not Out, October, Hindi Medium, Vicky Donor and many more.
Oh, and she's done 750 ads as well.
Veera has been working closely with Director Shoojit Sircar since 2003 when she joined him as an intern.
After assisting him on his first film, Yaahan, she realised her true calling lay in costume design.
One of her earliest films was Vicky Donor, and there has been no looking back since then.
"I have learnt a lot from Shoojit sir. He has given me a sense of what looks good on camera, the colours, the simplicity, the aging of fabric," she says.
Veera reveals lovely trivia about movie costumes, and the stars who wear them. Ronjita Kulkarni/Rediff.com listens in.
Katrina Kaif
Bharat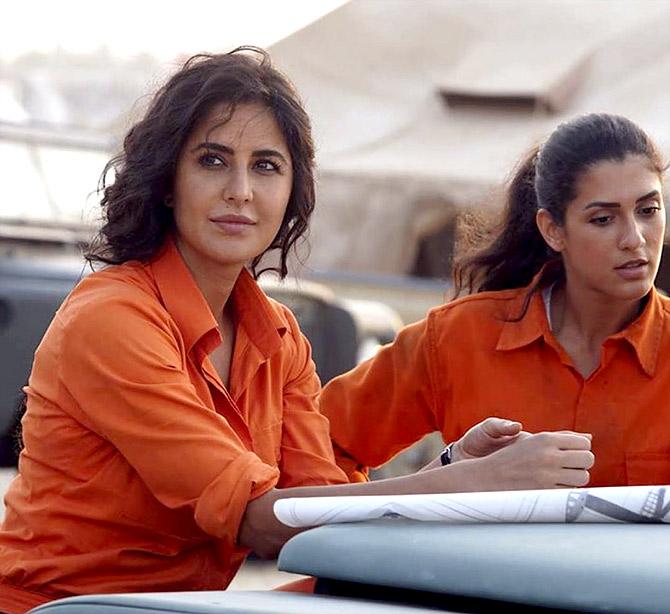 I think Ali (Abbas Zafar, director) liked the idea that I do realistic films because that's what he was looking for in Bharat.
He told me to make Katrina look different and believable, real.
He was okay if she repeated a sari.
He did not want any brands.
I showed him a picture of Deepti Naval wearing a shirt, trousers and boots and he fell in love with it. He said this is how I see her (Katrina) in the oil rigs.
Katrina has not done a simple, period look before, and I think we managed to make her look different.
We did a lot of referencing from old films, pictures of Maharani Gayatri Devi, Sharmila Tagore and other old-time actresses.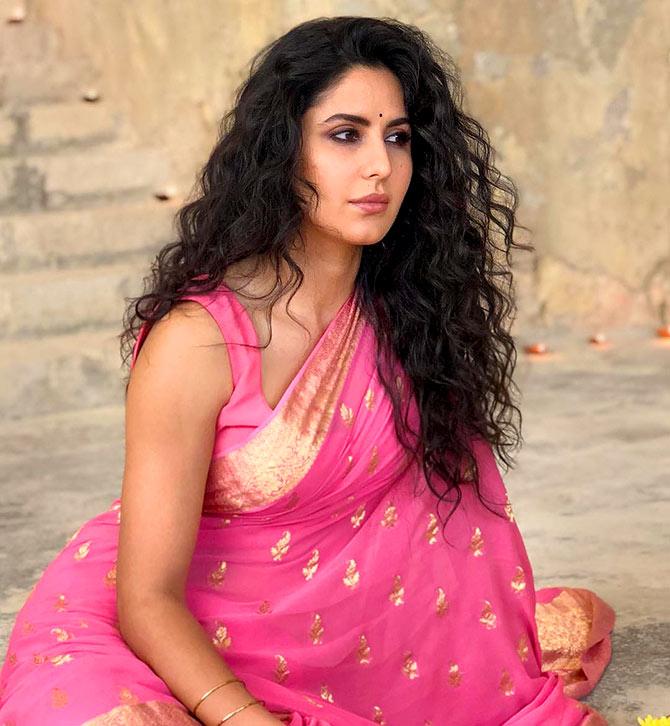 We went through the kind of saris (worn then), some of the actresses had curly hair. That's where we got the idea of curls because it's a little different from Katrina's straight hair.
Also, she is going through an age span in the film. So from chiffon saris, we graduated to cottons, from pastels we went to deeper colours.
Then, there is this part where she is managing these people in an oil rig, so we gave her the shirt and the trouser look -- high-waisted trousers and bigger collars, keeping in with the late 1960s and 1970s.
A prosthetic team from London worked on her face so that it aged according to the character.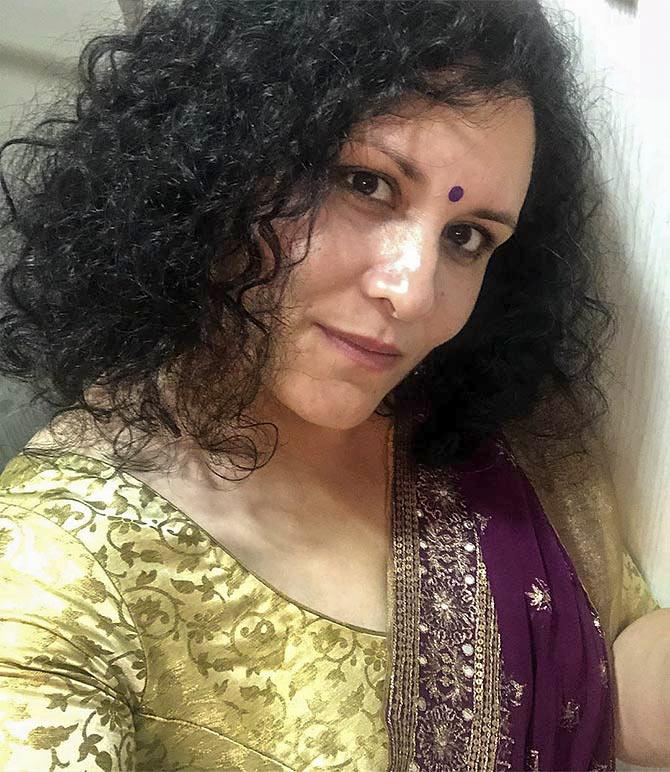 In dream sequences, you tend to take a little liberty. The clothes don't have to be of a particular period; they just had to make the actress look stunning.
The outfits in the dream sequences -- like that beautiful green lehenga -- were made by designers like Sabyasachi.
I just did styling for those portions.
Katrina gives a lot of inputs, like the colours that suit her skin tone.
We went with light greens, light blues, mauves, ash pinks, dull mustard browns and earthy colours like beige and browns, dull rusts.
Vicky Kaushal, Udham Singh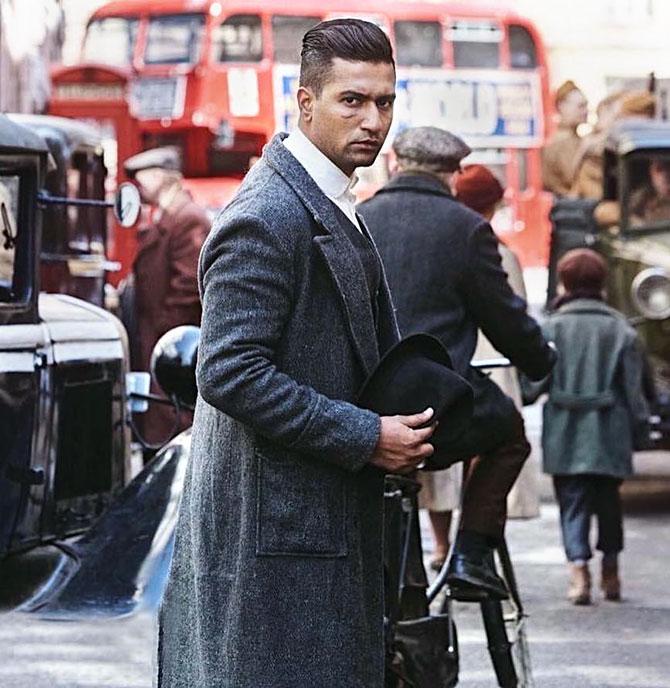 Udham Singh is based on a martyr, so Vicky has a very real look.
It's such a dynamic character.
It's good that someone as intelligent and talented like Vicky is playing it.
He has brought so much depth into the character because there were so many layers into that person.
There is a lot to design because there are different time periods, different locations, different countries...
We are looking at the 1920s-1940s, the British influence on Indian clothes, how an Indian would dress up in London, the different jobs that he did.
Vicky has the best sense of humour. He is really, really, funny.
Deepika Padukone, Piku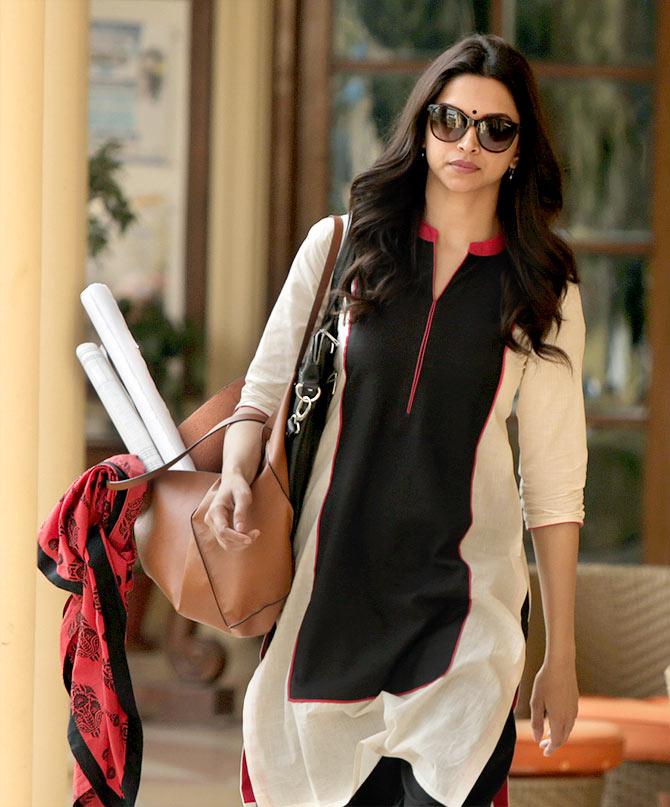 We needed a stylish yet girl-next-door look for Deepika in Piku. A look that any girl would relate to; we just wanted to make her a regular girl.
Her makeup was minimalist.
She is one of the most special people I have worked with because she completely surrendered to the character.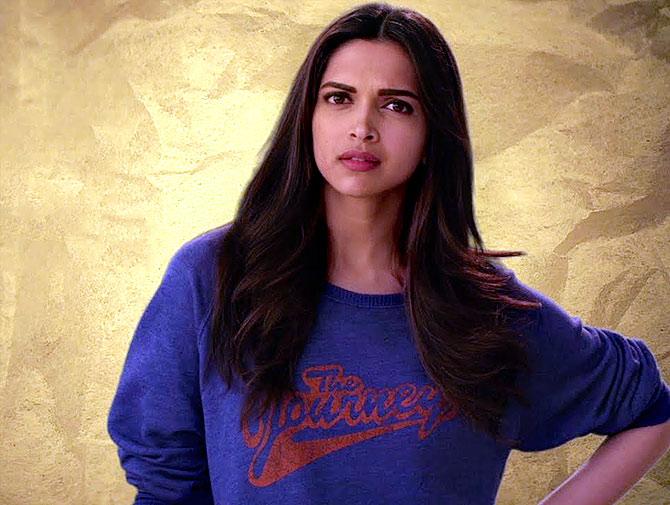 Deepika's journey look was the quickest outfit that I have designed for anyone.
I remember I had suddenly gotten a call that we would a trial with her at midnight. So that evening, I rushed to Zara and picked up a sweater with the word 'Journey' written on it.
Everyone loved it so much they felt we should use it for the journey.
Amitabh Bachchan, Piku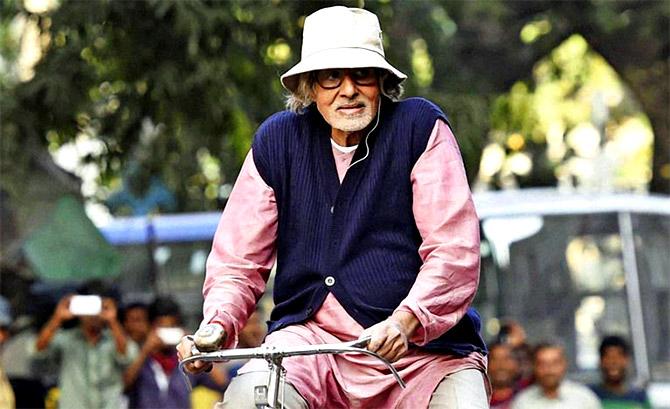 I have worked with Mr Bachchan in a lot of films and ads.
He is very professional, and likes his fits to be correct.
In Piku, he had to wear a fake stomach to get that paunch. Also, he wears a weird hat, a loose jacket and sports shoes. He wears a sweater over a kurta and trousers while cycling...
Mr Bachchan never objects to anything. He is very open to suggestions.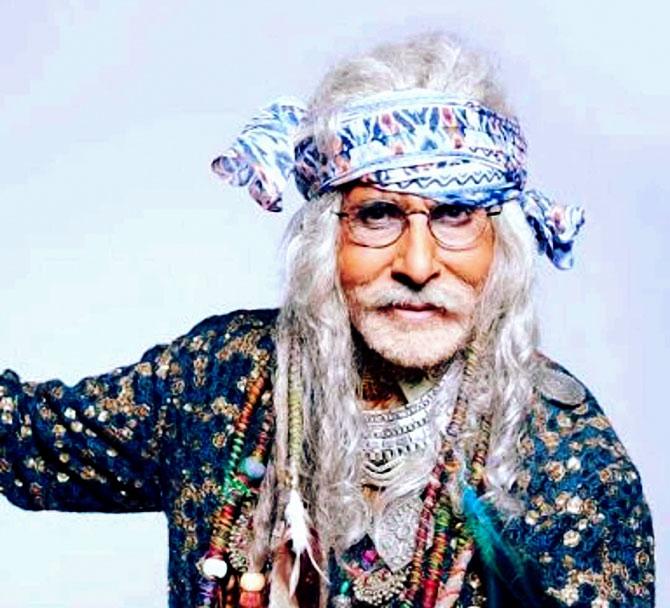 I remember I did a TataSky ad with him, which was crazy.
He was playing a gypsy, a compare of a local puppet show.
From the wig to the headgear... we over-accessorised him. Then, there were printed dhotis with a colourful embroidered sequence jacket. He carried his own boots.
That was one look where he went, oh my God what am I going to be wearing!
But he enjoys it.
I don't think any actor till date has got the chance to play so many different characters. And with advertising, even more.
We talk about people who have done it all. He has done it all.
The biggest challenge is to keep thinking about those little things that we can add.
We will start working on Gulabo Sitaro soon.
Irrfan, Piku, Hindi Medium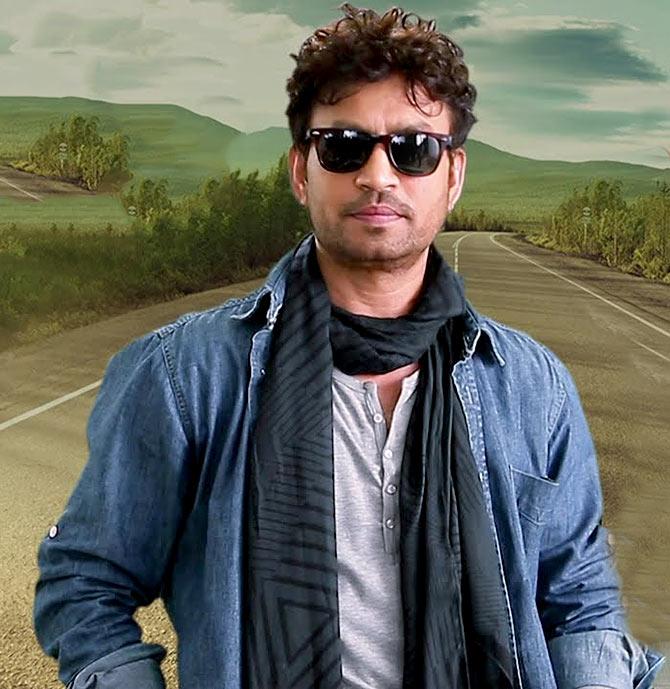 In Piku, he is driving the car but it is very important to identify that he is the owner of the car company.
So we gave him good jackets.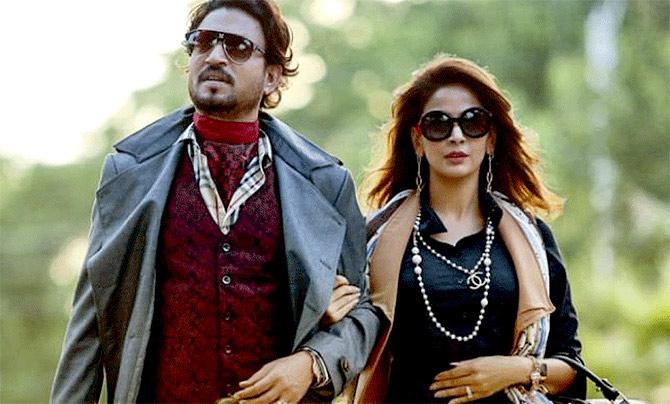 In Hindi Medium, I got to do crazy looks with him -- from a poor person to a loud Chandni Chowk printed shirts to a suave, Vasant Vihar posh Delhi guy.
Irrfan loves to get into the styling of the character, like what kind of jackets, what kind of shoes, the detailing on the belt, the accessories he would wear...
He wants to know the kind of watch he wears to know his social status...he gets quite involved in the styling.
Varun Dhawan, October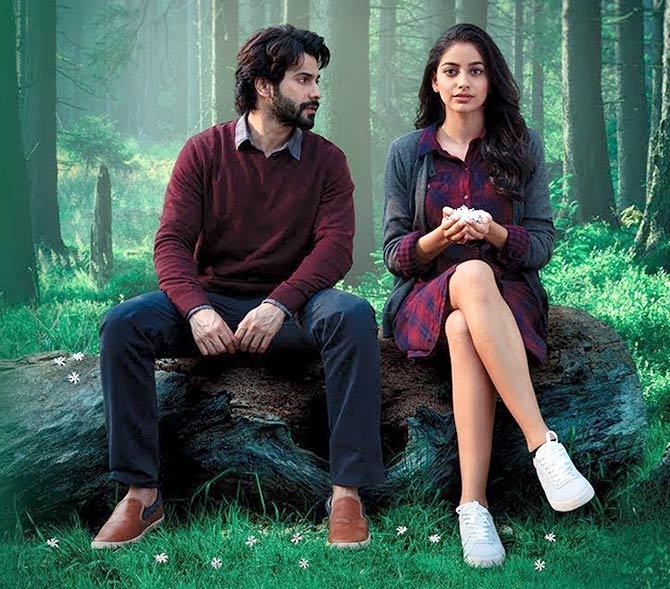 Varun is the quintessential romantic hero, but the beauty of working with Shoojit Sircar is that they all surrender to how simple he makes the film, how he portrays real and simple men and women.
He does not glamourise people.
There is no pretence in his films.
So Varun became Dan (his character in the film).
Sometimes the clothes would be a little too simple for him and he would get a little worried. But he trusted the director and me, and he accepted how the character would be.
If he is wearing shorts, a shirt and chappals in a hospital, that's fine because that is how Dan is.
Certain films are not used to repeating costumes. They want everything to look glamorous. Everything, every time should be new.
But when you do real cinema, it has real people like us. And we do repeat our clothes.
So in October, we have repeated a lot.
Dan is a young college boy in Delhi, so he doesn't have 10 jackets. He had two or three.
We repeat clothes in a way that it does not affect the film because clothes give you a day distinction.
Of course, it should not look like the person has only four clothes!
Akshay Kumar, Jolly LLB 2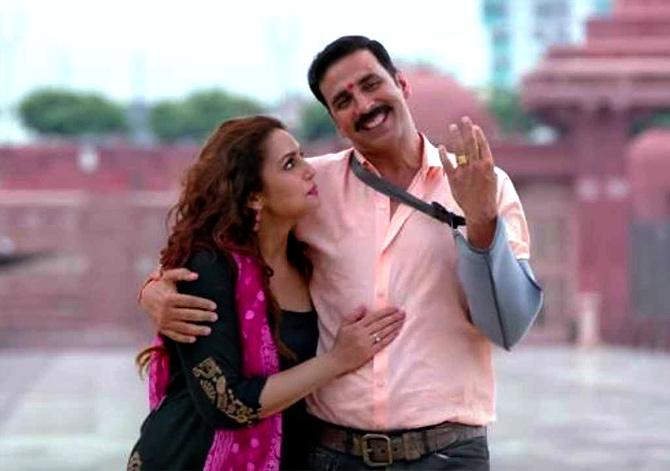 I have been his biggest fan since I was 13! I used to write letters to him.
So those six months of working on Jolly LLB 2 were a dream come true.
I was very nervous while styling him, but that helps because you want everything to be good. So you probably work harder. It's like you've got this one chance with your idol and you better not mess it up.
He would see me nervous sometimes and would make it easy for me. He would lighten up the mood.
He makes everyone laugh on set; he creates such a happy environment.
He likes to give suggestions, like the kind of a neck for a sweater. Everyone has a certain preference for their body type.
Irrfan likes his collars to be a little bigger. He likes to wear full sleeve shirts. Akshay prefers V-necked sweaters to round ones.
Anushka Sharma, Phillauri, Pari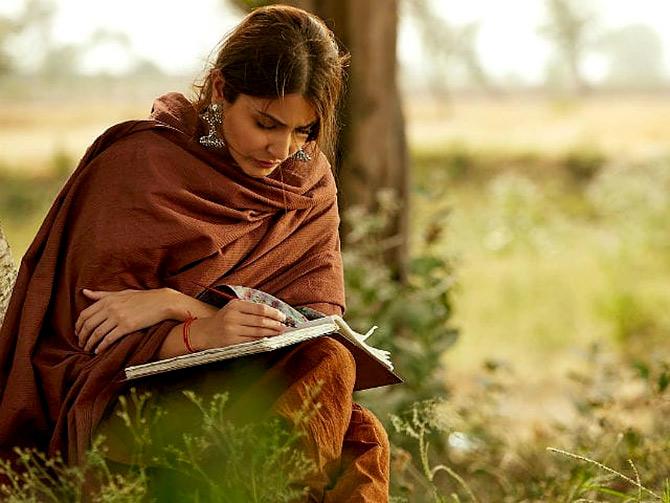 I was very nervous when I first met Anushka because she was very quiet and serious.
But after Phillauri's first costume trial, she was thrilled.
She had never done the 1920s look before, and she loved the colours and the styling.
She and her brother (Karnesh) are amazing to work with.
Both of us have an armed forces background so that helps us to connect better.
She wore beautiful silver earrings, lots of colour, dupattas...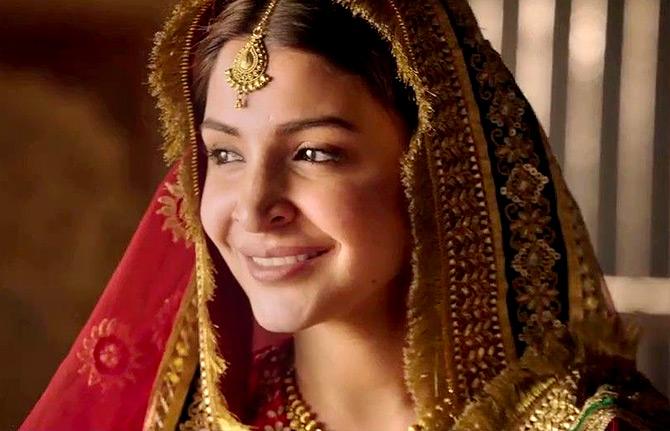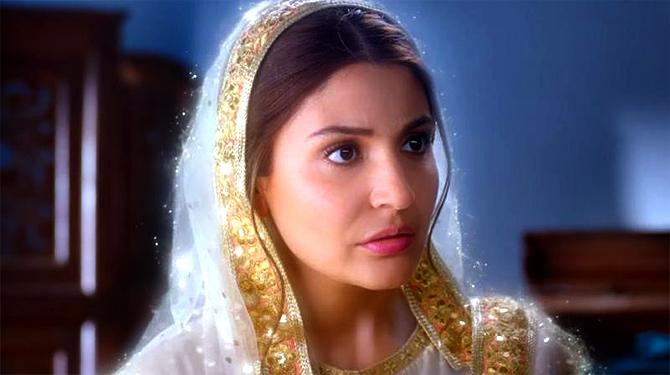 She died at her wedding, wearing a red lehenga.
So we made the ghost wear a shadow of that, a white version of the same thing.
Her ghost avatar does not change clothes. It's like Casper the friendly ghost, it will always look the same.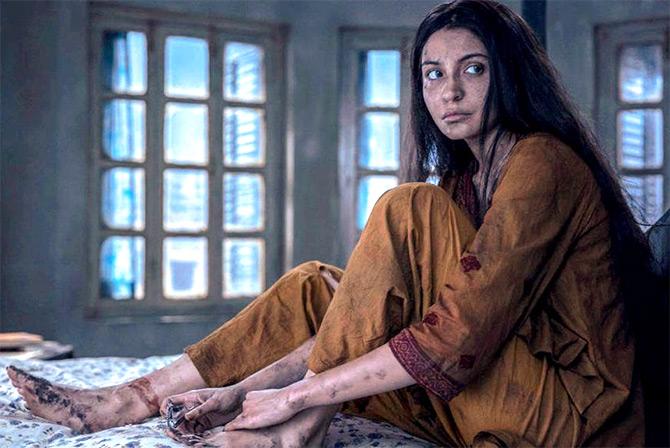 In Pari, there wasn't scope to explore much, so we kept her in simple salwar kameezes. The makeup team had a real task, with the prosthetic, the blood...from the hair to the fingers, it was quite tricky.
We didn't use a single accessory throughout the film.
Only in one scene, she makes earrings out of newspaper. That's the only accessory we used.
From Phillauri to Pari, it was a drastic change.