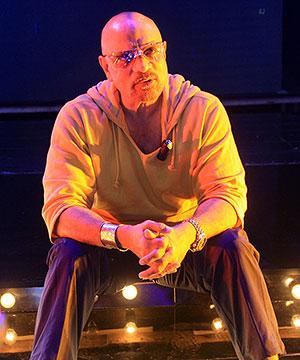 The AIB Roast of Karan Johar, Arjun Kapoor and Ranveer Singh may not have gone down well with certain sections of people, but Bottoms Up's incisive social commentary, peppered with delightfully subtle double entendre, still enjoys unprecedented success.
"Shall we do it here?" I ask actor Kunal Vijaykar, pointing at a well-lit spot outside the Sophia college auditorium, in south Mumbai.

Vijaykar, who is a cast member of veteran adman and theatre personality Bharat Dabholkar's revival of his iconic 1980s play Bottoms Up, has just finished a part of the rehearsals with costars and crew.

(Image, left: Bottoms Up director Bharat Dabholkar)
Having just sat through one of presumably the most comically robust and double entendre-packed sketches of the play, I'm acutely aware of what I have just said, hoping that no one else has caught on, when (as if on cue) one of the senior crew members concentrating on some technical arrangements on his Mac looks up.

"Kunal, you were just talking about 'doing it' in all kinds of places up on the stage, haan?"
Vijaykar laughs indulgently while we proceed to chat about the play.
"I grew up watching Bottoms Up when it first came out over 25 years ago. Then Bharat and I ended up working in the same organisation and we would watch the play and its subsequent spinoffs: Sons of Bottoms Up, Grandsons of Bottoms Up, The Best of Bottoms Up...
"When Bharat asked me if I wanted to be a part of the play, I was instantly on board because it has kept the city, the country and some parts of the word hugely entertained all these years," the actor says.
He shares great camaraderie with all his costars -- before the day's rehearsals began, he sat with veteran actor-filmmaker Anant Mahadevan in the auditorium's lobby, animatedly going over his lines.
He also has great regard for Dabholkar but cheekily says that he thinks he is a terrible director.

"He lets us do whatever we want to do," he says with a mischievous smile, "But now that the play has come together and technicals have started, I think he is cracking the whip slowly," he adds.
First conceived and staged by Dabholkar and produced by Ashvin Gidwani in the early 1980s, Bottoms Up was a first of its kind play that offered insight into contemporary India with its biting humour and stellar performances.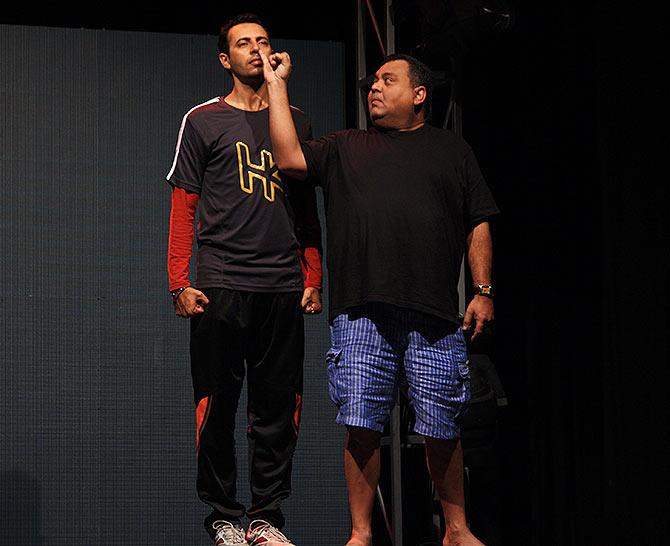 Image: Kunal Vijaykar (right) rehearses for ahead of the first show of Bottoms Up
While it went on to enjoy unprecedented success and ran for over 300 shows, more than three decades later, it is still credited as the only Indian play to have been reviewed by the prestigious Time magazine.
While many know Dabholkar as a theatre personality who has occasionally dabbled in films, the Bottoms Up director is more than meets the eye.

He's the man behind many a witty punches of the indomitable Amul girl. He started his copywriting career with the prestigious DaCunha Associates in 1977 and, until 2003, headed the Publicis India office. He has directed about 29 plays so far.

Approximately six feet tall and dressed in black pants and a beige hoodie, Dabholkar strikes as imposing as he wields the microphone from the front row during the rehearsals.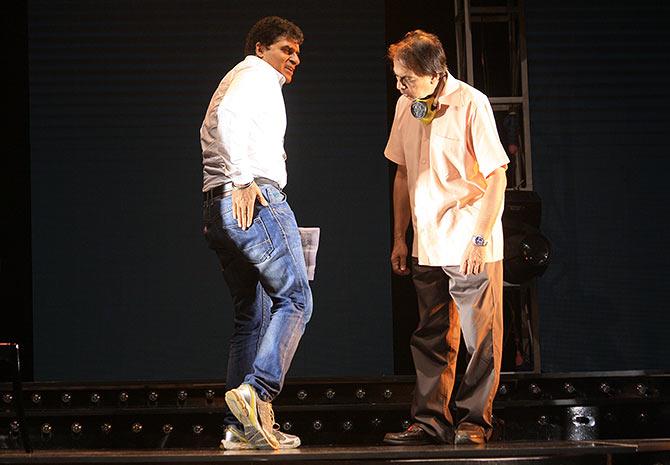 Image:

Mohan Azaad and Ananth Mahadevan in action
Anant Mahadevan, who has 11 roles in the play, forgets some lines, or how to deliver them at some point or the other. So do other seasoned veterans like Vijaykar and Kavita Kapoor.

Dabholkar doesn't just remember all of their lines, he also knows the narrator's part and everything else; even how the punches are to be delivered.
You have to admit that's impressive, even if he has written the script.
When he reprimands the lighting guys, stationed at the back of the hall, for poor coordination, he does so in an exceedingly polite yet firm way. He is someone you would absolutely hate to let down.

Much like Anant Mahadevan's tiny frame and modest getup -- he's wearing a peach shirt and loose grey pants with flip flops (better known as hawai chappals) -- belies his booming voice on stage, Dabholkar has a very soft, even voice.

He talks about his pioneering work in a rather matter-of-fact way.
'After the old one wound up, we went back to doing other kinds of plays. But when someone suggested that we bring it back, we were clear it had to be bigger in scale, more glamorous. '

"There was no vision per se for this new version. The idea was to just make fun of things we see around us and make the audience laugh. People love to laugh at the establishment. That was the basic premise on which Bottoms Up was created," he explains.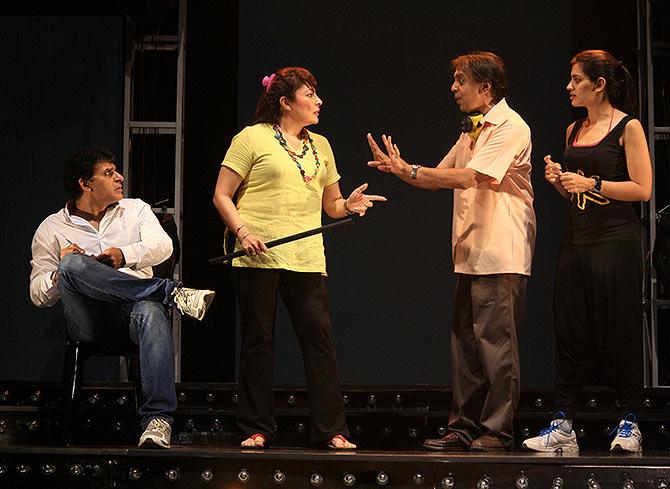 Image: Mohan Azaad, Kavita Kapoor, Mahadevan and Sneha Chavan on stage
He fondly remembers the genesis of the original: "It's a very glamorous musical play. We had the best actors from regional theatre come together for an English play for the first time. The audience could relate to the stories in the play, the way the actors talked.

"After the old one wound up, we went back to doing other kinds of plays. But when someone suggested that we bring it back, we were clear it had to be bigger in scale, more glamorous. So I rewrote the script with topical references, new characters from politics," Dabholkar says.

Apparently, writing the new one wasn't as challenging as casting for it was.

"Over the years we'd formed a Bottoms Up gang -- Atmaram Bhende (only the greatest Marathi comedian ever), Kishore Pradhan, Vihang Naik, Tanaz Currim, Viju Khote, Shubha Khote -- I knew exactly what each one of them could do.

"But with the new cast, we had to figure out who is good at what as we rehearsed and rewrote lines as we went along," he says.
The new cast also includes Amit Roy, Mohan Azaad, Kavita Kapoor, Rupali Suri, Bhavna Pani and Sneha Chavan
The genial director, who Mahadevan describes as the greatest satirist of our time in India, may be directing a play comprised of comic sketches with a very contemporary and youthful tone, he admits to not keeping track of what's happening on the Indian standup comedy scene.

"I've been told that abusive language are a big hit with youngsters but we never followed that route with Bottoms Up. I have to keep in mind that not all my audience is young, some of them will come back for the new one for nostalgic reasons too," he explains.
'When I saw
Bottoms Up
in the late 1980s and the early 1990s, I wanted to approach Bharat for a part because that play was like RK Laxman's
You Said It
, the MAD magazine come alive. '
Mahadevan, who is the seniormost actor in the play, is also the most gung-ho about it. Despite his seemingly modest frame, he is nimble on stage, mouthing off his dialogues with a rare zeal.

It's like he doesn't break character when he's off it too -- he'd wanted to be a part of Bottoms Up ever since he saw it in the late 1980s and almost badgered producer Ashvin Gidvani and Dabholkar to take him on.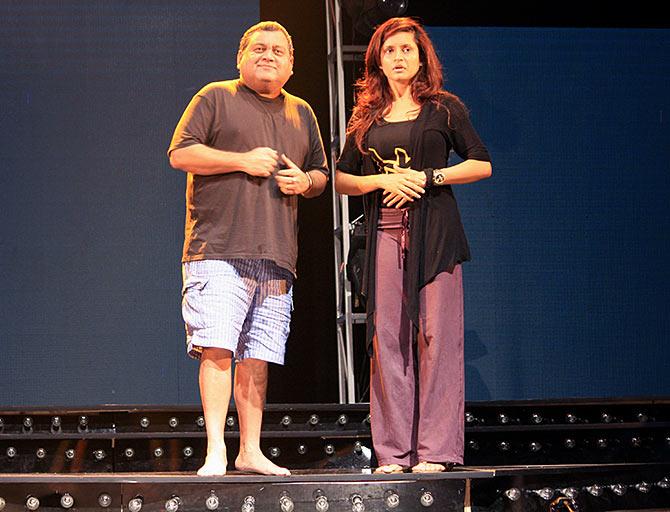 Image: Kunal Vijaykar and Bhavna Pani
There may have been some cunning and lying involved, he adds with his tongue firmly in cheek.
"When I saw Bottoms Up in the late 1980s and the early 1990s, I wanted to approach Bharat for a part because that play was like RK Laxman's You Said It, the MAD magazine come alive. I was by then already a part of theatre. But after the play wound up after 200-odd shows, I knew I wasn't going to be a part of it.
"Currently, I am also doing another play with Bharat and Ashvin called Blame It On Yashraj and Ashvin was very clear that he didn't want anyone from the Yashraj cast to feature in Bottoms Up since it would be difficult to replace my Yashraj character ('it's a looong part') should the schedules of both plays clash."

"I knew I had a big task at hand to convince them. I told him that I would get a stand-in for Bottoms Up if need be since it's made of several small sketches but I didn't really mean it.

"I don't think Ashvin knows yet that I haven't even thought of a stand-in yet. I am the greediest actor alive -- I want to do both plays!"

Watch the Bottoms Up gang rehearse!

Bottoms Up was recently staged on February 7 in Mumbai.

Photographs: Uday Kuckian/Rediff.com
Video: Afsar Dayatar/Rediff.com