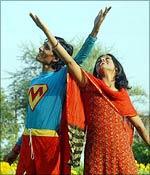 International sleeper hit Paranormal Activity isn't the only one to be made with a handycam. In India, local hits are being churned out with minuscule budgets in towns with no history of cinema.
In an ill-fitting costume, long red socks and bathroom chappals, the superman of Malegaon is suddenly the overnight hero of popular imagination. Thanks to Supermen of Malegaon, a recent documentary that is winning applause at film festivals across the world, the local film artistes of a town more familiar for the blasts of 2006, are turning into overnight stars. Well, almost. The documentary captures the thriving local cinema in Malegaon through the making of Shaikh Nasir's local film, Malegaon ka Superman, which, tongue-in-cheek, has a thin superhero battling a Gutka king.
For Shaikh Nasir, now also called the Dadasaheb Phalke of Malegaon, it's a community joke turned into unexpected success. A garment shop owner with a passion for Hollywood films, Nasir turned his love for cinema into casual filmmaking, only taking himself more seriously once his films, Malegaon ke Sholay and Malegaon ki Shaan, became instant hits.
But Nasir couldn't have predicted the curiosity Malegaon ka Superman would arouse, travelling far beyond his hometown. He remembers scheduling the shoot of his film earlier than planned for the documentary to be made, a decision that landed him in the capital, at Osian's annual film festival recently, where he and his cast could hardly believe the gushing response to their work.
"Anurag Kashyap and Imtiaz Ali congratulated us and made me promise that I would send them a copy of my film," Nasir says proudly.
As for petite Farogh Jafri, who played Superman in the film, he is a bundle of nerves in front of an audience of 500 at the screening, but is quite happy to shed his shy disposition in a private chat later.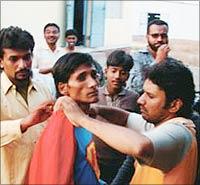 "I only like to work with Nasirbhai because I know his films will release and do well. You know, I used to clean and mop Nasirbhai's video parlour earlier. Then the parlour shut down after the blasts. When he started making films later, I joined his team as an actor," says Jafri, who has also written the script for Malegaon ka Superman.
He continues, "I never thought our film would become so famous. We didn't realise when the game got bigger."
The small-town film industry across India that till a few months ago was thriving on the sale of video CDs, is now seeing several releases in local theatres. While Malegaon ka Superman premiered in its hometown last year and will see more shows in a few weeks again, filmmakers and local artistes in Meerut view theatrical releases as a viable alternative to increasing piracy.
"Gradually, the industry in Meerut and other small towns is becoming more organised. Company-backed productions secure their prints from piracy by releasing it in theatres," says Anil Pandey, a journalist who has researched the local film industry in western UP. Local cinema has developed in the last couple of years, Pandey explains, due to the influx of "multiplex movies" from the mainstream film industry, tailored for the urban masses.
"It's a simple theory of proximity. People like seeing their own surroundings in films. Villages disappeared from Bollywood cinema, and this created space for local films," he says.
Malegaon and Meerut, for instance, have developed into popular hubs of local cinema thanks to their proximity to centres such as Mumbai and Delhi that are helpful in providing technical support for the post production of films.
The developing film industry in Ladakh, meanwhile, continues to rough it out. In the last six years, at six digital films a year, local cinema has taken root strongly in Ladakh. Every Ladakhi loves an emotional potboiler, so inevitably every film -- made on an average budget of Rs 5 lakh -- has a generous dose of tears. A wedding videographer in Leh has turned part-time filmmaker, a homemaker is the most popular heroine, and their very own Gabbar Singh is a PWD employee and taxi driver.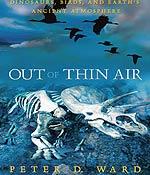 "They're surrounded by these monolithic barren mountains but they'll shoot their songs in the poplar and weeping willow patches they've planted over the years," shares Delhi-based filmmaker Shabani Hassanwalia, who, along with fellow filmmaker Samreen Farooqui, recently documented this film industry in a 50-minute feature, Out of Thin Air.
Ladakh's most expensive film yet, Las-Del, made on a budget of Rs 15 lakh, is a love story between an army man and a local girl. Among one of the world's youngest film industries, local cinema here is becoming the voice of its people.
"There's exactly one community hall, so there is a sore lack of adequate screening platform. But production houses take collapsible screens and projectors to far-flung Ladakhi villages to show their films. Everywhere you go, you'll meet somebody who has been associated with some Ladakhi film or the other," explains Hassanwalia.
That's something you'll see in other small semi-urban and rural centres as well: farmers turning directors, teachers turning actors, doctors penning a melodramatic script. Only a few take up filmmaking full time, though many are gradually realising that money is pouring in as investment and returns are proving profitable, with average hits making three to four times more money than their original costs.
"Mostly, local films are made on jugaad, collecting money from here and there, with villagers trading a few thousands for a cameo in a film," says Pandey.
The overheads are negligible, for they often use handycams to shoot the films. Technically, therefore, their films are often stunted, something that is gradually changing with an increasing number of studios coming up in these centres and artistes becoming aware of the need for better technical tonality in their films.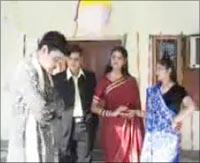 In a larger sense, local cinema is shaping itself on the mainstream model. The star system has taken form, and popular local heroes and heroines prefer to not step out of their cars for fear of being mobbed. Meerut's heartthrob, 23-year-old Suman Negi, former Miss Meerut, says she refrains from venturing out alone ever since her role as Shabbo, a Muslim girl in a love story movie, the superhit Dhaakad Chhora, made her a household name. For outsiders, Negi is "Meerut's Aishwarya Rai", charging between Rs 1-2 lakh per film. She continues to pursue her BA in Economics on the side. Unlike many others, she nurses the Bollywood dream unabashedly, striking filmi poses for the camera as I focus.
Negi's co-star and agent Bhupender Titoriya, who doubles as producer for several films, has done a bit of theatre in Delhi and recognises the advantage of signing stage actors for his films.
"But I also want to give a chance to fresh people from my village. The problem is, they don't know how to act. That's why I've opened an acting school," says Titoriya. Shabbo Acting School, named after Negi's popular film persona, is merely two months old but has over 50 aspiring actors who have lined up for classes. "We are going to have people coming in from Mumbai to take lectures," says Titoriya.
The passion for cinema in Malegoan and Ladakh, however, overtakes the newer concepts of glamour, fame and profit that now comes naturally to Meerut. Though budgets remain reasonable at a few lakh rupees, recent hits have made more than a crore. The singular challenge: better distribution.
"I would like to increase my budget to better the technical aspects of my films but only if there is surety that there will be wider distribution," says Malegaon's Nasir.
Mumbai-based filmmaker Faiza Ahmed Khan, who spent two months in Malegaon capturing the local artistes at work for the Supermen of Malegaon documentary, notes how they make filmmaking look so simple.
"It's amazing how they turn a small town to their advantage. It's a community effort. They just walk into a restaurant and shoot a scene," she says.
Meerut, meanwhile, is strikingly more commercial, turning filmmaking into a strategic business with established distributors such as T-Series and Sonotek cashing in on its popularity too. "Farmers in the western UP belt are rich, they can afford to invest money in films. They will happily buy a VCD for Rs 50 or pay Rs 50-100 for a ticket to see a local film in the theatre," says Pandey.
Contrary to popular belief, not everyone here is looking at making it to Bollywood. "We want to find our own culture in films, away from obscenity," says Titoriya. At the same time, a number of aspirants from small and big towns who find no work in mainstream cinema turn to local films.
Delhi boy Sanjeev Kant is a popular face in Meerut and its neighbouring towns of Saharanpur and Muzaffarnagar. A stage actor, his break came in 2004 when he played a negative role in Dhakkad Chhora. He believes every small town needs a trend setter to start off an industry, to boost a belief that they too can have their own little film culture.
"In Chattisgarh, I know a farmer who sold his only farm to make a film. He hired a hall and distributed the film across the state. Rumour has it he ended up making Rs 16 crore," shares Kant.
At the core of it, the local audience is loyal to their own cinema: mainly because the stories they tell are rooted and familiar. Films from Bollywood and Hollywood are remade, localised in context, props and language. The joint family takes centrestage, the elders of the village are at the helm of decision-making, the panchayat is a frequent backdrop. The mise-en-scène fall easily into place: there are bicycles galore, night sequences are shot with the help of car/truck headlights and the neighbouring kheth provide an affable backdrop. As for those who love funny, they are waiting to catch Shaikh Nasir's next: a bubbly, overweight Malegaon ka Spiderman.