'The mohabbat Shah Rukh Khan gives out on screen is very important in today's times.'
Anurag Kashyap gives us a new release this week with Almost Pyaar With DJ Mohabbat starring Alaya F and Karan Mehta. Its music is composed by Anurag's go-to composer, Amit Trivedi.
Anurag is known for making dark films, but personally, he loves watching Shah Rukh Khan's romantic movies.
"I like Shah Rukh Khan films, but I can't make films like that. Those films come from conviction, If I make such a film without conviction, it will be a flop. I function very well in a certain cost and zone. The genre of the film can change but it has to be within that," Anurag tells Patcy N/Rediff.com
Amit Trivedi joins in on this interview.
The two of you have collaborated on Dev D, Manmarziyaan and Bombay Velvet. There were 18 songs in Dev D and 14 in Manmarziyaan. Why does a musical film like Almost Pyaar With DJ Mohabbat have only eight songs?
Anurag: It's a shorter film. Manmarziyaan and Dev D were two-and-a-half hour films while this is less than two hours.
What is your style of working together?
Anurag: When I have a story idea in my mind, I tell him. I wait for him to bring me a new sound.
When he does, I write the script accordingly.
Amit: We have developed that process right from the beginning. It gives me freedom to make my music.
Anurag: Amit calls me only when he has something interesting. Until then, he doesn't.
Amit: Only during Manmarziyaan, Kanika Dhillon had the script ready. Otherwise, this has been our process.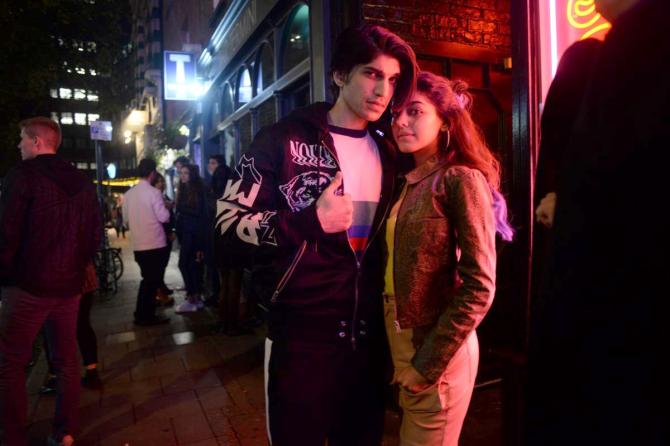 Anurag, why did it take you five years to make this film?
Anurag: Yes, it did take me five years to finish the film, but only 30 days to make it. I shot the London portions in 2019.
After that, I went to Dalhousie to shoot the film and then the pandemic happened. Just five days of shoot was left, but we had to stop.
After the pandemic, I had to start Dobaaraa which had gotten delayed. Taapsee (Pannu) had some date issues, so we had to finish that first.
Just after I finished shooting Dobaaraa, I got a heart attack, then a series of illnesses. I was wheelchair bound. A year-and-a-half was spent in that.
Only after I was okay did I get a chance to finish the five-day shoot of Almost Pyaar
Anurag Kashyap: 'The mohabbat Shah Rukh Khan gives out on screen is very important in today's times.'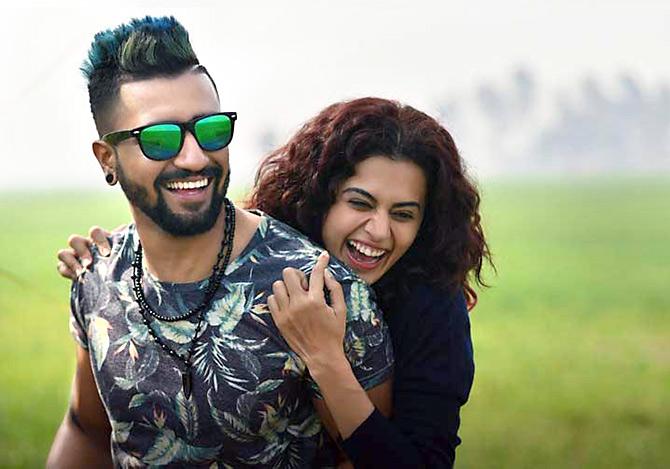 Amit, has it ever happened that Anurag's vision is different from the idea you have in mind?
Anurag: Amit is my problem solver; he is the solution to all my problems.
I just tell him the zone I want. Finding the music is his singular process.
Like this film is about today's generation, my daughter's generation.
So Shellee paaji(lyricist), Amit and I work together. I told them we can't come with Shellee paaji's 50-year old poetry, it won't work. He has to think like an 18 year old. So he interacts with his son to get into the zone.
When I get stuck in my story, they come with a new song like F For Fyaar (Manmarziyaan)... the things that I wanted to say in the film, I said it through that song.
Like Taapsee's hair is red and Vicky's hair is blue in Manmarziyaan, they made a song out of it: Laal Pari.
I just told them one line -- 'Mohabbat se toh kranti aayegi' -- and they worked out the rest.
Amit: In Dev D, he wanted to say Devdas's story in his own style. We all know Devdas of Shah Rukh Khan, Dilip Kumar and K L Saigal. But when Anurag Kashyap does a Devdas, there will always be a twist, so I had to think accordingly.
Anurag: There is a funny story. Amit was a newcomer then, so he made seven-eight songs, thinking I will like at least one or two.
I heard the eight songs and wanted all of them.
He asked me, 'Will there be so many songs in the movie?'
I said, 'I don't know ,but I think we will need more songs.'
After listening to those eight songs, I started writing the script of Dev D.
Amit had recorded some of the songs in his voice. When he told me that he wanted other singers to sing the song, I refused. Amit was not even interested in singing at the time but he turned singer with Dev D.
Anurag Kashyap: 'Generally, people don't try to understand the new generation, they judge them.'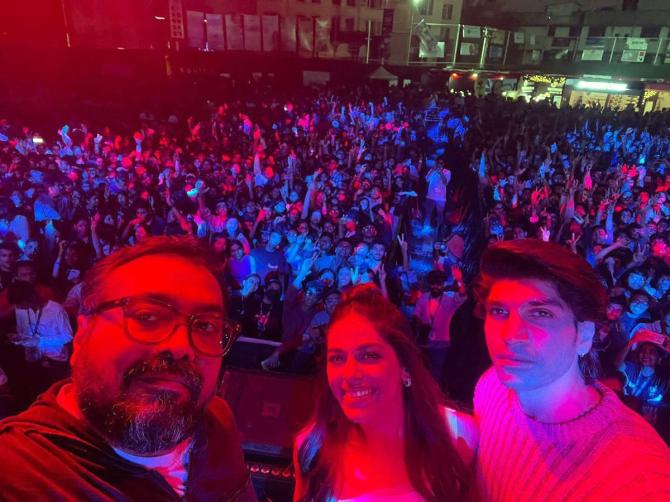 The Almost Pyaar moments of Anurag Kashyap's life.
Are you planning to make new kinds of films?
Anurag: It's not our job to make new kinds of films anymore; we just have to make films.
New kids are making new kinds of cinema now, they are bringing in the new voices, like Achal Mishra, Chaitanya Tamhane, Pratik Vats, Payal Kapadia and Shaunak Sen, whose All That Breathes has been nominated for the Oscars.
These are our new voices and our new cinema.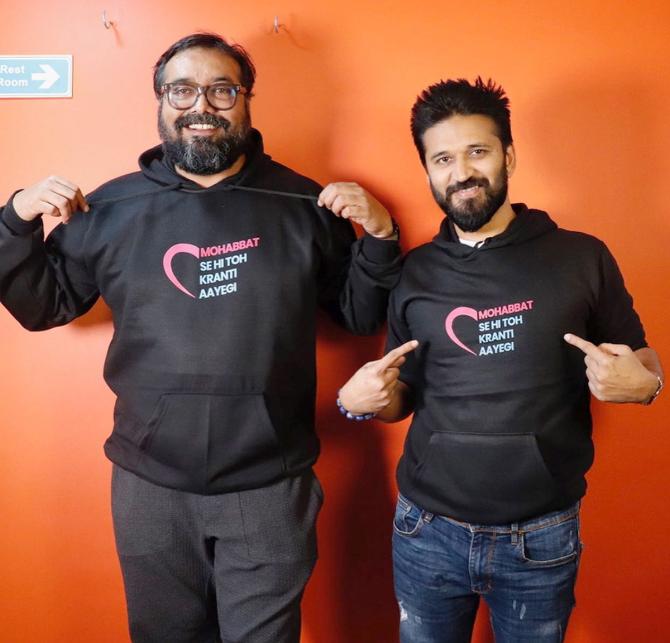 There is a theory that in any good work of art, the final goal is to achieve a sense of musicality. If a film-maker is able to achieve that sense of musicality without any music, is it worth the risk to do away with a score completely?
Anurag: Yes, why not? People all over the world make films without music.
But I was brought up in a house where the radio was played every day.
We did not have a visual medium then -- there was no television and theatre. There was only radio, Vividh Bharati.
I have grown up listening to songs.
Music is a part of my life.
Even Black Friday had songs.
I cannot think without music.
Having said that, it is not necessary for a song to be in a movie. As long as you achieve your film, it's fantastic.
But even when the cinema was silent, the only constant thing was music. They played live music in the theatres.
Music has been constant even before cinema found its voice.
Will Naatu Naatu win the Oscar?