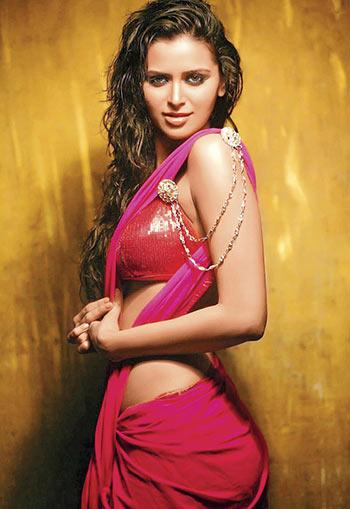 'I was tempted to cast Madhuri Dixit in P Se PM Tak because her comic timing is very good,' director Kundan Shah says.
Jaane Bhi Do Yaaron director Kundan Shah returns with a political satire this Friday, called P Se PM Tak.
Shah describes the film as his take on 'what is happening in our country and how we deal with that.'
The film is about a prostitute (played by Meenakshi Dixit), who ends up becoming a chief minister. From there, her journey to the Prime Minister's post starts. The girl does not want to be a PM; she's only interested in her bread and butter.
Shah, who has directed the likes of Shah Rukh Khan (Kabhi Haan Kabhi Naa), Rekha (Dil Hai Tumhaara), Preity Zinta (Kya Kehna) and Naseeruddin Shah and Pankaj Kapur (Jaane Bhi Do Yaaron), hoped to cast Madhuri Dixit in his new film.
Shah had written the film way back in 1995. He took the story to Akshay Kumar and narrated it. The actor did not like it, so his secretary -- the late Lokesh Bali -- took the script to Madhuri Dixit. She was shooting for Anjaam at the time.
"I met Madhuri Dixit, and we chatted about Jaane Bhi Do Yaaron, and the film's Mahabharata climax. But she did not commit to the film. I was tempted to cast her because her comic timing is very good and I think she is good at slapstick too," Shah explains.
Shah later met her during the time she made her comeback with Aaja Nachley in 2007. But she did not show any interest in the film. She felt it was too bold.
When asked about the stars he has cast in his films before, Shah says, "I have never worked with stars. All the actors I worked with, including Naseeruddin Shah, Shah Rukh Khan and Preity Zinta, were not stars when I signed them. My films got delayed and their other films released first. Then, they became stars."
Here's wishing Kundan Shah good luck with his new film!
In the picture: Meenakshi Dixit in P Se PM Tak