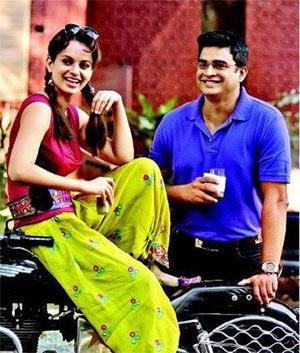 'I am well aware of the fact that I will be overshadowed by Kangana in Tanu Weds Manu Returns. It is bound to happen.'
R Madhavan discusses his talented co-star and their new film together.
After a hiatus of three years, R Madhavan will reprise his role as Manu in Tanu Weds Manu Returns.
Co-star Kangana Ranaut's double role in the film has received more raves than his in the trailers but that doesn't deter the 45-year-old actor.
"I am extremely selfless and a supremely confident actor," Madhavan says.
Madhavan talks to Sonil Dedhia/ Rediff.com about the challenges of working on the sequel, and why he felt he had become a boring actor.
Tanu Weds Manu Returns starts where the previous film left off. Was it difficult to recreate the same character?
We never intended to have a sequel, so no one was prepared for it.
Tanu Weds Manu was a realistic film. It's easy to make a sequel of Krrish or Superman because they are extraordinary people. But this is a real film.
We didn't show the characters dancing on the icy slopes of the Alps or any other dreamy sequences.
Everybody in the sequel is true to their character from the original -- the same people living the same life, except its five years from the wedding.
This is a sequel in the true sense of the word because the story starts exactly five years into the couple's marriage.
It was tougher to shoot for the sequel because we had to keep it real even when Kangana Ranaut's double role comes in.
My character has very few dialogues so I had to work strongly on my expressions. I would say this is probably the toughest role of my life.
I noticed that you mentioned the word 'real' a lot of times…
I keep repeating the word 'real' because you will relate to the characters; they are like the people around you.
Even though the trailer shows the funny things, the film is very real.
People who are married or are about to get married will relate to the film.
My wife came for one of the dubbing sessions. It was the first scene of the film. She couldn't stop laughing and told me, 'Did you write the dialogues yourself by picking it up from our fights?' It's that real.
No one was ready to finance Tanu Weds Manu. Tanu Weds Manu Returns, on the other hand, is a highly anticipated sequel. How would you describe your journey with this franchise?
I feel vindicated. When I finished doing 3 Idiots, a lot of people approached me with their scripts, but I chose to do Aanand Rai's film.
He had made a very insignificant film called Strangers. I watched the film and I knew that I was going to be working with a bloody good filmmaker. I saw a different kind of spark in him.
I remember sitting for a narration (of Tanu Weds Manu) with Aanand and (writer) Himanshu Sharma back in 2009.
As soon as they finished narrating the story, I hugged them and requested them not to change anything in the script.
The bad news is that no one else believed in it. We didn't have anyone to finance the film.
This is the second time you are working with Kangana Ranaut.
As a co-star, it was really challenging to work with Kangana.
Most of the time the hero does his bit and the heroine does her bit. Never ever have I worked in a film where the lead roles are so intertwined.
Kangana was absolutely brilliant in the first film, and after Queen, she has raised the bar to the next level.
We suddenly started to see the serious side of her as an actor. She pushed me to do my best.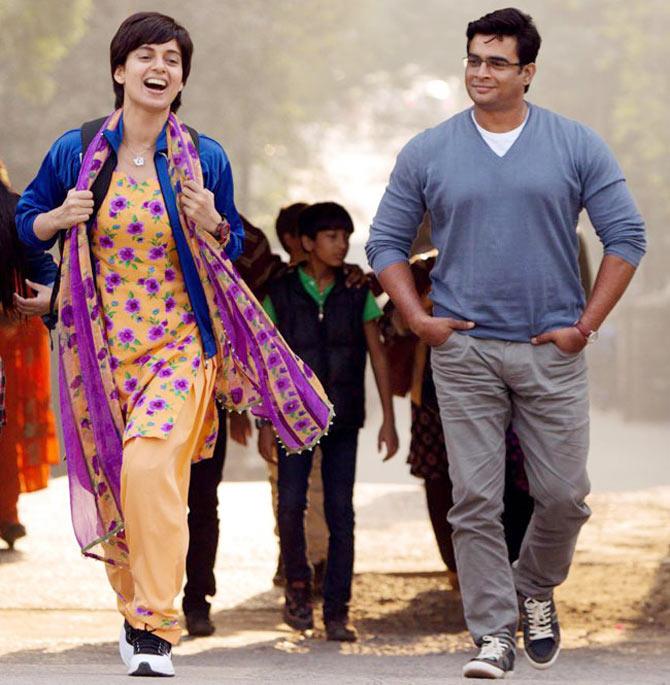 Image: Kangana Ranaut and R Madhavan in Tanu Weds Manu Returns
Do you feel insecure that she may walk away with all the applause?
There is no doubt about it that Kangana will walk away with the limelight after the film releases.
I am an extremely selfless, but at the same time, supremely confident, actor.
If I had been adamant about being the hero of the film and wanting to say the best dialogues, it would have turned out to be a different film altogether.
But I think I am a kamina that I know about impressing the audience with my performance (smiles).
I am well aware of the fact that I will be overshadowed by her. It is bound to happen.
How do you look at your Bollywood journey?
I am blessed that at 45, I am still doing solo romantic hero roles and college girls still call me Maddy.
Recently, I visited Kangana's school and 15-year-old girls told me, 'Maddy, you're so hot!' I am sure there must be something to it.
I have been very cautious about the films that I do. I hope to always entertain my audience. The day I am not able to do that I will quit acting.
You have been very selective about your work.
Content is important to me. I don't feel jealous of other films. If I hadn't been part of 3 Idiots, I would have felt bloody jealous.
I had become a boring actor in my own eyes. I wasn't looking fit at all. So I took a three-year break to work on myself.
It was a big risk, but it paid off. I have two films (Tanu Weds Manu Returns and Saala Khadoos) coming up.
I could afford to take that time off because I am not here for the money. I don't need a release once in three months. Also, my family has been very supportive of my career decisions.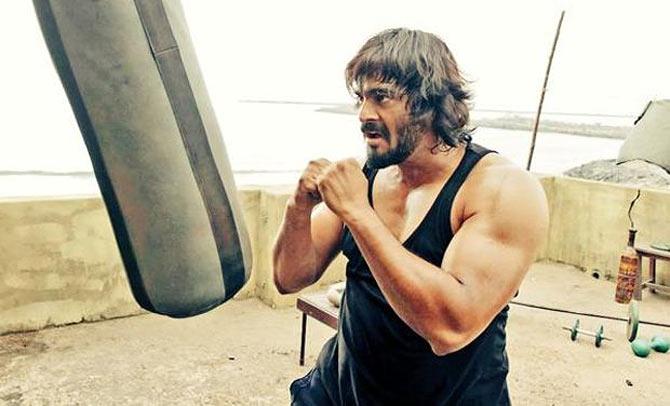 Image: R Madhavan in Saala Khadoos
You lost a lot of weight and got into good shape for Saala Khadoos. The new look has become the talk of the town.
My weight has always been a topic of discussion, which is fine (laughs).
It is very important for an actor to look physically attractive. I wanted to do a film that would take me out of my comfort zone and Saala Khadoos is the one.
Thankfully, my look has been appreciated by the people. It was Raju Hirani's (Rajkumar Hirani, director of 3 Idiots) idea.
I think I have an enviable physique. Also, I grew my hair long and donned a thick beard which transformed me completely.
Any update on your Hollywood film Night of the Living Dead? It has been in the making for over four years.
The post production is on and since it is a zombie film, we are aiming for a Halloween release this year.