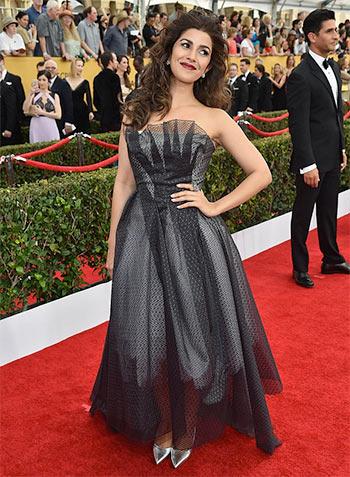 'Meryl Streep and Julia Roberts were tables away, seated next to each other, at the SAG awards. I was shamelessly staring,' Nimrat Kaur tells Aseem Chhabra/Rediff.com
Nimrat Kaur was acting in ad films and performing in plays when she was hired to act in Vasan Bala's Peddlers.
That film opened at the Cannes Film Festival in May 2012 and later, the Toronto International Film Festival. But for some reasons, it has not been released in theatres.
Image: Nimrat Kaur, at the SAG ceremony. Photograph: Alberto E Rodriguez/Getty Images
Kaur's second film, The Lunchbox, changed her life.
For the last year-and-a-half the actress, now 32, has been riding on The Lunchbox journey, travelling throughout Europe and elsewhere and still winning accolades.
That's also how she landed a part in the American television series, Homeland, where she plays a devious ISI officer, Tasneem Qureshi.
In November last year, Vogue magazine had this to say about Kaur's performance in Homeland: 'When it comes to embodying a spy as insidious as she is smug, Kaur has pretty much nailed it...'
Kaur was in Los Angeles on January 25 to attend the Screen Actors Guild Awards ceremony where she and the Homeland cast were nominated in the Outstanding Performance by an Ensemble in a Drama Series category. The award went to the cast of Downton Abbey.
The day after the show, Kaur spoke to Aseem Chhabra/Rediff.com
Was the Screen Actors Guild awards ceremony the first big awards function you have attended?
That's right.
You have done many red carpets, but what was it like at the SAG awards?
My first impression? It was so hot (laughs). It was like a greenhouse.
They had put up a massive white tent and it looked so beautiful, but instead of the red carpet it should have been called the red-hot carpet. It was super hot.
Otherwise, it was spectacular to be around people I had grown up watching.
I was mesmerised. I wanted to go to their tables, wanting to touch mythology. But you can't do that.
Who were you most excited to see?
Meryl Streep and Julia Roberts.
They were tables away, seated next to each other. I was shamelessly staring.
I also saw Ethan Hawke as we walked to the red carpet. He was surprised when I told him that Great Expectations was one of my favourite films. He was very nice.
What were you wearing? At another event you wore a dress by Bibhu Mohapatra.
That was at Entertainment Weekly's pre-awards party on Saturday.
At the SAG Awards, I was wearing an Australian designer called Toni Maticeveski.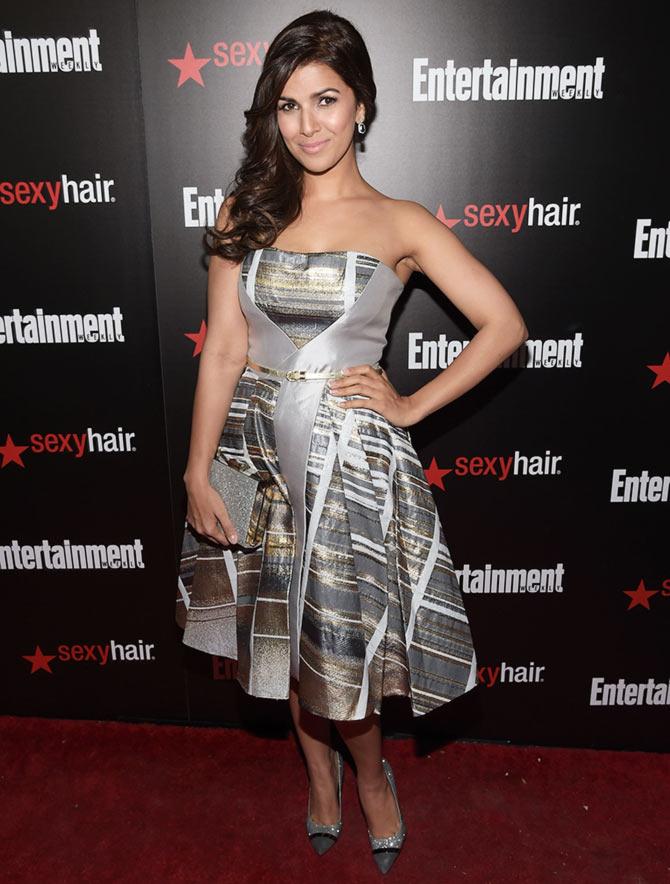 Image: Nimrat Kaur at Entertainment Weekly's pre-awards party. Photograph: Jason Kempin/Getty Images
This was through your fashion consultant?
She is not dedicated to me, but stylists are hired for your look for a particular event. They source stuff for you from around the world. So Tanya Ghavri put the look together for me.
This being the awards season, it was a major crunch because gowns are booked long before.
Was this planned before you left India?
Yes. They ship the gowns and you just have to wear them.
Bibhu designed the dress that Michelle Obama wore when she arrived in India.
Yes, it was a lovely coincidence. I know he is a hot favourite with Michelle Obama.
The funny thing is that when my sister and I were shortlisting the dresses we wanted, we saw the dress Michelle wore.
It was very cute, but I wanted something a little bit more party like.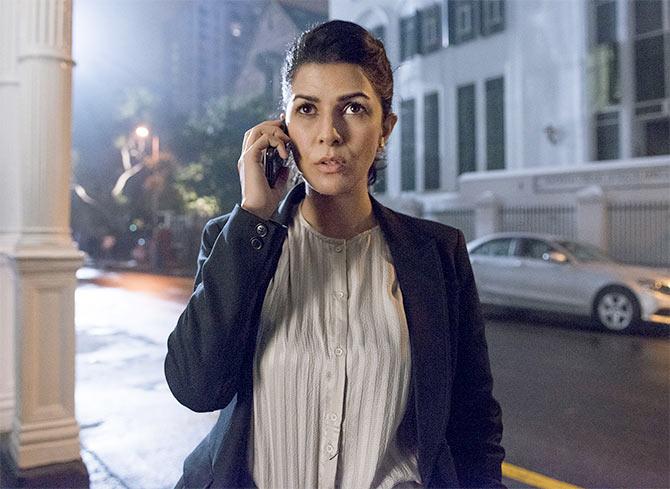 Image: Nimrat Kaur in Homeland.
I read some place that you hadn't seen Homeland before you auditioned for it.
I saw it in Cape Town when were starting to film it. I sat in my hotel and binge watched Seasons 1, 2 and 3.
Your character Tasneem Qureshi was in nine episodes and she is still alive, right?
Yes.
So is she coming back?
I don't know. It all comes down to if the writers want to set it in Pakistan.
If they do, then I have to see if I have the time for the show. There are a lot of factors.
When was Season 4 shot?
It was shot from June to November 2014. I auditioned for it in end June, in London, and within days, I was on the show.
What was your reaction to the offer?
I don't think it is about a television show in the US. I feel the material and opportunities makes it better than films.
When I told my close friends and family, they would break into a silent scream and then say, 'What?!'
You didn't have the full script when you signed up?
They write as they go along. You get your episode script one week before you are about to shoot it.
You had done two films in India, and a lot of advertising commercials. How did you walk straight into an international production?
It was very surreal at first. I didn't know the kind of environment I was getting into.
I worked with a different director in every episode. I didn't know that until I got there.
Everything is so well organised, but it could be confusing for someone like me.
Peddlers was too haphazard. We would shoot when we could. It felt like how you do a short film.
The Lunchbox was a unique experience, but it was the usual Hindi film set-up.
In Homeland, I had no idea how to get into it. It was crazy in the beginning. Then I had a long chat with Mandy Patinkin (who plays former CIA boss Saul Berenson in Homeland, Season 4). We did a trek through Cape Town and he was so welcoming and loving.
I asked him if he knew how the season would end, and he told me that he didn't want to know.
The energy of the show was different. He said to me, "Just surrender to what is in front of you and do your best with your co-actors."
That struck a chord with me. I would watch how Clare Danes (who plays the lead in Homeland) worked.
You start to take the shape of the vessel you are put into. It happened organically.
When you signed the contract, did you know you would be in nine episodes?
No, it started with five as a minimum guarantee. Then it went up to seven and then nine.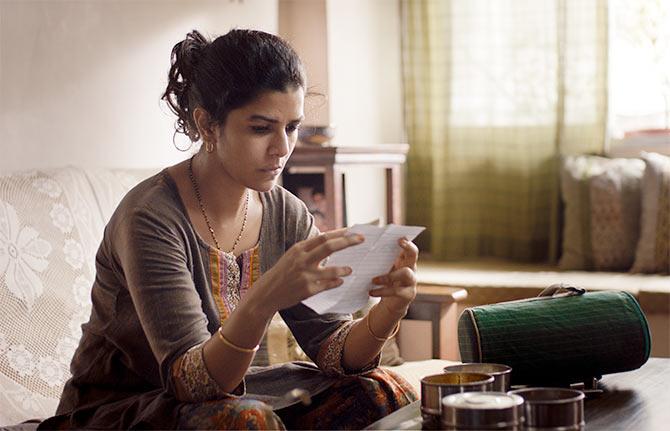 Image: Nimrat Kaur in The Lunchbox.
After The Lunchbox in 2013, you travelled to many film festivals, but did not take on any work. Why?
The projects were not that exciting.
There was one project that seemed perfect, but they didn't have the lead in place nor the financing.
All this while you were on magazine covers and fashion shows. The film is a year-and-a-half old. How did you stay current?
I don't think you can stay current without being a part of something relevant currently.
Homeland is relevant internationally, but it is not that impactful in India. It is impactful in the cities among urban audiences, but it is a niche space.
I am an avid moviegoer and I had heard of Homeland, but it was not a part of my watching life.
It wasn't a deliberate choice. I was reading material and hoping to pick something I was attracted to.
In between I was travelling, promoting the film. By June 2014, I knew the next five months were going to be dedicated to Homeland, so that time slot was gone.
How many cities did you travel to, to promote The Lunchbox?
We went to two towns in Switzerland, four major places in France, nine cities in Germany.
I can't tell you how incredible that was, the six weeks we spent on the road with (director) Ritesh (Batra), his wife and baby.
I went to Zagreb and Dubrovnik. I was in Slovania in a place called Bled.
After that, I went for the Homeland audition, to London.
I was at the Zurich Film Festival last September and people were still talking about The Lunchbox.
It is so heartening. I sometimes wonder, will it ever end?
I get notifications by Facebook, Twitter or people call. They are still watching this film and loving it.
What do you have lined up next?
I am doing a film with Akshay Kumar called Airlift. We start shooting end-February. Raja Menon, who made Barah Anna, is directing it.
And in between you keep doing ad films?
Yes, I went to Austria for an ad film. It was a beautiful trip to Vienna and Salzburg. It was for Cadbury with Aamir Bashir.
Then I did an ad for Titan Raga.