Luka Chuppi is as much about live-in as Dilwale Dulhania Le Jayenge was about pigeons, says Sukanya Verma.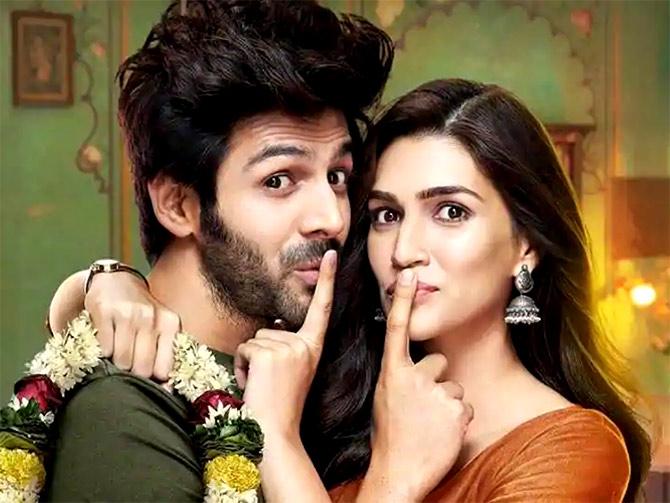 A small town in North India. Check.
A whimsical joint family. Check.
A ballsy girl and a boyish boy. Check.
Actors who've found success in such movies. Check.
A cool concept like live-in to crow about. Check.
A social obstacle like sanskari moral police (think Anti-Romeo Squad) to sermonise. Check.
Old Bollywood songs recycled anew. Check.
It's like the makers (Director Laxman Utekar, Writer Rohan Shankar) took one look at Bollywood's current rom-com trends and hurriedly compiled a list of things they need to make a movie.
Seems like in this mad rush, they completely forgot the magic ingredients -- wit, fizz, smarts and, at least, an iota of personality.
Luka Chuppi is formula film-making at its lamest.
After a fictional superstar's (whose last name has to be Khan) admission of his live-in relationship triggers a violent response in the country, people in North India, especially Mathura and Gwalior are going nuts and burning his effigies.
The point behind this exercise in overreaction is to impress what a big deal it's for a couple to opt for a live-in around such a squeamish social setup.
When Guddu (Kartik Aaryan), a reporter at a local cable news network in Mathura, meets Rashmi (Kriti Sanon), a politician's (a frumpy Vinay Pathak) daughter interning at his workplace, sparks fly.
Half of Luka Chuppi is song after song of this attractive duo gazing into each other's eyes, smiling to and fro in fashionable attire and touring the cities.
He proposes marriage, she recommends live-in.
The reasons for one's rush and another's reluctance are a point of note by themselves; one that Luka Chupp is skin-deep cinema completely disregards and proceeds.
It's funny how the term 'live-in' is uttered, explained, defined, defended, abused and apologised over and over again in the movie. But when it actually comes down to the deed, Luka Chuppi's laziness reduces it to zilch.
Keeping with Bollywood's fantasy treatment and trivialising of serious concepts, what follows is a two-week picnic in Gwalior, a breezy game of ghar-ghar where sex and Maggi are in high supply and shooing pesky neighbourhood aunties is a Photoshopped wedding album away.
Luka Chuppi is as much about live-in as Dilwale Dulhania Le Jayenge was about pigeons.
The charade continues after Guddu and Rashmi's folks misconstrue their sham marriage as true. A vain, humourless conflict is dragged between people who are dying to get married and people who might die on learning they are not yet married.
And so confusion that can be cleared in a matter of minutes is prolonged for as long as 126 minutes in this bird-brained baloney.
Forced scenes of broad humour are invented to make Guddu look like a cad. And Rashmi's short-lived spunk reaches a point of no return the moment she moans about the 'bojh' of sindoor and mangalsutra. Luka Chuppi perpetuates such regressive ideas about symbols of marriage; its intrinsic conventionality lays bare its charade of progressivism.
Guddu's mother encourages Rashmi to work but deeming her other daughter-in-law fit for domestic chores is played for laughs. Rashmi forgets about her career aspirations the minute she falls in love because that's what Hindi film heroines do.
Kriti Sanon has ample charm and style. But her dependence on five standard expressions cannot ramp a wonky character. Though Kartik Aaryan, best known for spewing snark and sexism in the Bromance genre, shows he has got the goods for boy next door. In a better-written gig, they'd make a difference too.
Instead, you have a shabbily used Aparshakti Khurrana as his Muslim best friend with just one good line to shut the Hindu fanatics brigade and the dazzling genius of Pankaj Tripathi frittered away to parade like a raunchy parakeet.
Between not taking itself seriously and spewing gyaan over how to win youth votes, Luka Chuppi cannot decide what it wants to hide and where it needs to look.
Rediff Rating: