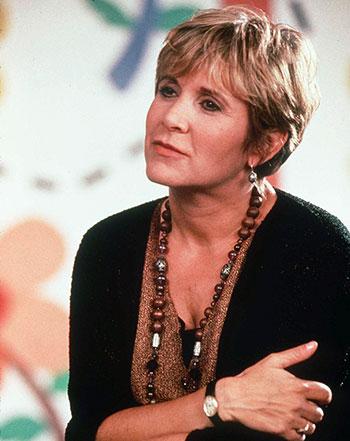 Carrie Fisher, who made Star Wars character Princess Leia so popular, passed into the ages on December 28. Fisher, who made a mark as a tremendous writer and character actress, was in intensive care unit after she had a heart attack while on a flight from London to Los Angeles on December 23.
Fisher made her own career, enjoying her biggest on-screen popularity as Leia in the original Star Wars trilogy before going on to establish herself as an acerbic, truth-telling witty writer with such books as Postcards From the Edge.
Here's looking at pictures from her life.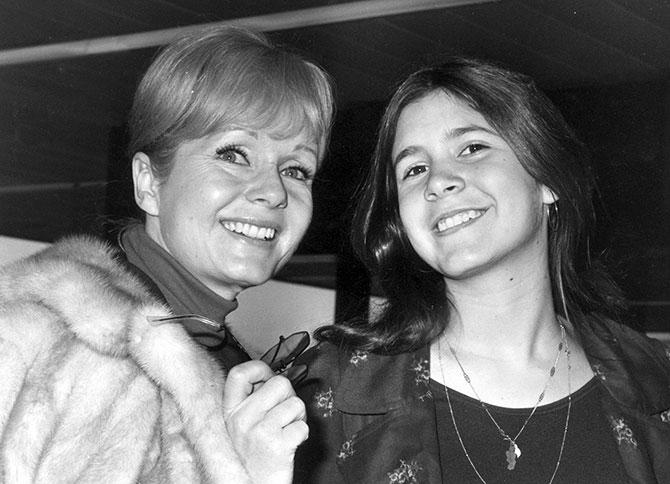 IMAGE: Carries Fisher with her mother Debbie Reynolds in 1972. Photograph: Dove/Evening Standard/Getty Images
Born to actress Debbie Reynolds and singer Eddie Fisher in 1956, Carrie grew up with the best of Hollywood around her.
Fisher's parents divorced when she was just two, after her father left Reynolds for actress Elizabeth Taylor.
Fisher grew up in Beverly Hills and first stepped onstage when she was 15 to join her mother in the Broadway musical Irene.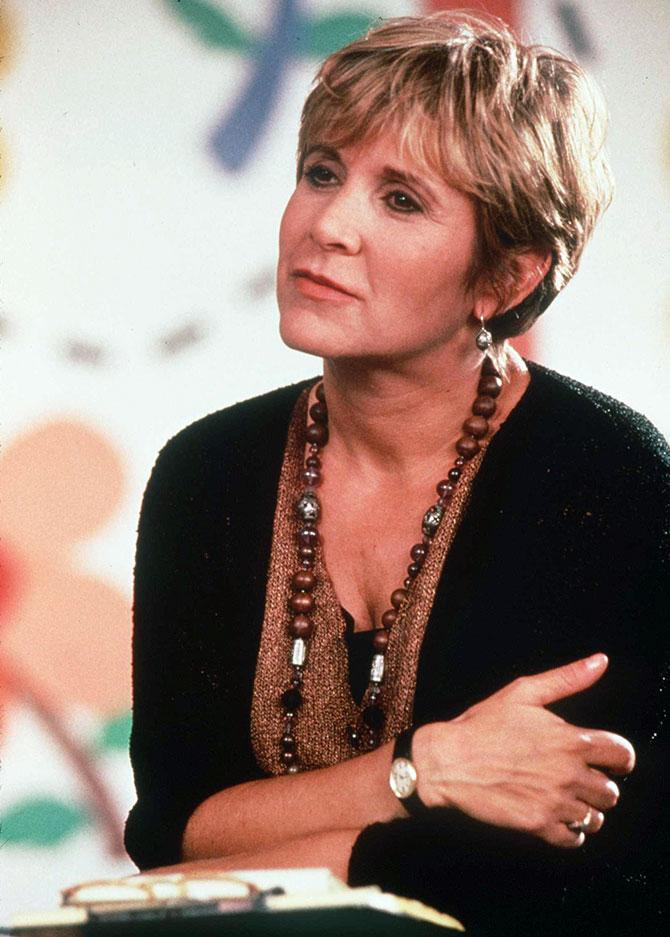 Photograph: New Line Cinema/Liaison
She made her film debut in Warren Beatty's Shampoo (1975), playing a precocious teen who seduces Beatty's sexually adventurous hairstylist.
Her role in Star Wars came in 1977, the experience she recently detailed in memoir, The Princess Diarist. She was only 19 when the first installment of the popular sci-fi franchise was filmed.
In addition to the Star Wars films, and Fisher starred in 1980's The Blues Brothers, The Man with One Red Shoe, Woody Allen's Hannah and Her Sisters and later, When Harry Met Sally.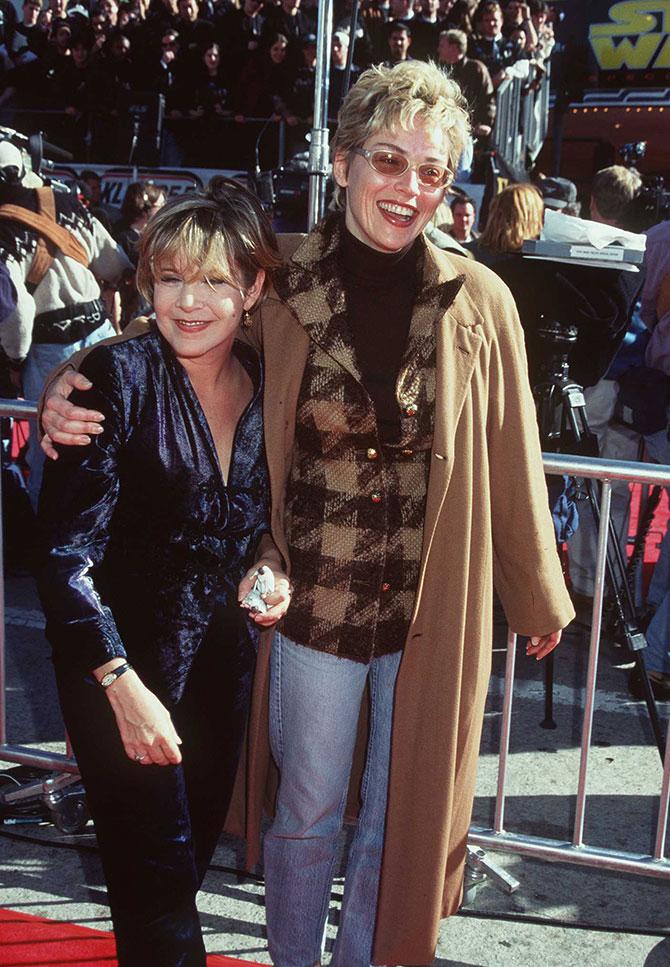 IMAGE: Carrie Fisher with Sharon Stone in 1997. Photograph: Online/Liaison.
Fisher wed musician Paul Simon in 1983. It was an explosive marriage, and was cut short by swinging stages of depression, the actresses' drug use and an array of personal insecurities. The relationship continued, though, on-and-off for several years after the pair divorced in 1984.
The star's substance abuse problem was well-known, starting at only age 13 when she first started smoking marijuana. She said she later dabbled in drugs like cocaine and LSD.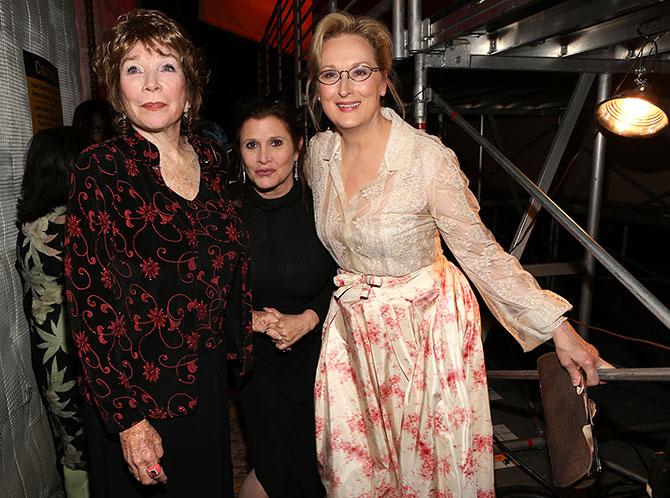 IMAGE: Shirley MacLaine with Carrie Fisher and Meryl Streep attend the 40th AFI Life Achievement Awards in 2012 in California. Photograph: Christopher Polk/Getty Images for AFI.
Fisher's addiction was largely profiled in her 1987 best-selling, semi-autobiographical novel, Postcards from the Edge, which was later turned into a movie starring Meryl Streep.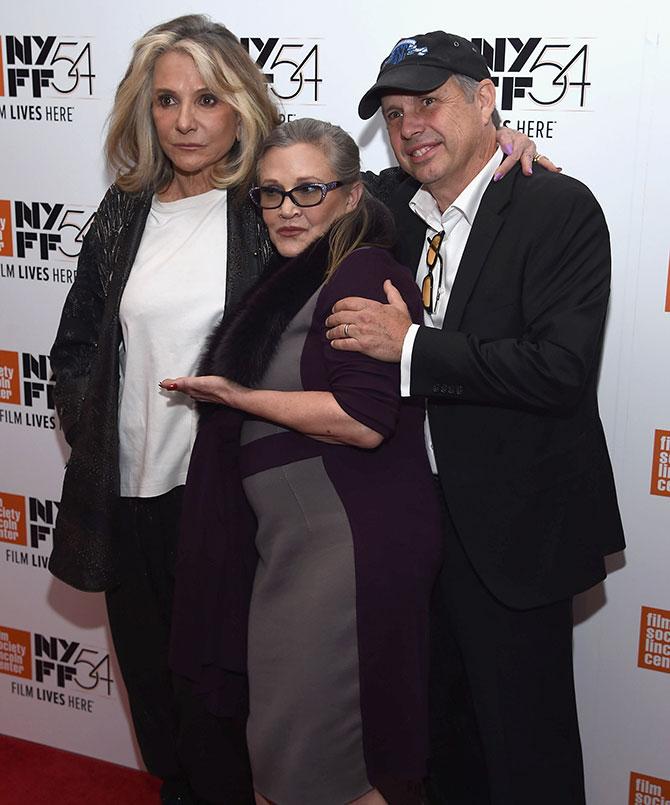 IMAGE: Carrie Fisher with her brother Todd. Photograph: Dimitrios Kambouris/Getty Images.
Fisher is survived by her mother, daughter Billi Lourd, brother Todd Fisher (in the picture); and half-sisters, actresses Joely Fisher and Tricia Leigh Fisher.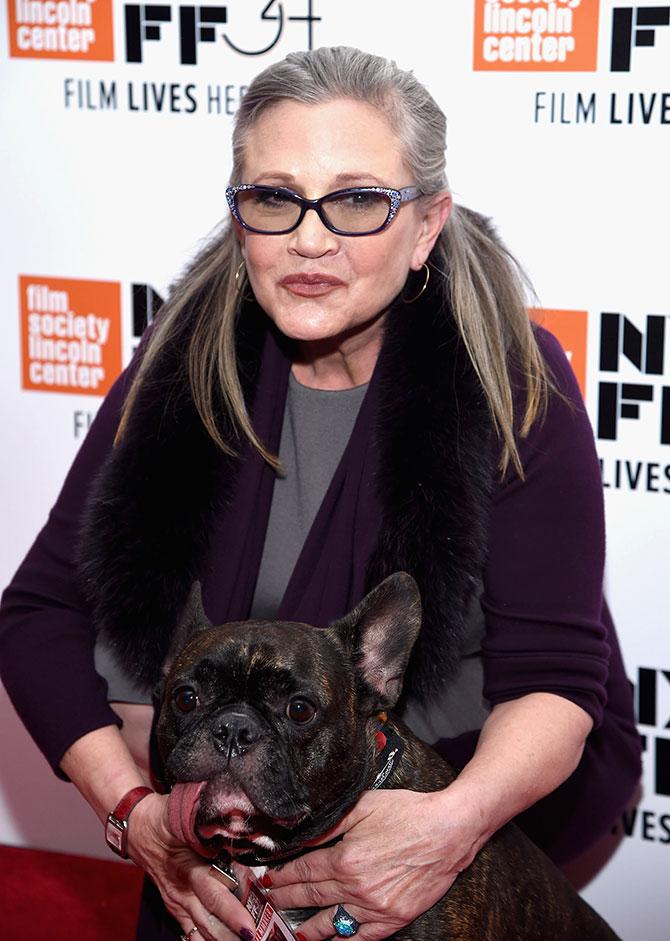 IMAGE: Carrie Fisher attends the 54th New York Film Festival 2016 in New York. Photograph: Dimitrios Kambouris/Getty Images.
In 1985, Fisher was diagnosed with bipolar disorder and subsequently became an outspoken advocate for mental health awareness.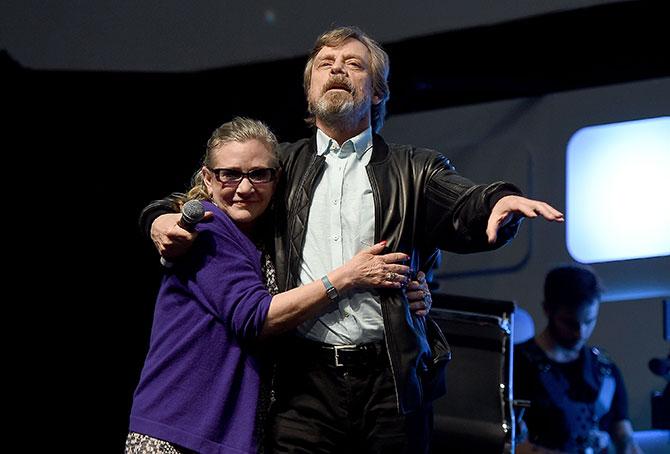 IMAGE: Carrie Fisher with Mark Hamill, who played her brother Luke Skywalker in Star Wars. Photograph: Ben A Pruchnie/Getty Images for Walt Disney Studios.
Of returning to the role that launched her career, Princess Leia, for The Force Awakens, Fisher said in 2015, 'I knew that something enormous was likely going to impact my life from this film and that there was absolutely no way of understanding what that was or was likely to be.'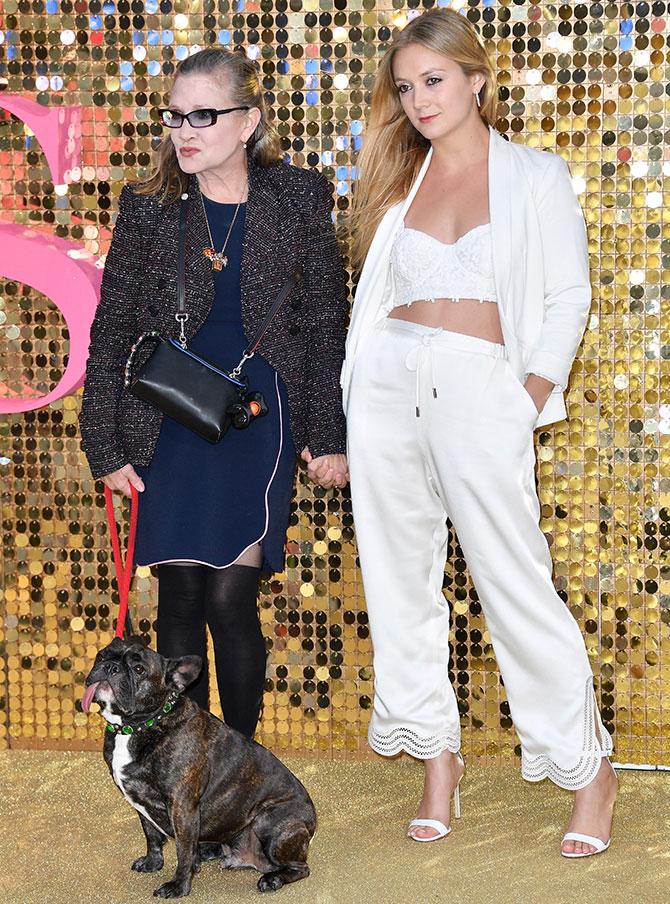 IMAGE: Carrie Fisher with her daughter Billie Catherine Lourd. Photograph: Gareth Cattermole/Getty Images.
Billi Catherine Lourd, Fisher's only child, was born in July 1992.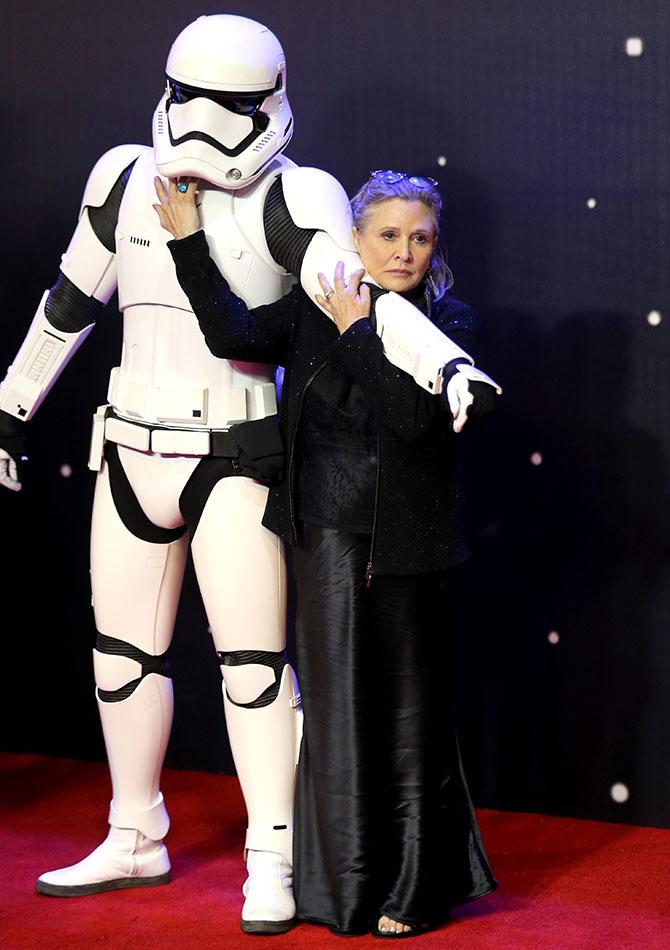 IMAGE: Carrie Fisher attends the European Premiere of Star Wars: The Force Awakens at Leicester Square in 2015 in London. Photograph: Chris Jackson/Getty Images

Star Wars: The Force Awakens brought Fisher back into the spotlight and earned her a nomination for the 2016 Saturn Award for Best Supporting Actress.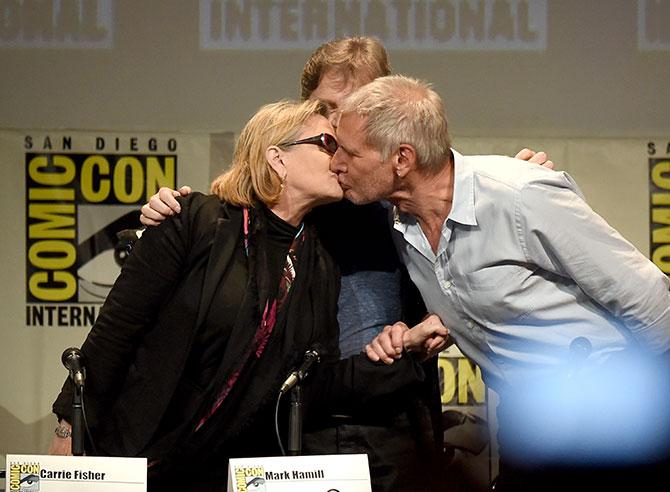 IMAGE: Carrie Fisher, Mark Hamill and Harrison Ford at the Lucas film panel during Comic-Con International 2015 at the San Diego Convention Center in 2015. Photograph: Kevin Winter/Getty Images.
Fisher recently opened up about her on-set affair with Star Wars co-star Harrison Ford in The Princess Diarist.

'It was so intense...I had forgotten that I'd written them, and I've never written diaries sort of like that. I write when I'm upset... It was about two or three months of upset,' she said.

Fisher added, 'It was sad because I was so insecure, and it's very raw and obviously I didn't expect anyone -- including myself, I suppose later on -- to read it.'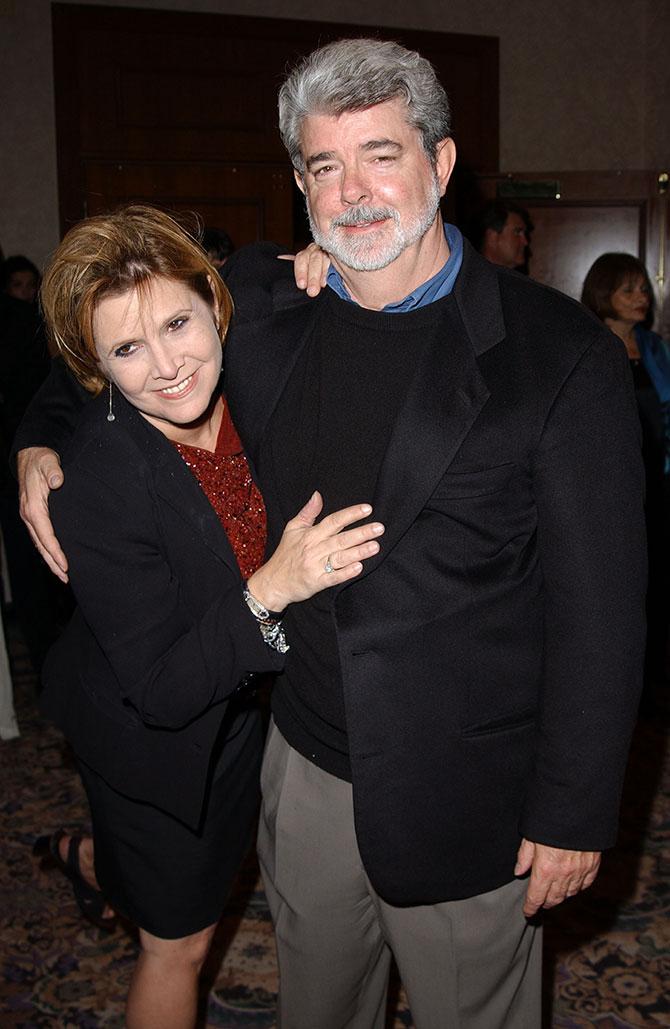 IMAGE: Carrie Fisher and director George Lucas attend the 20th Annual Media Access Awards at the Sheraton Universal Hotel in 2002 in Los Angeles. Photograph: Robert Mora/Getty Images.
Fisher had famously written her own obituary in her 2008 memoir Wishful Drinking, in which she recalled an incident where Star Wars creator George Lucas told her she could not wear a bra under the white dress she wore as Princess Leia.
When she asked him why, he replied, 'Because there's no underwear in space.'
Lucas' explanation was that since one is weightless in space, the body expands but the bra doesn't. So one gets strangled by their own bra.
Fisher then wrote, 'Now I think that this would make for a fantastic obit -- so I tell my younger friends that no matter how I go, I want it reported that I drowned in moonlight, strangled by own bra.'
© Copyright 2022 PTI. All rights reserved. Republication or redistribution of PTI content, including by framing or similar means, is expressly prohibited without the prior written consent.