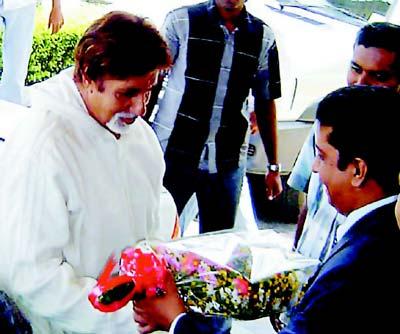 I am in Kerala after a long time. And in Munnar for the first time. It is fantastic," says Amitabh Bachchan, who arrived in Lush green, hilly Munnar for the shooting of Ram Gopal Varma's Nishabd.
Bachchan arrived at the Cochin International Airport on Monday morning and drove straight to Munnar, 140 kilometres away. Anto Joseph, one of Kerala's most-sought after production controllers, who is coordinating the shooting of Nishabd, says taking Bachchan to Munnar was "a great experience."
"He simply loved every bit of the journey. He loves the climate and the breathtaking tea plantations here," says Joseph.
For Bachchan, the Munnar stay is not going to be a short one. He will stay at the Kerala Tourism Development Corporation-run Tea County Resort for the next 30 days as Varma is shooting the entire film in these hills.
Bachchan who came to Munnar straight from the sets of Karan Johar's latest film Kabhi Alvida Na Kehna, was saddened to hear of BJP leader Pramod Mahajan's death. Says a production crew member. "He very much wanted to go and visit Mahajan and his family. But it was impossible for him to get out of these hills and the hectic shooting."
In Nishabd, Amitabh teams up with popular Tamil actress Revathy (Love, Phir Milenge, her directorial debut).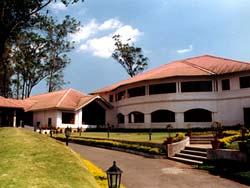 The film is a Bollywood's take on Vladimir Nabokov's timeless novel Lolita, which revolves around the tale of a 54-year-old married man, played by Bachchan, who becomes obsessed with a charming, sensual teenager, 36 years younger. Newcomer Jia plays Bachchan's love interest. Ram Gopal Varma, in an interview to rediff.com, denied any similarity between Nishabd and Lolita.
Munnar with its verdant picture-perfect locations has started attracting filmmakers. Recently, Santosh Sivan's English film Road to the Sky was shot in Munnar.
All these years, Munnar has been attracting tourists, golfers, mountaineers, motorists and angling fans.
Now Munnar beckons Bollywood.
Above left: Amitabh Bachchan welcomed at the Tea County Resort in Munnar
Below right: The Tea Country Resort in Munnar where Amitabh will camp for 30 days
Photographs: Rajesh Prasad