'Maybe it's time for Plan B for the film industry.'
T E Narasimhan reports.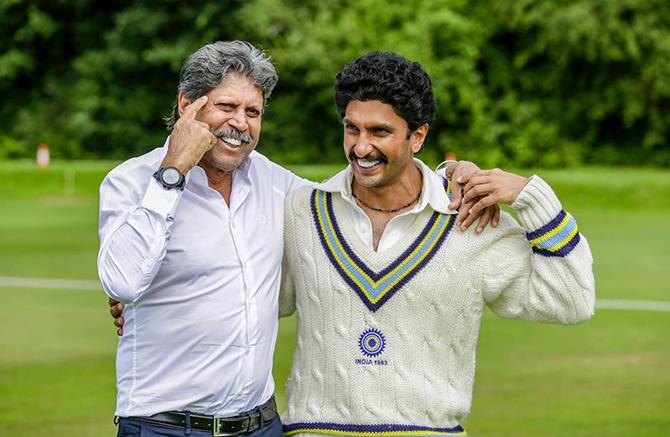 For the past few weeks, the makers of the Ranveer Singh starrer '83 have been fending off rumours that their movie will be streamed online.
Producer Karan Johar has been doing the same over his upcoming release Gunjan Saxena: The Kargil Girl as have a host of actors, directors and studio executives, as they twist and turn in the tug of war between movie distributors and exhibitors and OTT (over the top) platforms.
The business of movies that was increasingly framed around the famed Rs 100 crore club is being overhauled.
And as the stranglehold of the lockdown gets tighter, Bollywood and regional film businesses are looking at ways to keep the show going after the pandemic.
Industry analysts say that close to Rs 1,500 crore worth of business is stuck in Bollywood alone and matters are likely to get worse.
Summer, usually a time for big releases, has been rendered barren with several big movies such as Sooryavanshi, '83, Coolie No 1, Laxmi Bomb among others pushing back their releases.
The Telugu and Tamil movie industries are most impacted after Bollywood.
Given the capacity of the producers and the potential impact of going by for the next six months without a release, many director-producers and studios are caving in to the OTT persuaders.
Shoojit Sircar, director of Piku, has decided to premiere his Amitabh Bachchan-Ayushmann Khurrana starrer Gulabo-Sitabo on Amazon Prime.
"I think we have to move with the requirements of the times that we face. Maybe it's time for Plan B for the film industry," says Sircar.
Producer Madhura Sreedhar is looking at a direct OTT release for his next production, Love, Life and Pakoda.
"That feels like the best option for me where a small production is concerned. I needn't worry about theatrical revenue and other logistics," says Sreedhar.
An industry report by KPMG (COVID-19: The many shades of a crisis, April 2020) indicates that it is time for the film business to reinvent itself, look beyond traditional marketing and exhibition options.
The industry clocked in Rs 18,300 crore in FY19, but is staring at a disaster at the box office following COVID-19, the KPMG report said.
Trade experts say the industry is staring at a long road of discontent.
Even when the theatres do open up, blockbusters will be scarce. Besides it is not just about India alone easing the lockdown, other countries mainly the UAE, the US, the United Kingdom, Australia, Fiji, neighbouring countries have to open as they account for around 30 to 40 per cent of a film's overall box office collection.
While the numbers paint a grim picture, the multiplex owners have been vocal in their demand for movie releases being postponed for a theatrical release.
But how long can the movie makers hold out?
It is not Bollywood alone that is swaying under the pressure. For the Telugu film industry, films valued at Rs 2,000 crore either ready to be released or in production have been stuck for over a month.
Producer Daggubati Suresh said that 15 films, ready for release, and another 70 films, at various stages of production are all held up.
A Tamil film Pon Magal Vandhal has already decided to skip its theatrical release and was sold to Amazon Prime for close to Rs 9 crore according to industry sources.
Bollywood trade analyst Komal Nahta said the industry is staring at an estimated loss of around Rs 1,500 crore and many are in advanced negotiations with Netflix. However such statements are being debunked by many.
Reliance Entertainment (co-distributor for '83) has for one denied reports that it had sold out to a big OTT for Rs 143 crore.
"There is no truth in this," the company spokesperson said.