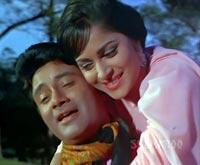 Arthur J Pais reveals little known facts about Dev Anand's film, Guide
.
The list of artists Dev Anand introduced or gave big breaks to in his movies includes Zeenat Aman (
Hare Rama Hare Krishna
, 1971) and Tina Munim (
Des Pardes
, 1978), directors like Guru Dutt (
Baazi
, 1951) and Amarjit (
Hum Dono
, 1962), composer Jaidev (
Hum Dono
) and the lyricist Sahir Ludhianvi (
Baazi
).
But when it came to the casting of what would become undoubtedly his critically most noteworthy film,
Guide
, he said a firm No to newcomer Priya Rajvansh.
He was certain that the role of Rosie Marco, the suppressed wife who walks out on her husband and goes to become a celebrated dancer under the name of Nalini, should go to Waheeda Rehman, his co-star in several hit films including
Kala Bazar
.
Chetan Anand, Dev Anand's elder brother and co-founder of Dev's production company Navketan, was to initially direct the English and Hindi versions of the film, which was based on R K Narayan's well regarded and popular book.
"Chetan Anand wanted Priya because he said she spoke better English than me," Waheeda told me a few years ago. "But Dev said I am the producer of the film and Waheeda is my Rosie."
Dev said Chetan Anand could leave the project if he felt unhappy about the casting.
Waheeda Rehman acted in the Hindi and English versions of
Guide
, the former directed by Dev's younger brother Vijay Anand, and the latter directed by a little known American television director, Tad Danielewski.
Priya played the lead in Chetan Anand's war film
Haqeeqat
, which was released in 1964, a year before
Guide
.
Though Haqeeqat was a hit, Priya was not really noticed -- she was more of a wallflower than a dramatic actress in the film.
The Hindi version of
Guide
made history for everyone concerned, especially Waheeda. Though she had acted in films made by legendary filmmakers like Satyajit Ray (
Abhijaan
, opposite Soumitra Chatterjee in 1962) and Guru Dutt (
Pyaasa
, in 1957, among others), her work in
Guide
is unmatched.
She was not only the dramatic queen of the film, but also performed its complex dances. Even though the English version was disappointing, there is a dance sequence in it, which lasts for over four hypnotising minutes, and shows Waheeda in splendid form.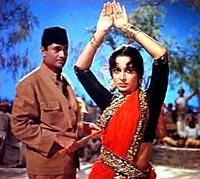 Dev was not a person to hold grudges. As the 25th anniversary of Navketan approached, he asked Chetan Anand -- who had directed the company's first film Afsar -- to direct Jaaneman. Hema Malini played the lead opposite Dev and the film was a success.
When Chetan Anand launched Saheb Bahadur in 1976, it was clear Priya Rajvansh would be the lead as it has been in most of the films he had made since he introduced her. Dev Anand graciously accepted the lead opposite her. But the film was a dud.

While the English version of Guide was a non-starter, the Hindi version was a commercial and artistic success. Many rightly believe it is the best film in Navketan's history.

R K Narayan was, however, appalled by both versions, particularly the English one. The script had been written by Nobel Laureate Pearl S Buck (The Good Earth), who was signed for the film perhaps for no other reason but the fact that she was a bestselling writer worldwide whose books set in China were also known in India.

Narayan vented his wrath in an article he wrote for Life magazine. The publication ran the story under the headline, How a Famous Novel Became an Infamous Film.

In Narayan's film, a humble guide encourages a suffering woman to leave her husband, and as she enters the successful showbiz world, he turns to an easy life, gambles away her newfound wealth, and lands up in jail.

Out of prison and broke, he is mistaken for a godman in a village, but his fake new life is challenged when the villagers facing a drought think he can bring about the rains by praying and fasting.

The novel has an ambiguous ending, but in the film the man becomes a saint and risks his life as he goes on a fast. He just cannot let down the thousands of people who have faith in him, he feels. The rains come just as the man breaths his last.

R K Narayan's protests did not stop the audiences from embracing the film in its Hindi version and making it run for many months. As for the English version, show biz observers believe it was doomed even without the blistering attack in Life.

Images: Dev Anand and Waheeda Rahman in Guide.
Please post your tributes to Devsaab on Zara Bol.