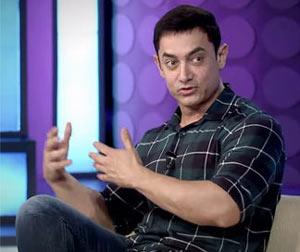 Amitabh Bachchan, Deepika Padukone, Kangna Ranaut and Parineeti Chopra -- star appearances were the highlight of Satyamev Jayate 3's season finale, says Nishi Tiwari.

The season finale of Satyamev Jayate 3, that aired on November 9, may have dialed down its signature sense of urgency while addressing the latest social issue.

But it was decidedly high on glamour -- actress Deepika Padukone, Kangana Ranaut and Parineeti Chopra, and Amitabh Bachchan (ever the articulate epitome of grace and charm) -- made appearances to contribute to the day's discourse, brought on, according to host Aamir Khan, by popular demand -- When Masculinity Harms Men.

After a round of discussion with the male members of the audience about what constitutes masculinity and the women sitting among them debunking their myths, the viewer is introduced to Mahendra and Aradhna Singh from New Delhi and Triveni Sahay from Meerut.

Both Singh and Sahay lost their respective sons to freak accidents -- while the former's son was beaten to death by a bunch of youths following a scuffle, Sahay's son committed suicide by jumping under a train after the relentless ragging at his college in Jalandhar went out of hand.

After examining the root causes of tragic instances like these, the show progresses to other aspects of patriarchal ill practices like conforming to gender-based stereotypes in daily life, the idea of feminism (which is the new cool thing to have these days, as social media evangelists will have you believe) and so on.

While these discussions aren't something we were hearing for the first time -- if you're clued into social media, you'd know that everyone with a camera and an internet connection is conducting social experiments of all kinds ('This person tried to litter, you won't believe what happened next,' 'This girl got catcalled, what she did wil blow your mind away,' you get the drift) -- the show really comes into its own when the earlier mentioned stars emerge.
Kangna and Parineeti, the more articulate of the ladies, put across their ideas in a succinct manner, Deepika looks on attentively for the most part. It's fun and refreshing to see mainstream actresses speak their mind.

The Big B's appearance at the end of the show, where he stresses upon the need to bring up our sons in a better and more conscious way today, was just the cherry on the top the show's finale required.

Did you like the season finale of Satyamev Jayate 3? VOTE!