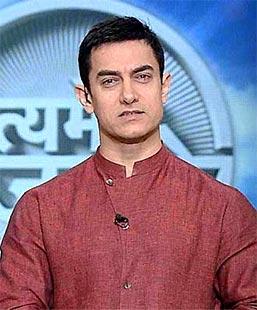 Satyamev Jayate's newest episode -- Accepting Alternative Sexualities -- was a commendable effort to bring the discourse on Section 377 of the Indian Constitution on a mainstream platform, says Nishi Tiwari.

Remember the euphoric wave that swept across the Indian LGBT community and its sympathisers when the Delhi High Court decriminalised homosexuality in 2009?

While it was hailed as a harbinger of better things for this marginalised section, the celebration soon proved to be tragically short-lived.

In December 2013, the Supreme Court of India upheld Section 377 of the constitution that, as Wikipedia describes it, 'criminalises sexual activities "against the order of nature", arguably including homosexual acts.'
The newest episode of Satyamev Jayate 3 -- Accepting Alternative Sexualities -- explores stories of homosexuals coming out to their families and friends, transgendered individuals embarking on life-altering journeys, and the many ordeals that the LGBT community in India has to face because of our society's ignorance on the matter.

After (the striking) Gazal Dhaliwal, a film writer, describes her traumatic childhood as a girl trapped in a boy's body, her journey from self-discovery to the decision to undergo a sex change operation, a brief chat with psychiatrist Anjali Chhabria follows, in which she busts commonplace homosexuality-related myths.

When the studio audience ask her questions like, 'Will my kid get it if he interacts with a gay friend?' and 'What are the three steps parents should take if their kids come out to them?' Chhabria responds patiently.
The defining moment in the show comes when she urges viewers to understand that homosexuals are as normal as the rest of them and that one's sexual orientation isn't something that can be cured.

She also urges parents to be more understanding of their kids' journey of self-discovery and be supportive, lest they get lost in a maze of drugs and bad company in a bid to find themselves.

Meanwhile, the applause is more frequent and deafening than before, so are the definitively nodding heads of parents in the audience.

But that certainly is nitpicking in this episode.

To bring up a topic like this one on a mainstream platform, for a progressive society that does not so much as acknowledge the existence of concepts they don't understand, is laudable.

The stories that emerge are heartwarming, inspiring and, in one particular case, where a particularly feisty grandmother admits to dancing on her gay grandson's engagement ceremony, panders to Satyamev Jayate's key audience.

The episode's question to the audience this time is whether they think section 377 should be removed.

Will this debate go beyond the above question to something revolutionary enough to bring about the desired changes in mindsets and, subsequently, in parochial laws?

It's a new-age struggle that needs newer platforms and channels. If Twitter and Facebook based outrage has made an impact, maybe Satyamev Jayate will take it further.

Liked the newest episode of Satyamev Jayate 3? VOTE!