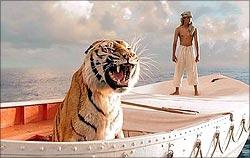 With a promising opening at the box office, Ange Lee's Life Of Pi looks poised to embark on its Oscar journey.

Ang Lee's
well-reviewed survival drama
Life of Pi
opened to solid numbers in limited release and joined the crowded market of films with rich promise of Oscar nomination.
Made on a staggering budget of $120 million, the film has grossed $30 million in North America within five days of release.
According to the film's producer and distributor Fox, the film grossed about $17 million in three days in a handful of foreign countries including China ($10.5 million) and India ($3.4 million).
Strong word-of-mouth and speculation about the film's Golden Globe and Oscar prospects are absolutely necessary for this film to make a profit. The movie has to earn at least $400 million in ticket and ancillary (including DVD) sales before it breaks even.
Life of Pi
is the screen adaptation of Yann Martel's best-selling novel about a young Indian stranded on a lifeboat with a Bengal tiger. Published over a decade ago, it became an international bestseller. 
Many directors including M Night Shyamalan were considered for the project but finally Lee, who is very good at combining action with storytelling (
Crouching Tiger, Hidden Dragon
) came aboard.
He spent more than a year, he has said in interviews, in working on the creating of 3-D images involving the CGI created tiger. This is his first 3-D project.
Life of Pi
has succeeded in drawing younger moviegoers in the US, with 40 percent of the audience being under the age of 25, according to
Hollywood.com
.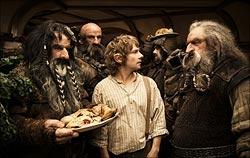 'To open to $47.7 million worldwide is a phenomenal start for this unique movie,' Fox president of domestic distribution Chris Aronson told reporters on Sunday. 'This performance validates the vision of Ang Lee and Elizabeth Gabler [
president of Fox 2000
].'
The film has been compared with Martin Scorsese's magical
Hugo
that received positive reviews from critics as well as the general public.
With just a handful of Oscar-worthy films including the musical version of
Les Miserables
(director Tom Hooper,
The King's Speech
) and Peter Jackson's fantasy drama
The Hobbit
based on JRR Tolkien's novel of the same name to be released in the next few days, the Oscar race is getting more and more interesting. 
If the buzz holds,
Les Miserables
is expected to gross at least $150 million in North America, and
The Hobbit
double that amount.
'No movie musical has seriously contended for the best picture Oscar since
Chicago
(2002) won it a decade ago, though several have tried,' wrote
The Hollywood Reporter
after the screening of
Les Miserables
at a large theater in New York.
'But judging by the loud applause that followed every one of Les Mis' big numbers -- which were divvied up between stars Hugh Jackman, Russell Crowe, Anne Hathaway, Samantha Barks, Eddie Redmayne, Amanda Seyfried, Helena Bonham Carter and Sacha Baron Cohen, respectively --
and the raucous standing ovation that the film and its key talent received once its credits started to roll, that could certainly change this year,' they said.
The list of leading contenders ranges from the thrilling and comical hostage drama
Argo
(which has grossed nearly $150 million worldwide, and continues to grow) to the art house success
The Master
($16 million in North America) about a troubled man and his involvement with Scientology-like cult.
Not to be overlooked is Steven Spielberg's magisterial
Lincoln
, a bit ponderous at times, but redeemed by a towering performance by Daniel Day Lewis as the American president fighting not only slavery but also his own imperfect life.
The $65 million film produced by Spielberg's DreamWorks and India's Reliance Entertainment is yet to be released worldwide but in North America, it has grossed a robust $62 million in less than three weeks and is poised for a profitable $150 million run, even without the help of Golden Globe and Oscar nominations.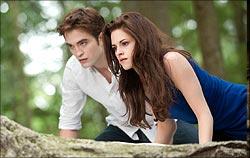 But it has to do solid business abroad in order to show a decent profit. And that depends how much of a draw it would be in non-English speaking countries, and if people will welcome it as a dramatic piece of history rather than a convoluted screen lesson in history.
Also in the reckoning are the psychological drama with comic elements 
Silver Linings Playbook
and the dark psychological addiction drama
Flight
.
Playbook
, which has received stronger reviews than
Flight
is expanding across North America slowly. Currently on some 600 screens, it has grossed a promising $6 million in about three weeks. The film was made for about $25 million
Flight
, despite having an expensive star Denzel Washington and director Robert Zemeckis was made for about $33 million, because both the talents reduced their fees considerably.
The film which has a solid performance not only by Washington as a self destructive air pilot who finds redemption unexpectedly but also a number of other artists including John Goodman has grossed a handsome $79 million in North America. It would soon join the $100 million club.
Paramount has said it plans to release the film abroad as the nominations will start coming in December.
With many Oscar nomination-bound movies doing solid business, the movie market in North America and the rest of the world also gained last week from the huge success of the
The Twilight Saga: Breaking Dawn Part 2
and the latest James Bond adventure,
Skyfall
.
'This is a marketplace that has something for everyone,' Chris Aronson of 20th Century Fox was quoted as saying.
'You have something deeper like
Life of Pi
, yet you have a very successful sequel in
Twilight
(easily headed for at least $900 million worldwide) at the same time. Adult bio-drama, if you will, in
Lincoln
and you have Bond (which is expected to be the first Bond film to gross $1 billion, and it would be doing so by the end of December). That's the secret to a very successful and balanced marketplace.'