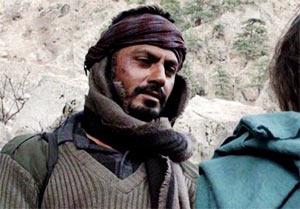 Nawazuddin Siddiqui's film Liar's Dice has been selected as India's official entry to the Oscars and the actor is very proud of it.
"It is a very special film and my first with a woman director," he says. "The film is a road journey, which we shot at one stretch."
The film is special for other reasons too.
"Liar's Dice is my first romantic film," Nawaz says. "But not the usual romance. It's the story of a woman in search of her husband. I am the man who helps her in the search. Her journey begins in Himachal Pradesh and we travel by road to Delhi via Shimla."
Last year, Nawaz's much-acclaimed film The Lunchbox was a popular choice to be sent to the Oscars but it lost out to Gujarati film The Good Road.
Nawaz claims he's very surprised with the way the last two years panned out.
"I thought 2012 was too eventful a year for me to repeat. In 2013, I had only two releases. But by God's grace, I got so much praise for both Bombay Talkies and The Lunchbox. It continues even now. This year, Kick has taken my career to a new level. Its success will help sell Liar's Dice to distributors."
"Last year I had gone to the US to the Sundance Film Festival with Liars Dice. It seems the film's journey will continue into 2015. In the last two years, there is a not single major international film festival that hasn't featured my cinema," he beams.