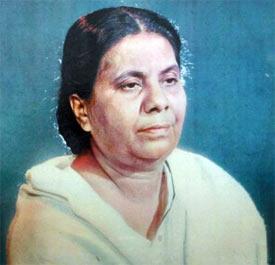 L
egendary
bhajan
singer Juthika Roy, who had iconic leaders like Mahatma Gandhi and Jawaharlal Nehru among her fans, died after prolonged illness, hospital sources said. She was 93.
Suffering from sepsis, the Padmashree awardee passed away late last night following a multi-organ failure at Ramakrishna Mission Seva Pratishthan in Kolkata.
She was admitted to the hospital on February 2 in an unconscious condition and was battling for life with ventilator support in an ICU, sources said.
With hardly anyone from outside the family visiting her, she died a lonely death.
Later in the day, her body was cremated in Baranagar.
Roy was a spinster and used to live with her sister-in-law in their north Kolkata house.
Hailed as the '
adhunik
Meera' during the pre-Independence days, she was popular for her Meerabai
bhajans
like
Ghunghat ke pat khol
and
Pag Ghunghru Baandh Meera Naachi Re.
She sang for a number of Hindi and Bengali films and became very famous during her time as Gandhi and Nehru both were
known to be great fans of her melodious voice.
Such was her popularity at the peak of her career that on August 15, 1947, Nehru had requested her to keep on singing even after the end of her 15-minute slot at All India Radio (AIR).
In an interview she had said that Sarojini Naidu had told her that Mahatma Gandhi used to listen to her songs everyday when he was jailed in Pune.
'He used to start his prayer meeting every morning playing discs that played my
bhajans,'
Roy had once said.
Later on, she had privately performed for the Mahatma in his house.
She had recorded her first album at the tender age of 12 and had famous rebel poet Kazi Nazrul Islam as her mentor.
Roy sang many songs for the famous Bengali music director Kamal Dasgupta. The soulful Narayan stuti (hymn) Narayan Shriman Narayan recorded in her voice is still popular.
Besides Hindi and Bengali, the singer had given her voice to a number of other languages like Urdu and Tamil.