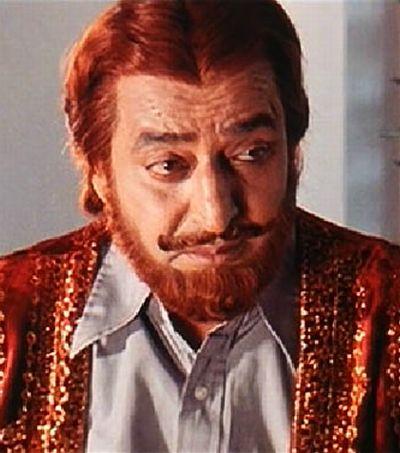 Legendary actor Pran, loved and feared in equal measure by moviegoers for his roles in Bollywood hits like 'Milan', 'Madhumati' and 'Zanjeer', passed away at a suburban hospital in Mumbai on Friday evening at the age of 93.
"He died after a spell of prolonged illness," his daughter Pinky told PTI.
The veteran actor, who played villain and character roles with elan and was conferred the country's highest cinema honour -- Dada Saheb Phalke award -- in April, was admitted to Lilavati hospital a month ago.
"He was not keeping well, he was very weak. His health was deteriorating," she said.
Pran acted in over 350 films and left his imprint as a villain with powerful roles in films like 'Kashmir ki Kali', 'Khandaan', 'Aurat', 'Bari Behen', 'Jis Desh Men Ganga Behti Hai', 'Half Ticket', 'Upkar', 'Purab Aur Paschim' and 'Don'.
Born on February 12 in 1920 in old Delhi, Pran was educated at places like Kapurthala, Unnao, Meerut, Dehradun and Rampur as his father Lala Kewal Krishnan Sikand was in government service.
Initially, Pran wanted to become a photographer but destiny had different plans for him. A chance meeting with a film producer got him his first break in Punjabi film 'Yamla Jat' in 1940.
There was no looking back for the actor after that as he went on to star in films like 'Chaudhary' (1941), 'Khandan' (1942), 'Kaise Kahun' (1945) and 'Badnami (1946).
After Partition, Pran came to Mumbai with his wife Shukla and sons Arvind and Sunil but found it difficult to get work as an actor in the city of dreams.
He had almost given hope when writer Saadat Hasan Manto helped him get a role in Dev Anand starrer 'Ziddi' in 1948 which revived his career.
Pran will be forever remembered for bringing villains on par with the heroes, ruling the industry from 1969 to 1982. He commanded equal respect for his negative characters in 'Madhumati', 'Jis Desh Mein Ganga Behti Hai', 'Ram Aur Shyam' and 'Devdas'.
The actor's baritone and good looks helped him bring charm to his villainy which was very unique to Pran. Such was the magic of his onscreen roles that parents stopped naming their children 'Pran' at the height of his fame.
His chameleon-like ability helped Pran transform himself from one of the most hated onscreen villains to one of the most beloved character actors -- be it the 'Mangal chacha' in 'Upkar', Sher Khan of opposite Amitabh Bachchan in 'Zanjeer' or the discipline-loving but soft-hearted grandfather in Gulzar's 'Parichay'.
Pran worked with Rishi Kapoor in films like 'Karz', 'Naseeb' and 'Bobby'.
Prior to his film career, the actor wanted to become a professional photographer and worked as an apprentice with a company.
This job took him to Shimla, where he played the role of Sita in a local staging of 'Ramlila'. He happened to meet writer, Wali Mohammad Wali, who worked for producer Dalsukh M Pancholi in Lahore. This eventually led to Pran's entry in the film industry.
He acted in few Punjabi films before entering Bollywood with Sunil Dutt-Nutun starrer super hit film 'Khandan' (1965).
His contribution in comedy movies also didn't go unnoticed with some side-splitting performances in 'Sadhu Aur Shaitaan', 'Chham Chama Chham', 'Half Ticket', 'Bewaqoof' and others.
It was reported that in the 70s, Pran was among the highest paid actors in Indian cinema, ahead of his co-stars like Amitabh Bachchan and Vinod Khanna.
Pran married Shukla Ahluwalia in 1945 and has two sons, Arvind and Sunil and a daughter, Pinky.
Prime Minister Manmohan Singh on Friday night paid rich tributes to Bollywood veteran Pran, describing him as an "icon" who entertained several generations with his "riveting performances" in a myriad of roles in films.
In a condolence message, Singh said Pran had "entertained several generations of Indians with his riveting performances in hundreds of celluloid roles. His versatility in etching a lasting impressions on cinema audience's mind improved with time, for which he was bestowed with the Dada Saheb Phalke Award."
He pointed out that Pran "had worked with doyens of film industry among which he was an icon".
"On this sad occasion, I convey my heartfelt condolences to the members of the bereaved family and Pran's countless fans and admirers. I pray for peace of the departed soul," he added.
Lok Sabha Speaker Meira Kumar said that with Pran's death "we have lost an actor of rare calibre and sophistication that symbolised his illustrious career".
"Considered as one of the most successful actors to portray strong characters of various hues, Pran ruled the Hindi film industry for several decades and won the admiration of millions of fans in India and abroad", she said.
Information and Broadcasting Minister Manish Tewari condoled the death of the veteran actor saying, "Indian cinema has today lost an icon, an actor who set new standards of action with every role that he portrayed in the last several decades."
Tewari had presented the Dada Saheb Phalke award at Pran's residence in Mumbai as the actor could not attend the ceremony in New Delhi due to ill-health.
Bharatiya Janata Party leader Sushma Swaraj said the country has lost an artiste par excellence.
Actor Prem Chopra, famous for his negative roles, described Pran as a source of great inspiration for all the generations for his discipline.
Filmmaker Karan Johar said Pran's demise marked the end of a magnificent and glorious era.
"Final Curtain Call for one of the Most Loved Actors of Indian Cinema..an actor and a gentleman," wrote actor Anupam Kher.
Filmmaker Madhur Bhandarkar tweeted, "Can't get over the ICONIC PRANSAAB's demise, Malang Chacha of UPKAR, Sherkhan of ZANJEER Simply Unforgettable Memories Part of Life Now. Extremely saddened by the demise of the LEGENDARY PRANSAAB, who revolutionised Villainy on Indian Celluloid.'
Actor Riteish Deshmukh tweeted, "SHER KHAN u will live for ever-RIP Pran Saab."
"R.I.P Pran Saheb! Did not know him personally but heard he was a perfect gentleman with a heart of gold! May your soul rest in Peace," actress Priety Zinta posted on twitter.
Actor Kabir Bedi tweeted, "Farewell Pran sahib, Godfather of Indian villains, your legendary characters illuminated the annals of Indian cinema. Deepest respects."
Earlier in 2001, Pran was honoured with the Padma Bhushan for his outstanding contribution to Indian cinema.
The funeral will be held Saturday noon at ShivajiPark in Central Mumbai.
Also Read: Don't miss 92 Facts You Didn't Know About Pran Part I, Part II and Part III
Veteran actor Pran gets Dadasaheb Phalke award
Special Series: Getting to know Pran
The man who made Zanjeer happen
The incredible Pran's unforgettable get-ups!
Image: Pran portraying the character of 'Sher Khan' in Prakash Mehra's 1973 blockbuster 'Zanjeer' also starring Amitabh Bachchan and Jaya Bachchan.
© Copyright 2022 PTI. All rights reserved. Republication or redistribution of PTI content, including by framing or similar means, is expressly prohibited without the prior written consent.