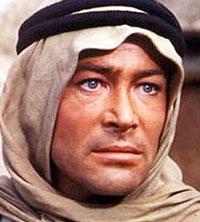 Irish actor Peter O'Toole, the starred in 1962 Oscar-winning epic Lawrence of Arabia passed away on Sunday, December 15. He was 81.

The actor's agent Steve Kenis said, "He was one of a kind in the very best sense and a gian in his field."

The actor had earlier survived a bout of stomach cancer in the 70's.

The hell-raising icon of stage and screen was nominated for eight Oscars before finally being given an honorary award in 2003.

Irish President Michael D Higgins mourned the loss of the actor. "Ireland, and the world, has lost one of the giants of film
and theatre," he said in a statement.
Son of an Irish bookmaker, O'Toole was born in 1932 and raised in northern England.
After working briefly as a journalist and a radioman for the Royal Navy he went to study at the prestigious Royal Academy of Dramatic Art, in a class that included future stars Albert Finney, Alan Bates and Richard Harris.
After making a name in theatre, his big break arrived in the form of David Lean's 1962 desert epic
Lawrence of Arabia.


The actor completed his last movie
Kathrine Of Alexandra
which will release next year.
With inputs from PTI