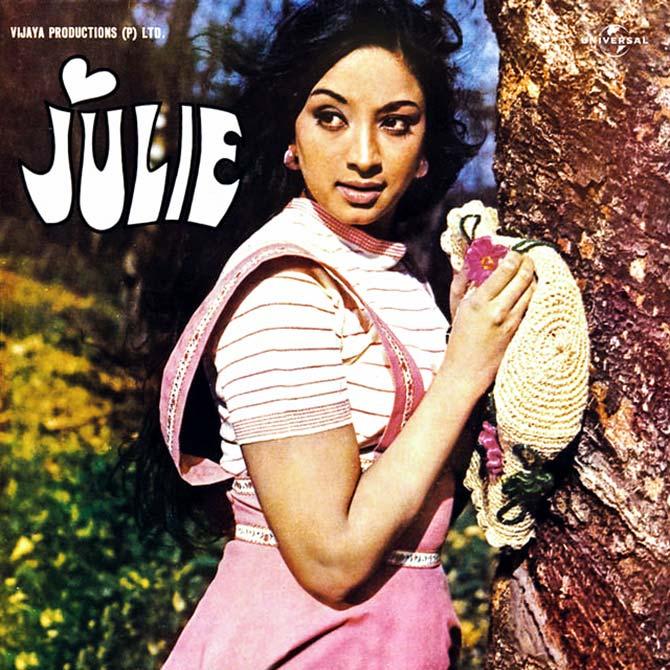 Julie changed the way listeners perceived Lata Mangeshkar's vocal personality.
"I was sure I wanted Lataji to sing the title song where the heroine Laxmi in Julie gets seduced by the hero," Rajesh Roshan tells Subhash K Jha.
"I was new to the industry. My father (composer Roshan) never pushed his own career, so there was no question of pushing mine. I knew Lataji from childhood but there was never a formal introduction. I played the daflee for Laxmikant-Pyarelal in the song Jhooth bole kauva kaate in Bobby, which she sang. Lataji had watched me and smiled," he adds.
When Rajesh turned composer, he gravitated towards the voice that defined Indian cinema.
"Lataji first sang for me in Kunwara Baap, which was produced and directed by Mehmood. The song Aa ri aaja nindiya tu le chal kahin was a made-to-order for Lataji. Again, there was no formal introduction. Mehmoodsaab just mentioned to Lataji that I was like his son, and that was it."
Rajesh regards 1973's Julie as a turning point of his career. "The title song was so steeped in romance that it represented the yearnings of two people in love. Lataji swept into the song as if she owned it. It became the anthem of the youth. Kishoreda had a very tough time keeping up with her in that song," he says.
Thus began an enduring relationship with the Mangeshkars.
"I was close not only to Lataji but also her sister Ushaji, who also sang some hits for me, including Mungda. With Lataji, it was always heaven to record a song," he says.
There are two takeaways that Rajesh obtained from his recordings with Lataji.
"One was the way she stressed certain words at crucial points of a song. She always knew where to punctuate a song. There is no other singer in the world who can do this the way she can. I wish she had taught singers who came after her to find the perfect place to punctuate a song."
The other big takeaway was that she 'moulded her voice in every decade.'
"The way she sounded in the the 1950s was very different from her voice in the 1960s. In the 70s and 80s, she moulded her voice again into a different sphere. How she reinvented herself in each decade to sound better and better is a subject worthy of a thesis."