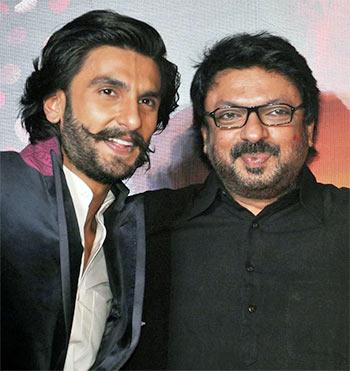 The Mangeshkars honour the finest movie artistes on April 24 every year to commemorate Lataji's father Pandit Dinanath Mangeshkar's death anniversary.
This year, the prestigious award will be given to filmmaker Sanjay Leela Bhansali and actor Ranveer Singh at a function to be held in Pune.
Confirming the selection, Lataji says, "Sanjay Leela Bhansali has been consistently making films that do Indian cinema proud. His latest Bajirao Mastani is another masterpiece. My brother Hridaynath is also a fan of Bhansaliji's work. What I also like about his cinema is that he composes his own music. He has a terrific music sense."
Lataji is also all praise for Ranveer: "A very good actor and seems to be a very positive human being. He spreads happiness wherever he goes. We are happy to give the annual award named after our father to Sanjayji and Ranveerji."
Photograph: Pradeep Bandekar