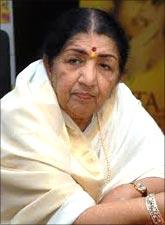 Lata Mangeshkar pays tribute to her close friend and ace photographer Gautam Rajadhyaksha, who passed away earlier this week.

Having witnessed many close friends pass on, Lata Mangeshkar has never been more upset at anyone's death.

"Gautam was very close to my entire family," she said. "My sister Asha (Bhosle) rushed to his home on hearing the news. She couldn't stop weeping. Gautam had been insisting for the last two years that I do a photo-session with him -- all the photographs that appear in the papers and on the net are taken by him. Bahut bura hua. This was no age to go. But Gautam is still to blame. He had been feeling uneasy for some days. He didn't even consulted a doctor Now he's gone."

Lataji shared her two common interests with Gautam: "Everyone knows about his passion for photography. But not too many people know of his love for opera. He was a fine singer. Whenever we met, our conversations would automatically veer towards singing. He had fine operatic voice."

As for photography, Lataji has a penchant for taking pictures as well.
"Photography is just a hobby for me," she said. "But Gautam took my pictures very seriously. He would advise me to take better care of my pictures and my cameras. He wanted me to pursue my interest in photography more professionally. We never got down to that."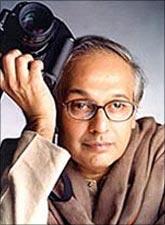 Lataji recalls Gautam's passion for cooking. "He cooked extremely well. We would often exchange recipes. He had invited me to his home for a meal once. It was one my most memorable meals."
She also recalled how Gautam had convinced the entire Mangeshkar family to pose for a family photograph. "I remember my mother was most reluctant. But Gautam was so eanest and persuasive, she gave in. Today, I look at that photograph as one of the most precious possessions in my life. Do you know, I don't have a single photograph of my parents together? Thanks to Gautam, I've a picture of the entire family together. I can't remember anyone else doing my photo sessions. I can't imagine anyone else clicking me now."
Recalling the first time Gautam photographed her, Lataji says, "I remember I was recording a song for Salil Chowdhary when he showed up asking if he could click me. Then he asked me to come to his house for a session. I did. Now who will click me? More than a great photographer, good singer and cook, Gautam was a wonderful human being. I haven't met anyone as  goodhearted as Gautam. He never had an unkind word to say on anyone. He shouldn't have gone so suddenly."