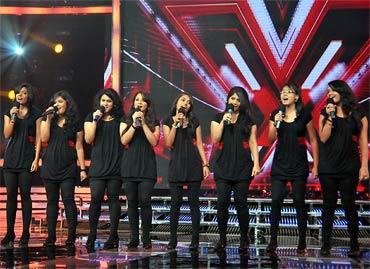 Sanjay Leela Bhansali, mentor on the television reality show X Factor, saw the first eviction from his team on Friday when Last Minute Girls (Kolkata), bowed out.

Shreysi Mukherjee from Last Minute Girls speaks to Rajul Hegde about their experience of the popular talent show. 

Did the elimination come as a surprise? 

Yes. Our last performance was pretty good and we got good comments from the judges also, so the elimination was kind of shocking. But we respect the judges' decision.
We still need to accept the fact that we have been eliminated but at the same time we have been told that if we have been selected among India's top 10 singers at this young age, it's a big honour for us. 

How much did you all enjoy being on the show?
It's been incredible and being in the top ten was a dream come true. We have been singing gospel and choir music in English. These days we are picking up Hindi singing which we had not attempted earlier. X Factor is the only show with a variety of singing talent from classic to qawali, and bands to choirs.
What was Sanjay Leela Bhansali like as a mentor? 

He was like our father and we have immense respect for him. He is a perfectionist and taught us to experiment with every song. He used to say that 'your song is your baby and however strange it sounds, you have to love it. And once you start loving your song, you will give your best of the best on stage'. We had a great bonding with him and we will always remember his lessons. 
What do you think is the X Factor of your group?
We are best friends at school, and have a great sync and harmony.  
Are you expecting a grand reception back in your school? 
Yes, we are expecting one (smiles). 
What next? 

We are in class X11 so we have to go back and give our exams. We will continue to rehearse every day as we did in Mumbai. After we finish school we are all planning to come to Mumbai and complete our graduation. We have more opportunities here and primarily because Sanjay sir is here (smiles).