'Reenaji said they would be giving Rs 1.5 lakh to everyone, as the budget was very low.'
'So I blurted out, "Madam, do lakh toh hone chahiye".'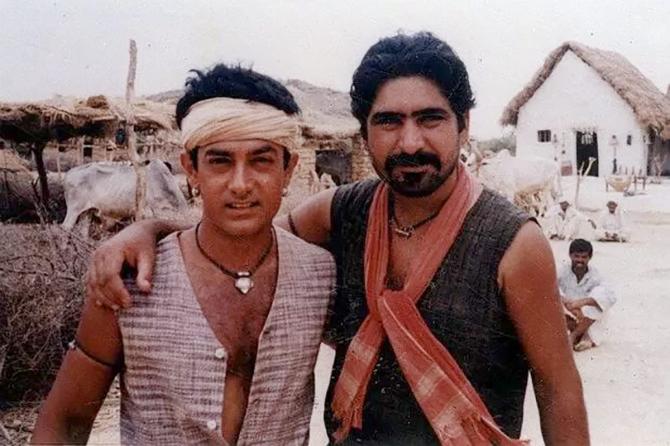 Despite being trained at India's prestigious National School of Drama, Yashpal Sharma realised that getting a job in the movies would be a bitter struggle.
In fact, he was 'fed up' of Mumbai after arriving here.
That's when Lagaan came into his life and changed it forever.
He tells Patcy N/Rediff.com, "Lagaan was a turning point in my life and career. This film gave me confidence to face everything in life."
After coming to Mumbai, I was struggling.
I had come here after playing main roles in plays in NSD.
I thought I would get films easily, but I did not get decent offers.
The people I knew were not helping.
So Lagaan was a turning point in my life and career.
This film gave me confidence to face everything in life.
In those says, I used to carry a pager. I got a message, saying, 'Call Aamir Khan Productions.'
When I called, I learnt that Ashutosh Gowariker wanted to meet me.
I knew they were casting for Lagaan.
I thought I would get a small role.
When I went there, Ashutosh gave me a narration for three hours and 45 minutes!
I loved Lakha's role though I was not aware what role they would offer me.
When I came to know that he was offering me Lakha's role, I couldn't thank him enough.
But Ashutosh said you haven't gotten the role yet, you have to give an audition.
My audition happened the next day at Aamir Khan's house.
After I left -- I must have just reached the railway station -- I got a message on my pager that I was selected.
The next day I met Reenaji (Dutta) and signed the contract.
Before I met her to sign the contract, I kept thinking, 'Aaj toh ek lakh rupaiya maang he lenge.'
By the time I reached there, I came down from Rs 1 lakh to Rs 80,000 to Rs 50,000.
I had no work, so I could not be demanding.
When I reached, Reenaji said they would be giving Rs 1.5 lakh to everyone, as the budget was very low.
So I blurted out, 'Madam, do lakh toh hone chahiye.'
She agreed and I signed the contract.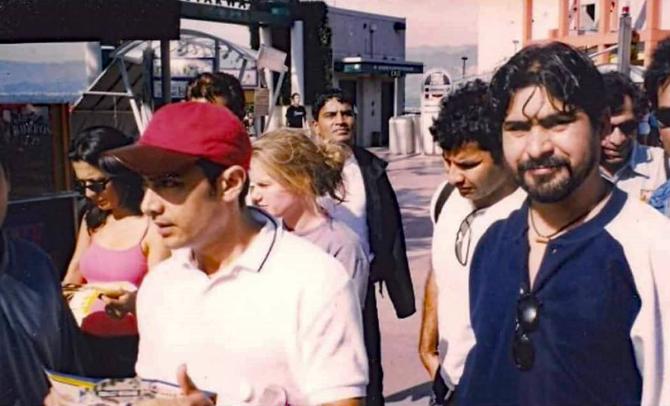 I had met Ashutosh once when I was working in CID in 1997. He was acting in it; he was a part of Shivaji Satam's investigation team.
At that time, he was writing Lagaan.
He would come on the sets and write in his free time.
He had seen me there and had thought that I could fit somewhere in his script.
I felt lucky that I was getting a chance to work with Aamir Khan because I respected him as an actor.
I was his fan and after Lagaan, 3 Idiots and Rang De Basanti, I have become a huge fan.
We started working on Lagaan on my birthday, January 1, 2000. We travelled to Bhuj on that day.
When we reached, Bhanu Athaiya gave us our costumes. We were asked to wear it all the time, so that we would get used to it.
We had to call each other with our character names even if we were not shooting.
We would be rehearsing our lines all the time.
On January 5, Aamir came to Bhuj and we started shooting the next day.
After Lagaan became a huge success, we travelled to Mauritius, Malaysia, Singapore, Dubai, Canada, America, South Africa...
I got to travel the world because of Lagaan.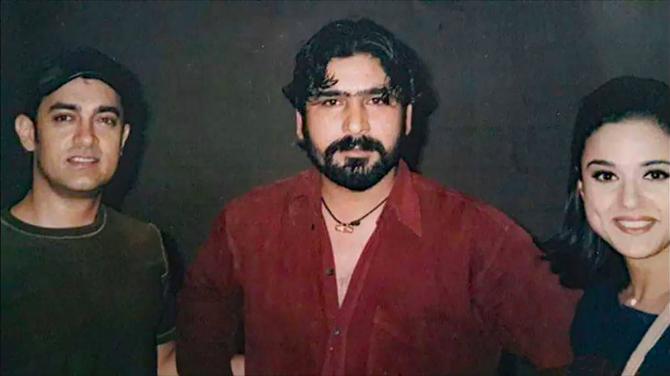 Shooting for Lagaan feels like a dream now because the building where we lived during the shoot got destroyed in the earthquake.
There is no trace that we ever shot there.
The village where we shot turned into a plain. There was nothing left.
After the earthquake, all of us, including Aamir, went there for relief work. In fact, we did our first tour show in Bhuj.
In Bhuj, we either shot from 6 am to 6 pm or from 6 pm to 6 am. Sunday was a holiday.
From 7 pm onwards, we would play cards till the late hours.
We would sleep by 1 am and wake up at 5 am for the shoot at 6 am.
We would see Bhuj in our free time, visit temples and eat gol gappas.
In January, it was unbearably cold at minus 2 degrees. When we were shooting at night, we lit a camp fire to keep ourselves warm because we wore bundis (sleeveless jackets) and dhotis.
In May and June, the temperature was 47 degrees.
The sand would stick to our body.
We got so tanned.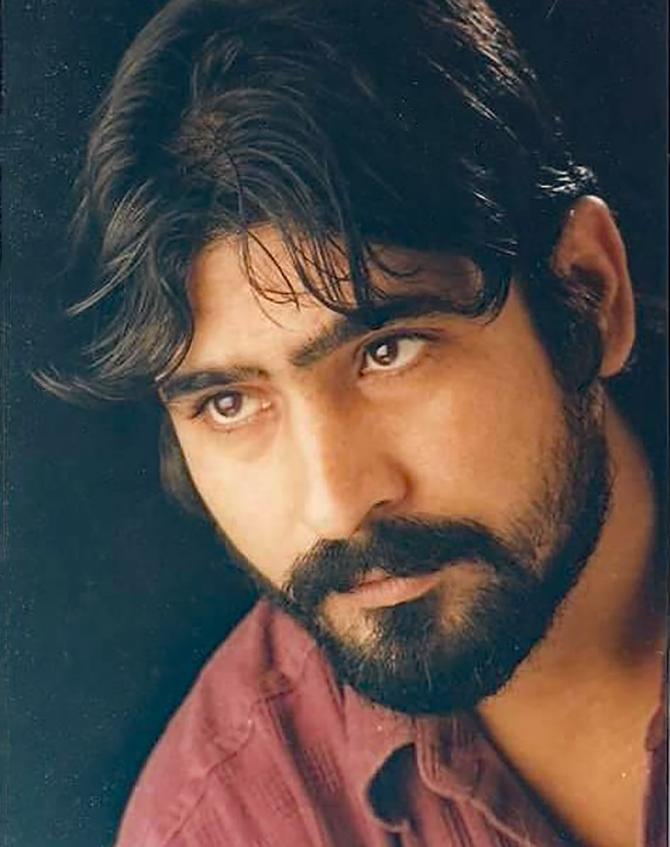 My character is not negative in Lagaan.
When I do negative roles, I try to see positivity in my character. Like in Gangaajal, my character is madly in love with a girl. He wants to marry her; he is not lusting after her.
In Lagaan I am in love with Gracy Singh. Later, I realise that I must respect the girl's wish about whom she wants to marry.
Likewise, when I am doing a positive role, I think about the vices the character may have.
So I always look for the grey shades in characters -- no one can be totally white or black.
Characters nowadays are not ideal, like they were written for Rajendra Kumar. They always have grey in them.
Doing my role wasn't difficult as I am from Hissar, Haryana.
The only difficulty was I knew cricket very well and we had to show that we did not know the sport.
There was a catch scene where I had to dive horizontally. That was very difficult for me.
I gave 22-24 takes for that. My hands and legs were bruised.
We had to pack up.
I was feeling very low and didn't sleep the whole night.
We did the same shot after three-four days and this time, I got it right in the very first take.
Aamir was very happy, as he throwing the ball towards me from behind the camera.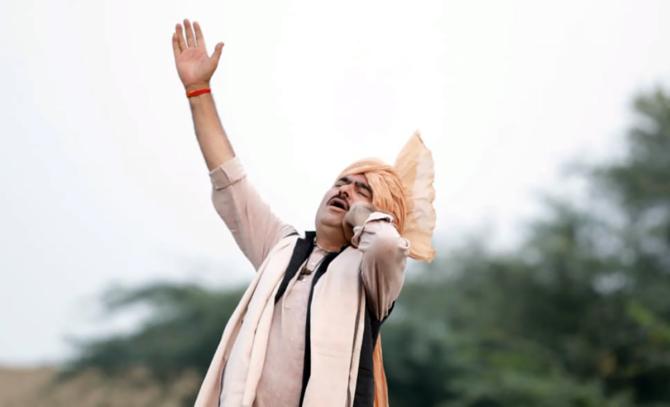 All of us were sure the film would be good because there were big names associated with it, like our director, actor-producer, composer A R Rahman, lyricist Javed Akhtar, choreographers Saroj Khan, Raju Khan and Ganesh Hegde, cameraman Anil Mehta... The actors were from NSD and had a theatre background...
There was so much passion that I knew this film would be big.
Still, I never thought Lagaan would be nominated at the Oscars.
Lagaan changed my life and career totally.
I did not have to go to producers and directors' offices asking for work.
I did not have to introduce myself.
I started getting work offers and I could select what I wanted.
I gave so many interviews after Lagaan.
People knew me on the street and would call me Lakha.
I did some big hit films like Rowdy Rathore and Singh is Kinng, but there was no job satisfaction.
I had to do theatre to satisfy my urge.
Recently, I produced, directed and acted in a film called Dada Lakhmi. It is a biopic on the famous poet Pandit Lakhmi Chand from Haryana.
I have finished part one and have send it to festivals. I will be making part two later.