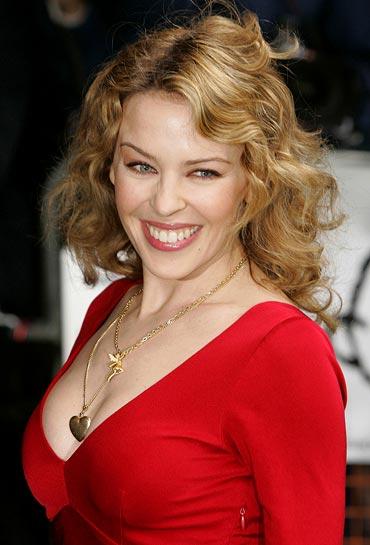 The last time we saw her, she went Chiggy Wiggy with Akshay Kumar in the much hyped Bollywood dud Blue.
Kylie Minogue, now appears nude for a breast cancer awareness campaingn.
The 41-year-old singer was draped in just a silk sheet emblazoned with the logo of Fashion Targets Breast Cancer 2010 campaign.
The Aussie singing sensation wants to help raise 1 million pounds and awareness of the disease.
'It means so much to me to be part of this year's campaign,' the Daily Express quoted Kylie as saying.
Shops, including MnS and TopShop, will donate at least 30 per cent of the price of some clothes to the cause.
Actress Sienna Miller and model Claudia Schiffer also posed for photographer Mario Testino.
Since its launch in 1996, the Breakthrough Breast Cancer initiative has raised about Rs 70 crores.
Photograph: Matt Dunham/ Reuters