'I was supposed to fly out for a film, and just a few days before, they figured out that I was on TV for seven-eight years.'
'So they said it was not going to work out.'
'That was heartbreaking.'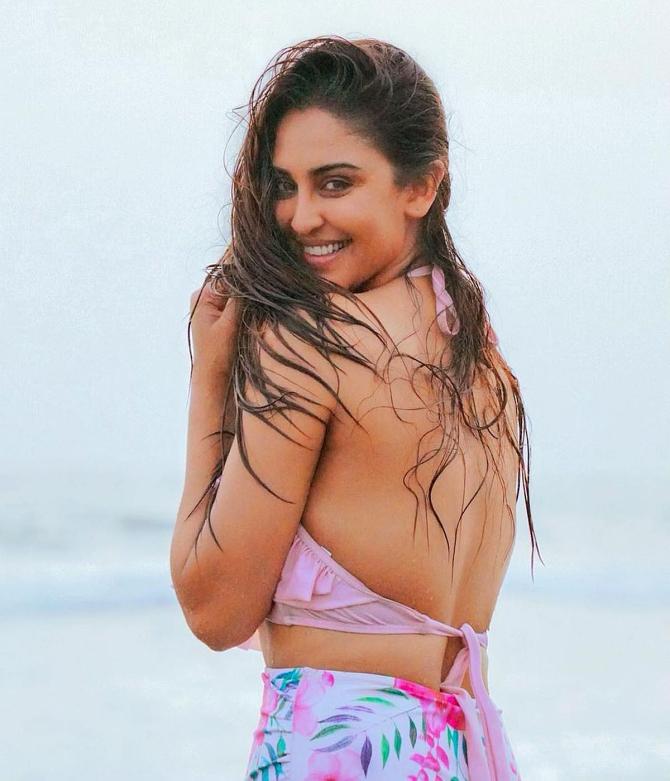 One of the top television actresses today, Krystle D'Souza makes her movie debut with Chehre.
The thriller sees in her stellar company with Amitabh Bachchan, Emraan Hashmi, Annu Kapoor, Raghubir Yadav and Dhritiman Chatterjee.
Krystle has been in showbiz for over a decade. Why did she wait so long to bag her first film?
"I was not getting Amitabh Bachchan's dates," Krystle tells Rediff.com Contributor Prateek Sur with a laugh.
Chehre is your big Bollywood debut. How did the movie fall into your plate?
I tested for the film.
It was around 8 pm and I went for an audition.
By midnight, I was selected.
Within a day or so, I left for Delhi to shoot for the film.
It all happened at the very last minute.
When (Director) Rumy Jafry narrated the film to me, I just fell in love with every character. That is why it is called Chehre because every character is important.
It is basically like behind every face, there are so many hidden faces.
On paper, it looks so good, I could just imagine how magnified it would look when it would come on screen.
That's why I said yes immediately.
It was not because of the cast because that was not disclosed to me at the time.
Once I was selected after the audition and I loved the script, only then was I told about the star cast.
I was like, 'What! This can't be happening.'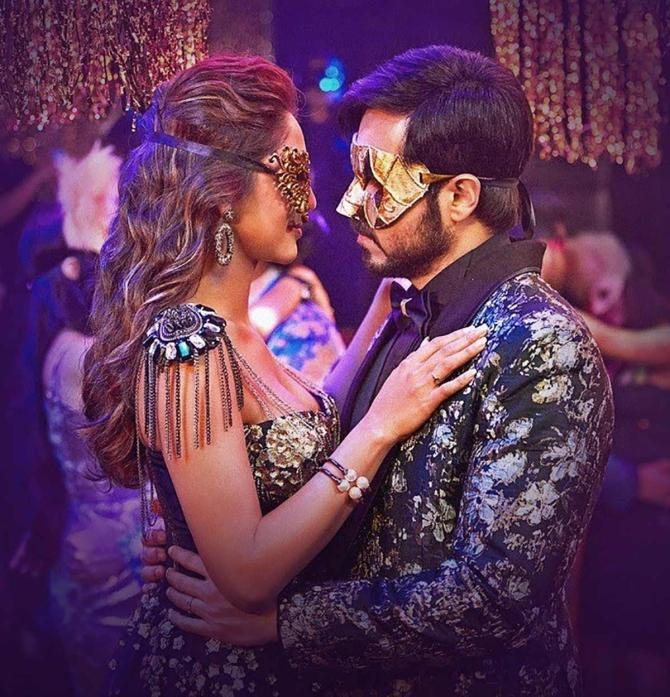 How difficult was it acting alongside Amitabh Bachchan?
He is so humble and such a gentleman.
He had no qualms about doing rehearsals with me.
He actually came up to me and introduced himself like, 'Hi, I am Amitabh Bachchan.'
Who doesn't know him?
He greeted me and said, 'Welcome aboard and I hope you are having a good time shooting for this film.'
He was very polite, very gentle and very welcoming.
He did rehearsals like any other actor would do.
Just imagine someone at his stature, you would definitely not want to have so many rehearsals, but still, he made sure I was comfortable. It shows a lot about his dedication and the kind of person he is.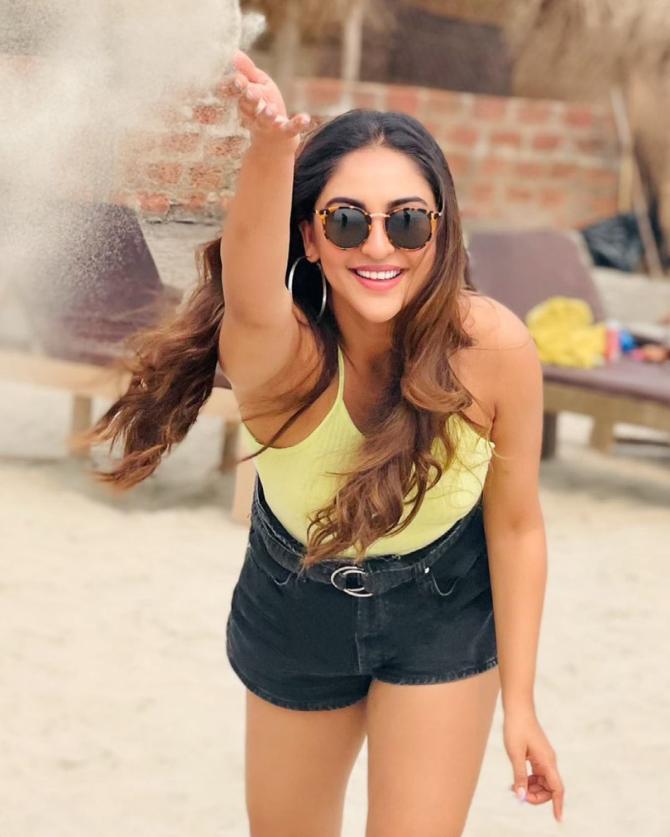 You've been very popular on television for years now. Why didn't you pick up movie roles before?
I was not getting Amitabh Bachchan's dates (laughs).
Honestly, it took me this long not because I was not getting offers -- I was being offered scripts -- but as I have always said, the script has to be strong.
On television, I am one of the big faces.
I did not want to come to films and get lost in the crowd.
I would rather stay where I have already established my stature until I get a film that will help me grow.
Chehre was the perfect film for me.
It has the cast, the script, the production, the way it has been shot...
Binod Pradhan is the DoP (director of photography) of the film -- what better do we need?
Everyone was so perfect that I knew that if I ever had to make a debut in films, it had to be this big.
My motto in life is 'Go big or go home.' So I had to go big.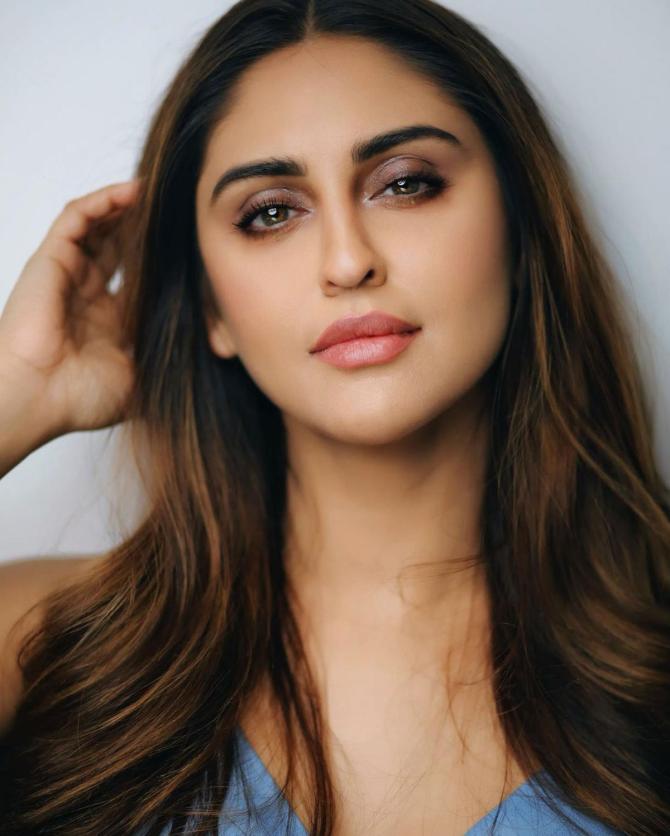 Do you think the film industry looks at TV actors in a different light and doesn't offer them equal opportunities?
Yes. I had auditioned for a couple of films, which I really wanted to do, and was shortlisted until they realised I was a TV actor.
The term they used was that I was an overexposed TV actor.
I got rejected after that.
I did not get rejected because they did not like my audition. I got rejected because I came from TV.
Obviously, it hurts.
It breaks your heart.
You are almost finalised for something and the only thing that put you back was literally your experience.
TV actors come with so much experience. We are very hardworking.
I don't know anybody who works as hard as a TV actor does.
Plus, we come with our own fan following.
What more do you need for a film?
I did lose hope a couple of times, but you have to keep trying.
You cannot let this bog you down.
You have to keep yourself motivated and it is not easy.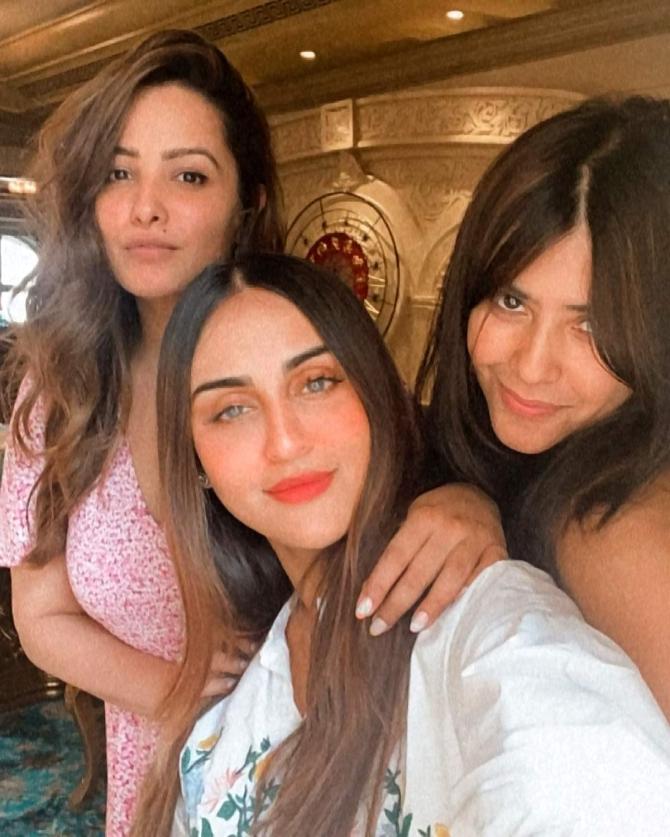 I have spoken to TV actors who have told me that they had been replaced just a night before they were about to fly out to the shooting location. Have you faced anything like that?
Yes, I have had a similar story.
I was supposed to fly out for a film, and just a few days before that, they figured out that I was on TV for seven-eight years.
So they said it was not going to work out.
I had learned the whole script and my whole part.
That was heartbreaking.
Chehre's release has been postponed many times. Did that upset you?
Honestly, with all the things happening around the world, this was the last thing in my mind.
We were all going through a pandemic and we have all lost someone we dearly loved.
People had been living alone (in quarantine) and this is a very difficult time.
So the release date being pushed did not really bother me, at least the first time around.
When we were going to release earlier this year, and then the second wave hit, that's when I felt, 'Oh no not again.'
But again, you start feeling that why should the film release at a time when it is unsafe to go out.
It's better to wait for a time when it is safe for people to go out to the theatre.
Now, almost everyone is double vaccinated and theatres are taking precautions. Plus, the COVID count is not that much.
Whatever happens, happens for the best.
If it had come out earlier, it would have been a disaster.
I think it is a good time now.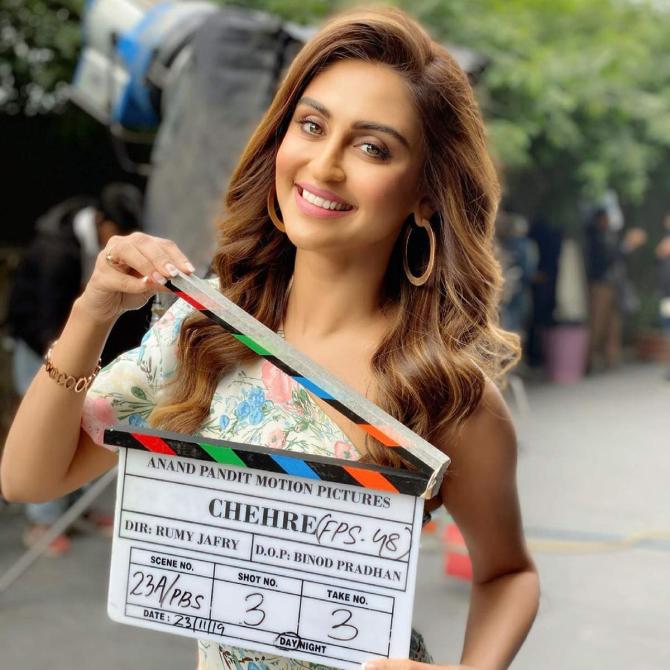 Are you happy that you are able to get a theatrical release and not an OTT release?
Yes. Whenever I dreamt of my first film, I always dreamt of it releasing in a theatre.
I am glad that it is releasing in theatres because it is shot so grand and every frame is so beautiful.
We shot in Slovakia for the snow sequences.
If it released on OTT, I don't think our tiny screens would do justice to it.
Plus, (this film needed) the sound system of a theatre.
What next?
Currently, I don't have anything in the pipeline.
But there is this OTT show that I'll be shooting next February.
When it comes to films, I am going out and trying again. I am giving auditions again.
Let's see if the perception changes after the release of Chehre.