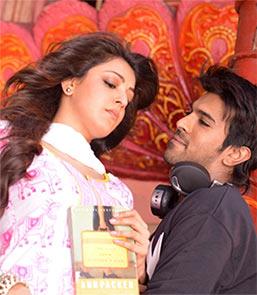 Director Krishnavamsi is happy that his latest film, Govindudu Andhari Vadele (GAV), starring Prakash Raj, Jayasudha, Ram Charan and Kajal Aggarwal, is doing well.
His earlier films, Mahatma and Mogudu, were disappointing.
In this interview he talks about GAV, its casting, acting, and his earlier films.
What made you make Govindhudu Andhari Vadele? Is it because your forte is family entertainers?
Only some of my films are family entertainers. Khadgam, Paisa and Mahatma were not.
I have observed that over the past five years, family values are going down. No bonds and sentiments are working in real life.
Money factor and materialism rule now. Every section of society is intoxicated by money.
This kind of film was needed cinematically and socially.
Did the disappointing performances of Mogudu and Paisa make you think of going back to family entertainers?
Paisa's failure was because of the producer. There was a delay in its release and that affected it. It got a good response and it was not a failure.
Mogudu was my mistake. It was a badly made film.
How did you think of such a story for Ram Charan?
I thought of the story and then started searching for the person who could play the role.
I needed someone popular to take it to all sections of society. I thought of Charan not just because he is Megastar's (Chiranjeevi) son and a superstar himself. I have known him since he was young.
How do you react to allegations that GAV is inspired by Seetharamaiahgaari Manavaraalu. Or for that matter the idea is not new...
You can't create a film in a vacuum. You need a reference point.
There are so many films made on this theme. Atmabandhuvu (Telugu), Subhalekha (Telugu), Maga Maharaju (Telugu), Kabhi Khushi Kabhi Gham (Hindi), Poove Poochadava (Tamil) are a few such films.
There will always be criticism. It will last for a week. I have done 19 films so far.
People embraced GAV with love and affection.
Were you given full freedom to do the film as you wanted? Were there any suggestions/changes by Chiranjeevi?
I had full freedom as director. Sometimes I used to discuss things with him. He didn't want to know about the script. He told me 'I know what kind of a director you are. It's a family story, do it.'
Raj Kiran was cast initially and I had doubts about this casting. After shooting a few scenes, I went to him (Chiranjeevi) and he suggested, 'You can think of taking someone who can carry Telugu nativity.'
He just made that suggestion, but that was when I replaced Raj Kiran with Prakash Raj. There was no interference from Annaiah's (this is what Krishnavamsi calls Chiranjeevi) side.
When he was free, he used to come to the sets and generally sit next to the monitor and see and enjoy. That was more because of his actor's itch!
Prakash Raj was the highlight of the film. How was it directing him?
Prakash is a friend of mine. There were some differences between us but no fights or enmity as such.
It's not difficult to direct such an artiste. Prakash is versatile and well versed in six languages. We discuss, argue and finally it is a beautiful combination.
How is Charan shaping up as an actor?
It's the first time I am directing him though I have known him since childhood.
He knew I was tough as a director. He never made me feel he is a superstar's son. He was very normal on the sets.
Sometimes he would ask for one more shot even if I had okayed it. He has inherited qualities from Annaiah. Though he has been born with the proverbial golden spoon, it has not spoilt him. I am happy for that.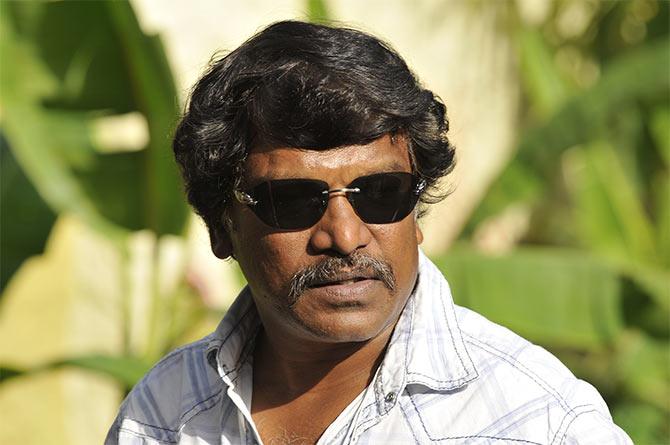 What challenges did you face when directing this film?
I have been a director for 20 years. There is nothing like a challenge. There are only sweet hurdles.
I had some apprehensions. I had to be alert and balance Charan's star image, lineage and expectations and what he is portraying.
Are you satisfied with the film?
Shekhar Kapur once said it was difficult and impossible to match the human imagination. One is never satisfied.
You keep looking at a shot, colours etc and you feel this could have been like this or that. You can be emotionally detached only after a year and then look at the film objectively.
I am very happy with the response. I was doubtful about how people would take it. The desire and greediness will always be there for a super-hit.
The fear was also there. It was Annaiah's wish to do such a film and Charan's confidence helped.
I was going through a low phase in my career. There was pressure. By God's grace things worked out well.
Have you thought about your next project?
Not yet. I am tired. I want to sleep and eat some good food!