'A long time back, when I began my career, I decided that when I step out of my house, I don't require a background score or three safari-suited security guards.'
'All that show-sha, I had avoided a long time ago.'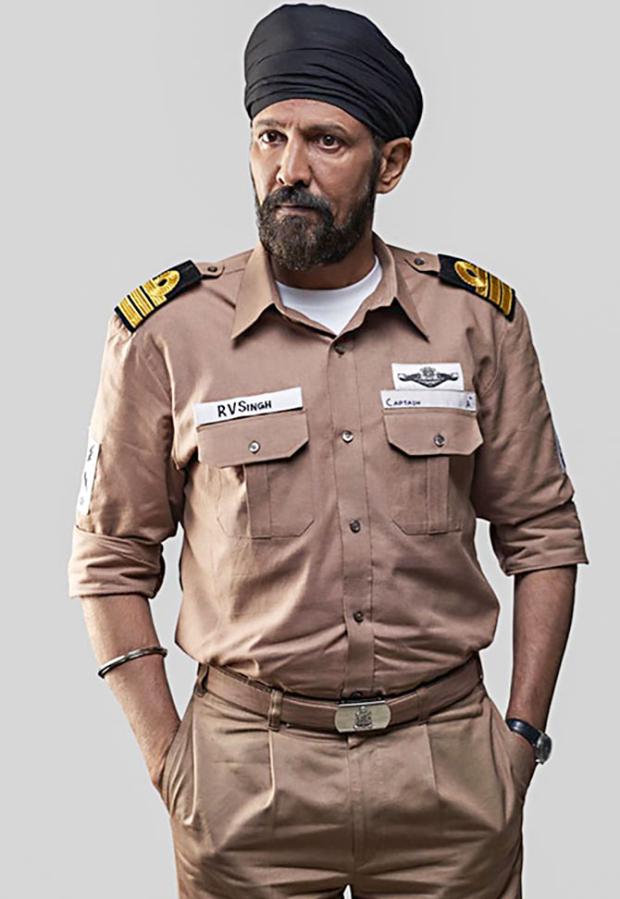 IMAGE: Kay Kay Menon in The Ghazi Attack.
One of the finest actors of our time Kay Kay Menon stars in this week's release The Ghazi Attack, which is getting very good reviews.
Kay Kay is upbeat about the film but seems disappointed with the way the industry functions. He also seems disappointed with the audience tastes, wondering if it will ever change.
He tells Rediff.com's Jahnavi Patel what really upsets him about the industry.
What drew you to The Ghazi Attack?
The film has a unique aspect -- it is the first film on a submarine in India.
That woke me up and I said, 'Let me have a look at it'.
When I read the screenplay and met the producers and directors, it all seemed well-intended, with a nice screenplay and drama. I felt I should be a part of it.
What kind of roles do you like? Do you enjoy playing the bad guy?
I never do roles, I play people.
In this, I play Ranvijay Singh, not the captain or the navy guy. If I'm playing a policeman, I am not playing a 'cop', I am playing that person. That's what is exciting.
It's always people, not roles.
I have done a Honeymoon Travels Pvt Ltd and looked stupid in that.
Are films that are rooted in reality, like The Ghazi Attack, more difficult to play than fiction?
It's all fiction.
Some fiction is closer to reality, but it is still fiction, so you can take those fictional liberties without hurting anybody.
Till such time you have an actor, sets and simulated situations, it is fiction.
We knew about this incident, about the classified files, that the Ghazi was sunk by one of our submarines...
We knew the entire thing and then we fictionalised it into a piece of cinema.
But yes, we have stuck to things like we don't have long hair or stars walking as submariners and navy people.
This is one of Om Puri's last films. What is your fondest memory of Mr Puri?
For me, Om Puri never dies. He is a giant.
I have one regret -- the kind of love, affection and accolades that he is getting after his death, I wish we could have given him that when he was alive.
Indians have this problem, this psychological disorder, that we don't give due credit to people who are living legends.
We don't give them that kind of credit until his PR machinery is good.
If it's good, we give them love, affection and accolades even if he isn't a good actor.
People like Omji or Naseer (Naseeruddin Shah) -- there are so many of them -- we don't even (give them credit).
Tomorrow, if somebody passes away, we will suddenly remember them and give them credit.
We live in a country in which Satyajit Ray was given a Lifetime award by the Academy Awards. That's when we realised, 'Oh, we have a great filmmaker amongst us'.
We are that kind of people. It's all about crocodile tears.
I'd like to ask people, where were you when he was alive?
Why couldn't you shower him with that love and affection then?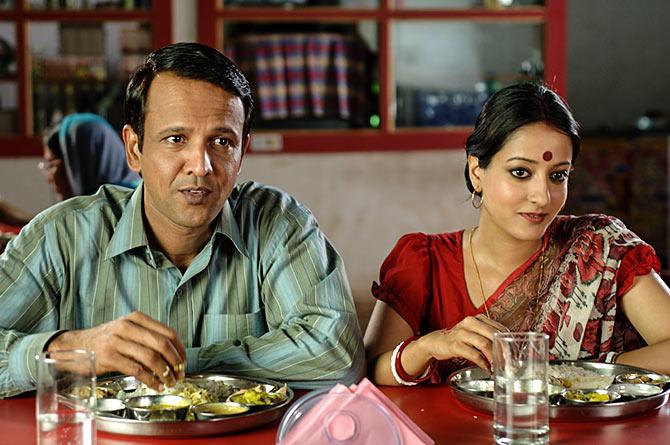 IMAGE: Kay Kay Menon and Raima Sen in Honeymoon Travels Pvt Ltd.
You are one of the most under-rated actors of the industry.
I don't like to ponder on that and waste my time. I can't change people.
Like I said, there is a psychological disorder.
We are a bunch of people who love jingoism, dynasty, all that.
As audiences and as Indians, how do you fight that? You can't.
A long time back, when I began my career, I decided that when I step out of my house, I don't require a background score or three safari-suited security guards.
People love me. I don't feel threatened.
All that show-sha, I had avoided a long time ago. So I have nothing to complain about.
But people seem to love that. I find it pretty fake.
Do you think the audience wants better cinema today?
For the past 22 years they (the audiences) have been threatening to change, but nothing has.
In the past, Smita Patil and Shabana Azmi came.
Arth and Ardh Satya released and people said things would change, but nothing did.
Koi ghatiya film will make Rs 300 crores, Rs 400 crores and take credit.
My request to all the mainstream filmmakers is that, look at Dangal, make a film like that.
But the problem is that it requires a lot of hard work, which people don't want to do.
They want to live a carefree, overindulgent lifestyle and make Rs 400 crores.
You can make a Raju Hirani or Aamir Khan kind of a film.
I don't think it will ever change.
The day it changes, I don't think I will be alive.
Once people hear good reviews of a film, they want to watch it. Word-of-mouth helps.
But that does not translate into box office collections.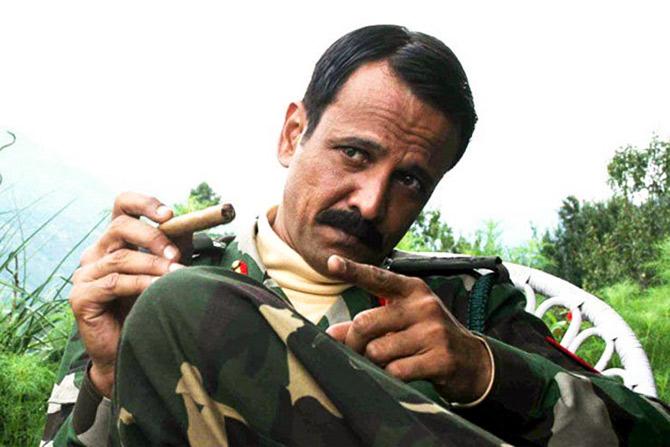 IMAGE: Kay Kay Menon in Shaurya.
Are you disappointed with the industry?
No, I wish them luck.
I am okay.
It's just that I wish you give us some proud moments to call us a part of the industry.
When Dangal happened, I felt proud to be a part of the industry.
When I saw Lage Raho Munnabhai, I felt proud be a part of the industry.
Why can't it happen more often?
Give us those moments. Forget our films.
You only make those films, but do make them.
Why does that feeling come so few and far between?
In the middle of these few films, you want to hide because you don't want to be a part of this nonsense.
Now, actors playing character roles are also getting substantial parts and acclaim.
If it happens, it's good, but I don't know how long it will sustain.
Like PINK, I want to see what happens to those three fantastic women actors (Taapsee Pannu, Kirti Kulhari and Andrea Tariang).
The problem is that, I can't take names, but how long can you just show off a physique and carry a film?
It's stupidity!
There is no medium you haven't tried -- theatre, television, films. Are you open to exploring Web series too?
I would love to. But I seriously hope that that doesn't get corrupted because television did.
When we did television, it was very pure -- one hour slots, Star Bestsellers, small stories, like small films. It got completely corrupted by daily soaps.
I hope that doesn't happen to Web series.
Do you have any regrets?
No regrets.
Besides movies, what are your other passions?
Sports. I am an avid tennis player. I can't play now though because I had surgery four months back.
It will take me a year to get back to tennis.
I respect sportspeople more than people in my profession because unless you make those 100 runs, unless you win those five setter matches in tennis, you cannot become a star.
You need to perform on field and only then can you become a star.
If you don't perform, no amount of marketing can make you a star.
Hamare yahan vipreet hai uska (it is the opposite in our industry). You just have to have the money power and clout and you'll be up there.
Do you feel the focus of actors has shifted from acting to fitness and looks?
Yes, it has completely shifted. There are very few who don't bother about all that.
I can't look at the mirror beyond two minutes. I don't know what to look at.
What is the point of looking at yourself? You can't change your face.
How long will you keep admiring yourself? It's a narcissistic trait.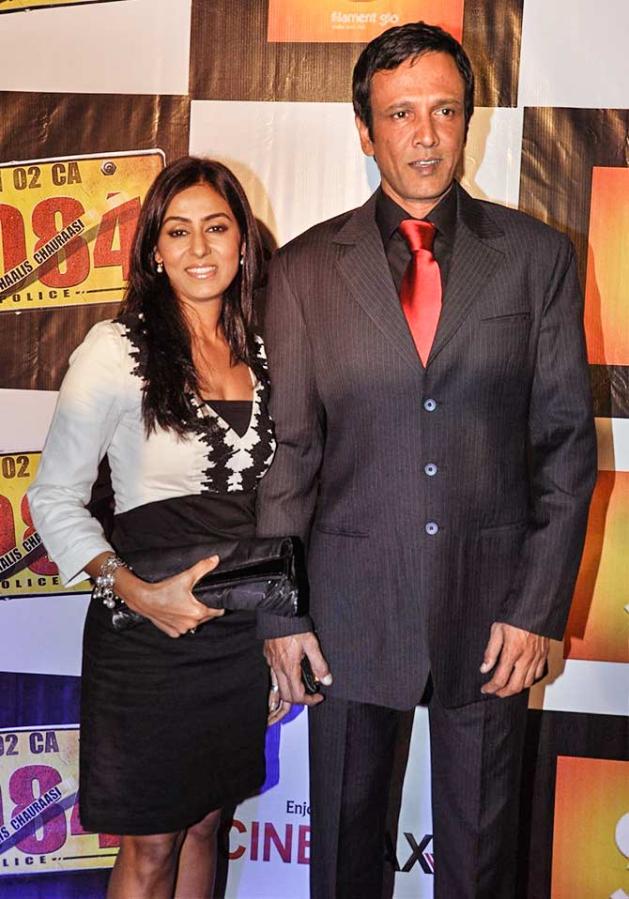 IMAGE: Kay Kay Menon with his wife Nivedita Bhattacharya at the Chaalis Chauraasi premiere in 2012.
Why aren't you on any social media platform?
I agree with this modern social network, it's a necessary evil.
Under communication is bad, but over communication is fatal, you can die.
It can kill you mentally, psychologically. I don't bother doing all that.
What am I supposed to say? 'Hey, my film is releasing!' By saying it, how will it matter?
What will I do apart from that? 'I look very handsome.' 'Look at me in Shimla or Manali.'
I need to do something that changes lives. Why should I put my stuff all over the place?
But for the fans, this is the only medium they can interact with you.
I would rather be a bit mysterious.
I have friends who say, 'Arre yaar, ye dekho kya bol raha hai (See what this person is saying on social media).'
I don't want to be affected by all that, I don't like it.