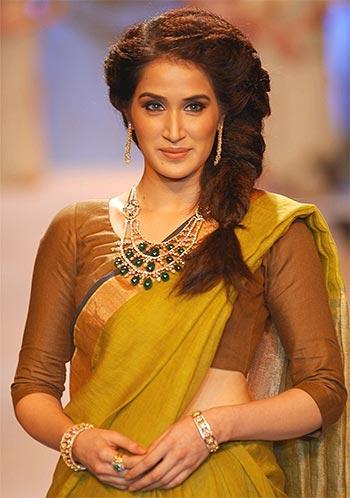 'People thought I did not want to act. But of course I want to act. It's just that I am not out there.'

Chak De! India actress Sagarika Ghatge gets ready for Khatron Ke Khiladi 6.

Sagarika Ghatge, who won hearts in her very first film Chak De! India (2007), will return to showbiz in the latest season of the adventure-based reality show Khatron Ke Khiladi. And she seems quite excited about it.
"I took up the offer because this is something you cannot do in your day-to-day life," she says. "So why not have some adventure, thrills, and overcome fear as well?"
"I am a guarded person, laid back. This show will help me to open up a bit more and also help me as an actor. I am looking forward to it," she adds.

The actress confesses that she has not followed the earlier seasons of the show but has managed to catch a few episodes.
"The show looks quite excruciating in terms of endurance, physical and mental strength. I am sure it's going to be very challenging," she says.

She says she loves adventure and is keen to test her endurance.

She admits that she is petrified of insects and rats.
She also admits that "when I am made to stand on the 200th floor of a building and asked to look down and jump, I am definitely going to be scared."

She was 19 when she was filming Chak De! India and uncertain about the direction her life should take.

"People thought I did not want to act. But of course I want to act. It's just that I am not out there. I did not meet the media that much but that doesn't mean that I don't want to act. "People from the industry say they enjoyed my work. So I am positive about doing good films," she says.
Sagarika's last film was the 2012 flop Rush, with Emraan Hashmi.
She has signed up JP Dutta's production Jee Bhar Ke Jee Le, which will release early next year.

Sagarika will not do any more television shows after Khatron Ke Khiladi and will concentrate on films.

She thinks the show's host, Rohit Shetty, encourages the contestants and is a great host. "He obviously can't make your stunts lighter but he can help you to lighten up a bit before the stunts."
Given a chance, would she like to be in his films? "Of course! Who didn't like Chennai Express and hasn't seen Golmaal? I love his films," she replies quickly.
"I am an actor, as long as the role is a challenge and I know that I can do justice to it, I will do it," she concludes.

Photograph: Abhijit Mhamunkar