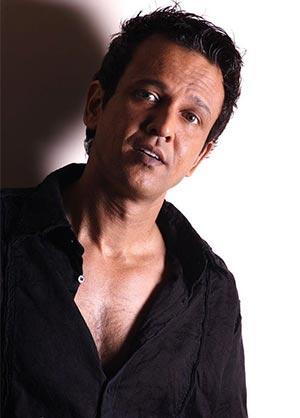 'The industry is all about money. It has nothing to do with talent and calibre,' Kay Kay Menon tells Sonil Dedhia/ Rediff.com
Kay Kay Menon doesn't hesitate to speak his heart out.
Riding high after the success of Haider, the actor will be seen in this Friday's release, Rahasya, where he plays a CBI officer.
Although the film has similarities to the Aarushi Talwar murder case, the actor denies it.
In a candid conversation with Sonil Dedhia/ Rediff.com, Kay Kay explains why he thinks award functions are a sham, and why is averse to the star system.
You gave a brilliant performance in Haider but you have not been nominated at many award functions.
Award functions are a big sham. It's a money-making television programme.
Each channel has one reality show known as 'award function'. To increase the TRPs, celebrities perform.
Actors don't dance in front of the President of India while receiving the National award or while being conferred the Padma Shri.
A lot of people ask me why I don't go for award functions and I tell them that I have taken a break from doing television (laughs).
Your performance was also appreciated in Raja Natwarlal but the film didn't do well. Will you continue being a part of such films?
Let me not comment about Raja Natwarlal because I don't think it was a great film.
I am happy Haider worked because I could see the mature side of the audience.
As an actor, I like my films to be believable. I would like to be a part of good cinema which does well so that we can make more good films.
When I see good films not doing well, irrespective of my role being appreciated or not, I have a problem because then the producer who has made a loss will never believe in investing in good cinema.
I've been working in this industry for more than 20 years. I don't let success go to my head nor do I get upset with too much criticism.
Your upcoming film Rahasya seems to be based on the Aarushi Talwar murder case.
There are only 25 concepts in cinema on which you can make a film. The difference lies in how you make the film.
If I make a love story, people will start comparing my film with Kumar Gaurav's Love Story because every love story has a boy and girl falling in love.
The Aarushi Talwar murder case is not the only murder case in the world where the daughter is killed and the parents are the prime suspects. I can show you 40 such murder cases in the world. So our story isn't inspired from anywhere.
Irrfan Khan's upcoming film Nyyoda is similar to Rahasya.
Yes, recently someone told me about that film and I am happy that Irrfan and Konkana (Sen Sharma) are doing the film.
If you had mentioned some superstar's name, I would have been disappointed.
Are you averse to superstars or the star system? Do you think deserving actors don't get good work?
It has nothing to do with deserving and undeserving.
The industry is all about money. It has nothing to do with talent and calibre.
The star system is a money game.
If you have the money, I can make you a star too. But then don't expect to be able to eat bhel puri on the road because stars are not allowed to live their life.
I never desired to be a superstar. The day I decided to become an actor, I had promised myself that I don't want flashlights around me.
The entire PR (public relations) machinery is what makes a film or an actor successful or a flop.
I want my film Rahasya, and the film Happy New Year to get the same amount for the marketing budget and then let's see whose film does well.
Image: Kay Kay Menon in Rahasya
What kind of cinema do you not like?
There is cinema and non-cinema and it just takes five minutes of watching the promo of the film to categorise it.
I don't like nonsensical cinema.
Will I work in these films? Yes I will, because I'll get good money and will do my best to make my role believable.
There are only a few good films that are being made; the rest are all ridiculous and absurd.
Which was the last good commercial film you've seen?
PK. I loved the film. Rajkumar Hirani is a genius.
If someone wants to study how mainstream commercial cinema needs to be made, please study Raju's work.
All his films are rich in content. He never makes nonsensical stuff.
I don't understand when people say leave your brains behind and watch the movie. Show me one person who does that.
Nowadays, filmmakers have started making anti-gravity films. In action sequences, you see people flying and going up, you see cars flying... how can this happen?
I am not saying make real films because they can be very boring. But at least make sensible and believable cinema.