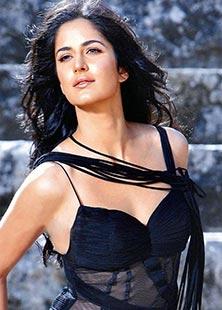 'I think my script sense is good and I do films that I want to do'

Bang Bang actress Katrina Kaif explains just how she's stacked up more hits than flops in her career, her collaboration with mostly A-list actors, and how, despite the looks of it, she didn't have to work hard at all on her newest film.
She has starred opposite all the three star Khans of Bollywood in her last three films -- Salman Khan in Ek Tha Tiger, Shah Rukh Khan in Jab Tak Hai Jaan, and Aamir Khan in Dhoom 3.
Now, Katrina Kaif reunites with her Zindagi Na Milegi Dobara costar Hrithik Roshan in Siddharth Anand's slick new actioner Bang Bang, set to hit the marque October 2.

The actress speaks to Patcy N about her new film.
How similar is your role to Cameron Diaz's in the Hollywood original?
Bang Bang is an official remake of Knight & Day but the makers have only borrowed the idea from the original.
Certain sequences that were the highlights of Knight & Day have been incorporated in Bang Bang, like, for instance, the bike sequence.
But Siddharth Anand has definitely changed the story and adapted it for the Indian audience.
Siddharth liked the concept of this unpredictable, crazy guy who the world thinks is a criminal.

He meets a very simple girl from a relatively small town and completely transforms her during the journey that he takes her on --- it's a wild ride.
Was this film physically demanding, like Dhoom 3 and Ek Tha Tiger?
In Dhoom 3 I was a gymnast, so I had to look fit and muscular.
Ek Tha Tiger didn't have such requirements since I played an agent.
In Bang Bang, my character lives in Shimla, works in a bank and doesn't need to look athletic or fit.
Is it challenging to play a normal person?
I am a normal person in real life. You don't need to work on your character so it's not challenging at all.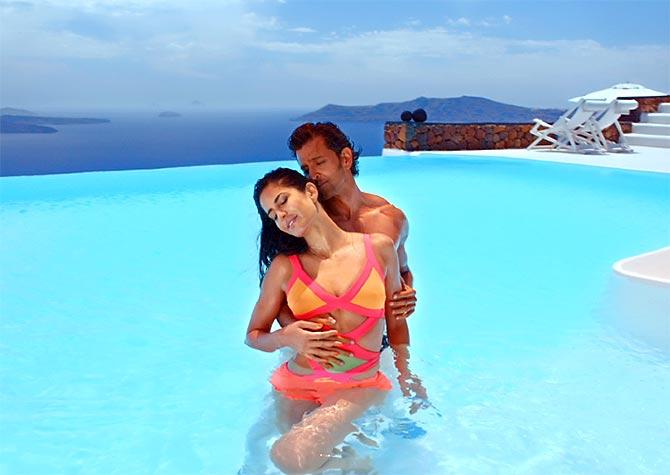 You look glamorous in the film…
I am not playing a glamorous character. I am playing a simple character.
But you can take cinematic liberties and we took one in the song Tu Meri where I wear a short dress, but we kept it simple.
We have kept to the clothes that you can buy in North India. So I wear coats, hats and more casual clothes.
Again, the Meherbaan song is glamorous. But that is a dream sequence. In my dream I like to wear short clothes (laughs).
Which is your favourite dance song?
I've liked all the songs I have danced to.
The title track of Bang Bang is definitely among my favourite dance numbers.
But a memorable and fun song would be Chikni Chameli. It's a very energetic song.
Do you miss acting in films like Raajneeti?
I miss Raajneeti because it was such a fun film to do; it was an amazing experience. Prakashji (Prakash Jha) was a lovely director.
Every film I do is different in its own way. After Ek Tha Tiger, I did Yash Chopra's Jab Tak Hain Jaan -- a completely different world for me.
The way Yashji presents his women and the conflict in the film was quite different from the usual stuff that I do.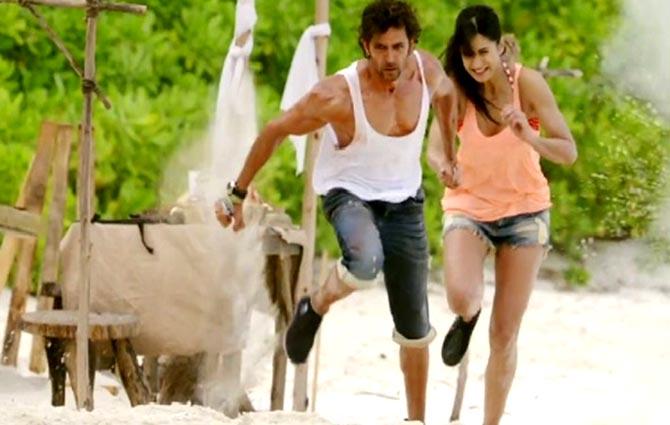 You are working with superstars like Shah Rukh Khan, Salman Khan, Akshay and Hrithik. Are you offered films only with superstars or do you choose to have it that way?
I don't think anyone particularly offers films with only a particular cast.

In two of my last five films, I was approached before the hero was on board.
I don't see who is in the film. I will be soon seen in Fitoor with Aditya Roy Kapur. When I signed the film, there was no actor other than me -- Aditya was signed later.
I had not even seen Aditya's Aashiqui 2 then. But I did not say 'who is this actor?' because it is the director's vision.
When I did New York, Neil Nitin Mukesh was comparatively new. In Mere Brother Ki Dulhan, Ali Zafar and Imran Khan were comparatively new. So I don't think like that.
How do you maintain such a good record at the box office? Out of 22 films, you have had only four flops, including Boom.
Boom is an English film. If you count Boom, you have to count all my other language films as well.
Nobody has that answer why or how a film does well. Just keep praying that the record remains. Good scripts that the audience likes, work.
I think my script sense is good and I do films that I want to do.
How comfortable are you conversing in Hindi now?
As long as I am working with the script I am comfortable with, that's no issue.

If I have to improvise, I ask them to frame the sentence that I want to say and give it back to me.
I doubt my pronunciations will ever be correct enough.

But as long as it is accepted by the audience and it is not disturbing them, and I am emoting correctly, it's good enough.