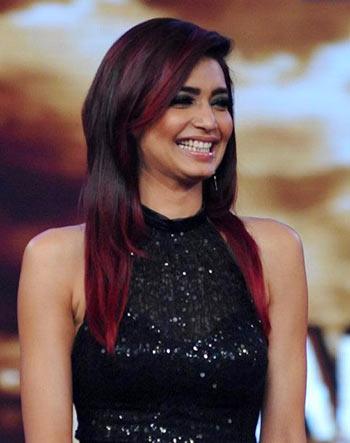 'I will never create a romantic angle to survive on a game show. I do not give a damn what people think of it,' Karishma Tanna tells Rajul Hegde/ Rediff.com
Actress Karishma Tanna lost the battle to Gautam Gulati in the controversial television reality show Bigg Boss season 8, which ended on Saturday.
Of course, she feels she deserved to win.
"I was always the focal point because I used to raise my voice when it was wrong," she reasons.
Everything that Gautam did was for the cameras, she feels.
"I would have been happier if I had won the show, but it's okay. Life doesn't end here," she says.
Karishma was called selfish for choosing make-up over releasing Sushant Divgikar, her housemate, from slave duties.
This made her unpopular among her housemates, but she says, "I am an actress. If I think about my hair and skin, there is nothing wrong in it."
She had constant fights with Gautam but made peace with him before she left the house.
"We started out as enemies and then became cordial. Initially, I found him to be childish as he would blame me for something or the other.
"There was competition and rivalry in the tasks but otherwise we were fine with each other. I am happy that we started and ended together."
She often talked about being in a committed relationship outside the house with businessman Rushabh Chokshi, but romanced Upen Patel in the house.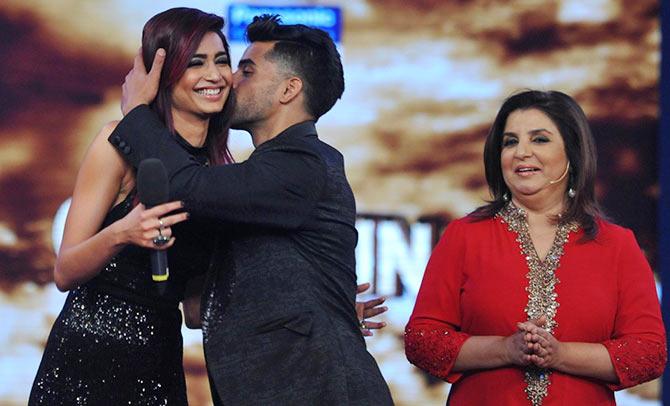 Image: Gautam Gulati kisses Karishma Tanna at the Bigg Boss 8 finale, while Farah Khan looks on
"My feelings for Upen were real. He was the only genuine person in the house. I am not a person to compromise on my priorities and family just for a show. I was true to him and to my feelings. I will never create a romantic angle to survive on a game show. I do not give a damn what people think of it," she says.
The astrologer who visited the house said her relationship with Upen wouldn't last.
"I make my own destiny. I don't believe in all that," she replies.
Her only regret was "using chilli paste during one of the tasks. I don't think I should have done that. I need to tone down and be easy at times."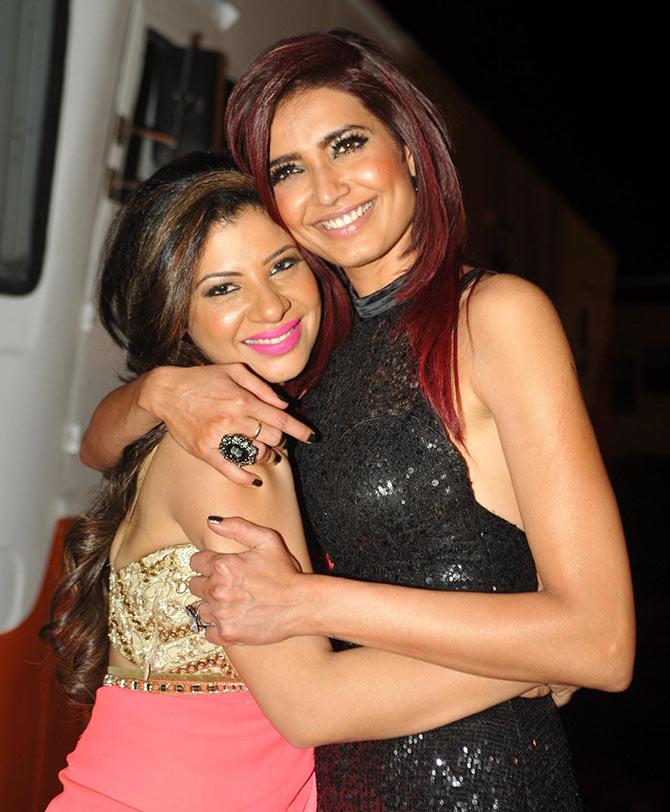 Image: Sambhavna Seth and Karishma Tanna
She admits she is fashion conscious. "I had carried enough clothes. Plus, some were sent during my stay."
Will she do more television shows?
"I am not going to do any more television soaps. I am game for reality shows and my manager has told me that I have been offered a lot of films."