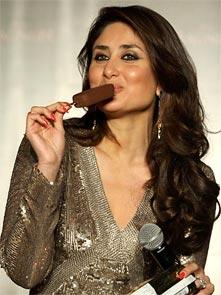 Kareena Kapoor recently became the face of ice cream brand, Magnum and she shot for her first ad on February 16.

Eva Mendes and Eva Longoria are the international ambassadors of the brand, and so to maintain the international standard, the same team that worked with those Hollywood actresses was flown into Mumbai from New York for the ad.

Kareena's regular stylist Manish Malhotra was set aside and the dynamic Tanya Ghavri -- who has done a good job on Sonam Kapoor and Ileana D'Cruz -- was roped in.

"It's amazing to work with international brands and teams," says Kareena. "Yes, I am shooting an ad with the crew that did the ads for Eva Mendes and Eva Longoria. Their style of working is very different from our own very talented ad-makers."

About not having her favourite designer Manish Malhotra on board Kareena says, "Manish is family. There is no question of replacing him. I just wanted to try another stylist for this ad. We need to work with different people and experience new strains of creativity. Or we will stagnate."

The actress, who is no longer in Karan Johar's Shuddhi, is getting ready to shoot Dev Benegal's Bombay Samurai in May. If sources are to be believed, she has some heavy-duty action scenes in the film. Bombay Samurai also stars Farhan Akhtar.

Kareena will have to lose weight for the role. "Not Size 0, God forbid!" she exclaims. "But I need to look leaner especially since my co-star is one of most sinewy guys in our cinema!"
Photograph: Abhijit Mhamunkar