'Sridevi touched my feet.'
'Kajol is magical.'
'You will feel Salman is not paying attention, but when the camera rolls, he does the step you just showed him.'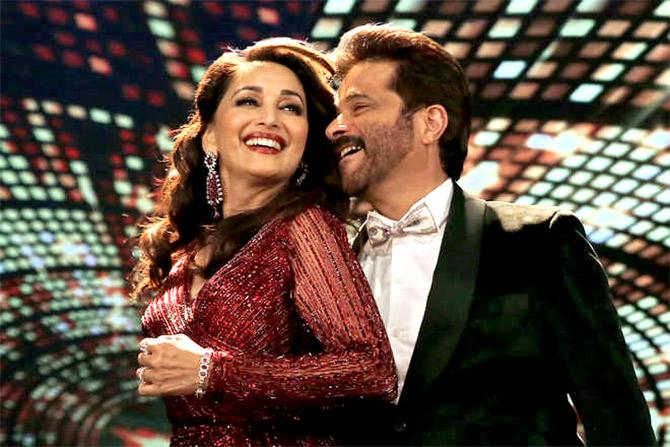 If the signature step in the Paisa Yeh Paisa song is your favourite dance step at parties, meet the man who designed it.
Ranju Varghese has been choreographing songs in Bollywood for the past 10 years, first under Bosco-Caesar and then, independently.
The young choreographer who was totally new to the film industry when he started out -- his dad owned a transport business -- tells Patcy N/Rediff.com, "The toughest thing for me was that good dancers like Madhuri should find the steps appealing and the not-so-good dancers like Ajay Devgn should be comfortable."
'Bosco-Caesar are not like bosses, they are like good friends'
My mother says I have been dancing since the age of three.
One day, my father took me to a dance a competition and I danced to Prabhudeva's song Muqabla. I dressed like him too, and I won.
I did not feel the need to go to a dance institute but when I was 16, I trained in jazz bnd Ballet.
After Class 12, I went for Main Hoon Na's auditions at Shah Rukh Khan's old house. Geeta Kapoor was assisting Farah Khan then, and she took the auditions.
I got selected; they wanted a dancer who could act as well.
We rehearsed the song Chale Jaisa Hawaien for 45 days and then had to leave for Darjeeling to shoot for the film.
But I got a call from Farah Khan's team saying I could not come because I was not a member of the dancers association.
I was very unhappy.
My mother and I cried a lot.
After that incident, I wanted to join the industry.
I got selected for the television show, Razzmatazz, and would also do professional shows, where I would be paid Rs 200 to rs 500 per show. I was 18.
By the time I was 22, I started doing world tours.
Then I fell sick and got so tired that I stopped everything,
I wasn't interested in dancing anymore.
One day, I got a call from Bosco-Caesar. They were doing a show for NDTV and called me for auditions.
I got selected and that's when my journey really started.
I started assisting them between 2006 and 2012.
They are not like bosses, they are like good friends.
Bosco talks to the director the way he speaks to the spot boy. He does not differentiate between people.
Whatever I have learnt from them, that is how I treat my assistants today.
'Kareena learns very fast'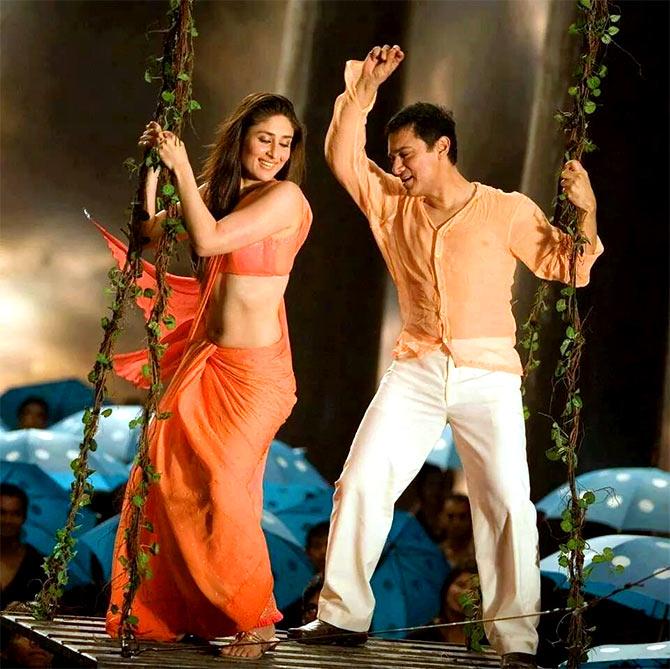 While assisting Bosco-Caesar, I worked with Kareena Kapoor on the songs, It's Rocking (Kya Love Story Hai), Mauja Hi Mauja (Jab We Met) and Zoobie Doobie (3 Idiots).
She is a good dancer and does all the dance steps in her own style.
Her expressions are lovely -- she gives six expressions in 30 seconds!
She learns dance very fast. In two hours, she is done with the step.
She is very confident. You give her the toughest steps, but she will do it smoothly because of her confidence.
I have done a world tour with her too. When you are on such tours, you are one big happy family. Since you are travelling and staying together, there is more bonding.
Aamir Khan gets too involved in the dance steps. He rehearses a lot, takes small breaks and then starts again.
I got to learn a lot from him -- his hard work and dedication.
'Salman can make anyone's career'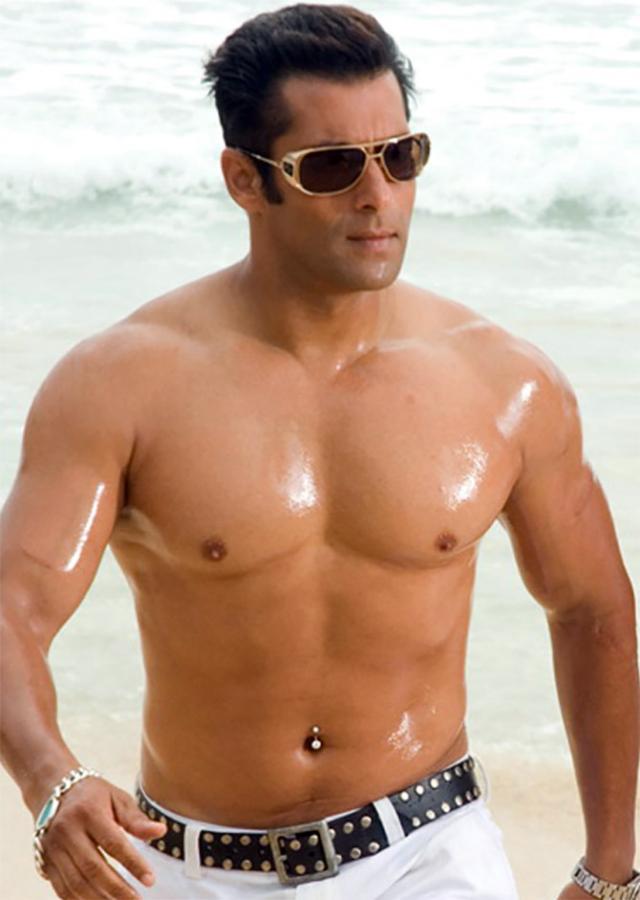 I worked with Salman Khan in Partner and Salaam-e-Ishq. He's a complete contrast to Aamir.
You cannot choreograph him, but he is very focused.
You will feel he is not paying attention, but when the camera rolls, he does the step you just showed him.
He will surprise you.
He will add his touch to the steps, and people love that.
He understands the audience.
Even if he does the step wrong, it will look good. He has that personality.
Nobody can get frustrated working with Salman Khan.
He loves the dance community. If any of us dancers have problem with shifts or on the sets, we go to Salman without any fear and he will help.
He sorts everybody's problems.
If I go to him and say that things are not working for me, he will see to it that I am number one in the industry.
Salman can make anyone's career.
He is loving and he feels the other person's pain.
'I would teach Abhay Deol dance and he would teach me yoga'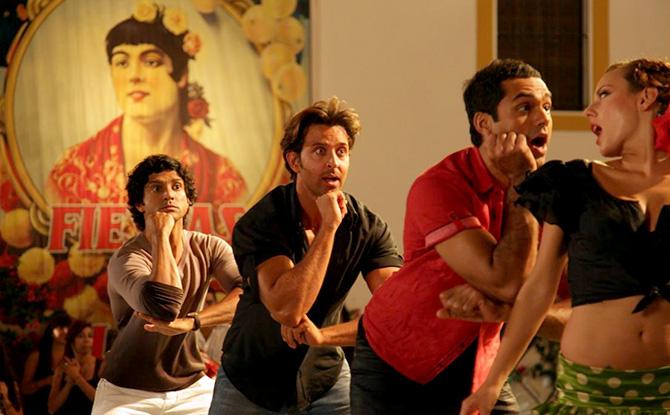 There was a time when directors and choreographers would be scared to tell Sunny Deol that a dance sequence had to be shot.
I am a very friendly person and get along with everyone.
I was assisting Bosco-Ceasar and they were working on Naksha with Sunny Deol.
Cesar asked me to explain the dance to Sunny Deol.
So I was lying on the floor, and showing him the hook step.
I was surrounded by girls.
Sunny Deol saw that and started laughing, but he was very comfortable with the steps.
He really likes me. He called me for his son Karan Deol's film, but the dates did not match.
There are very few choreographers with whom Sunny sir's equation is good. Otherwise, he doesn't like dance.
I have a different bond with Abhay Deol. I would teach him dance and he would teach me yoga.
He would show me some yoga pose on his phone and then, he would show me how to do it!
I had to assist Abhay in the song, Senorita (Zindagi Na Milegi Dobara) and he performed it very well. He looks the cutest among the three (including Hrithik Roshan and Farhan Akhtar).
'Bipasha supported me when I had no work'
After working with Bosco-Ceasar for 10 years, I was getting complacent.
I had no challenges.
So one day, I quit even though I had no work in hand.
Sonal Chauhan is a good friend and informed me about a corporate show. We worked on that, but the show got cancelled.
(Director) Tony D'Souza said he would offer me his film Boss, but Akshay Kumar had Prabhudeva in mind.
I messaged Bipasha Basu and told her I had no work. She immediately called and asked me to choreograph a fitness album that she was doing.
After that, she gave me a lot of shows too and referred me for more. She recommended me for the film, Dishkayoon.
She supported me when I had no work.
When I was with Bosco-Ceasar, I had done a song with Bipasha for the film Jodi Breakers. I had a good equation with her. She is a brilliant dancer.
She is very hard working like Aamir Khan, when it comes to dance.
Katrina Kaif is also hard working.
I have seen her transition. Her work in a show before Partner was okay, but she is a very good dancer now.
John Abraham doesn't do films which have dance, but when I messaged him for work, he immediately called me and asked if everything was okay.
I went to Pradeep Sarkar for work too. He was doing an advertisement with Sridevi at the time, in 2013. He offered me work in that.
Since then, I have been working with Dada in all his ads, films and Web series.
'Sridevi touched my feet'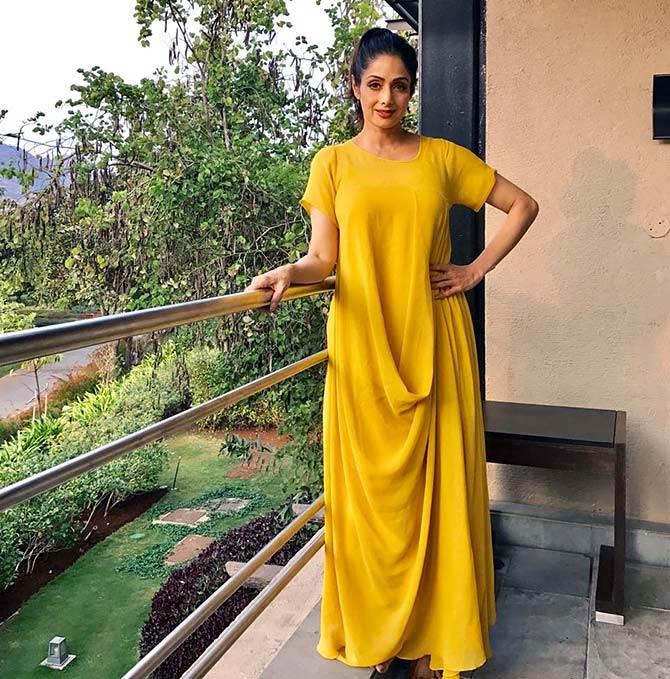 I have been watching Sridevi movies since childhood.
On screen, she's so loud that I thought she would be bubby and chirpy in person too. But she was not.
She is very quiet, always reading a book... but as soon as she is in front of the camera she lights up.
When I met her for the first time, she called me Masterji. An interesting thing happened the first time we worked together.
I explained the shot to her and then stood near the camera.
She called me again.
I went to her, thinking she had a question about the dance step.
But she touched my feet.
I knew that actors down south follow this tradition, but I am so young and new and she is such a veteran, and yet, she touched my feet.
I was speechless.
The next day, after explaining the shot, I sneaked out of the room. But she called for me and waited until I came, and touched my feet again.
I was really touched by her gesture.
'Kajol is the sharpest actor I have worked with'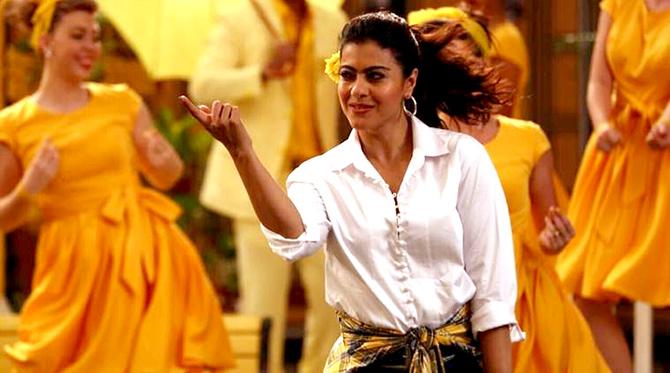 I had heard that Kajol is a no-nonsense actress, and that she is strict.
It took a few days for me to gel with her, but she noticed that Pradeep Sarakar gives me a lot of importance.
Kajol talks a lot.
She is in her own world.
But the moment the camera starts, she is transformed.
She can cry without using glycerine.
She is a good dancer and will not restrict herself only to the dance step you show her. She will do your step and add an element to it.
There is a song sequence, which Dada wanted in slow motion. But in order to do that, you have to dance in double the speed.
I showed her the step, but she did not rehearse at all.
She is the sharpest actor I have worked with.
Ajay Devgn wanted to use his old song Ruk Ruk as a promotional song in Helicopter Eela.
He wanted me to do it in two days.
My inspiration was La La Land; I wanted to shoot the song in one go.
We rehearsed and did the song in a day.
Kajol is magical; she doesn't forget any steps.
'Ajay Devgn's only worry was: 'Steps thoda easy rakhna'
I did two songs, Paisa Ye Paisa and Speaker Phaat Jayega in Total Dhamaal.
Ajay (Devgn) sir wanted Ganesh Acharya, but Induji (Indra Kumar, director) recommended my name.
Ajay was good to me; his only worry was: 'Steps thoda easy rakhna.'
Total Dhamaal is a very big film, and I had to give a presentation to all the actors separately -- Ajay sir, Madhuri (Dixit) ma'am, Anilji (Kapoor), Riteish (Deshmukh), Arshad (Warsi) and Jaaved (Jaffrey) -- of what would be the look of the song, what they would wear... The choreographer has to take care of everything.
Nobody gives Power Point Presentation for a dance and they were all surprised.
There were so many actors in Paisa Yeh Paisa and yet, we shot it in four days.
The toughest thing for me was that good dancers like Madhuri should find the steps appealing and the not-so-good dancers like Ajay Devgn should be comfortable.
Paisa Yeh Paisa has the longest hook line, but I kept it easy from Day One.
Ajay Devgn would say, 'Mujhse dance ,em>mat karana zyada.'
But he found the steps easy even if it was long, and got it right after four-five takes.
Speaker Phat Jayega has a shorter hook step, but it had 11 actors and they wanted the song in four days.
I think Ajay Devgn has confidence in me. That's why he has given me a song in his coming film, Taanaji.
I am also working on Jeethu Joseph's first Hindi film, Body Remake, starring Emraan Hashmi, Naman Mukesh's Bypass Road with Neil Nitin Mukesh and the Karan Kapadia starrer Blank.
I have also shot a Web series starring Rajeev Khandelwal and Divyanka Tripathi, directed by Pradeep Sarkar.